Thank you to Castaway Bay for hosting my family in order to facilitate this review.  All opinions are my own. Don't miss the giveaway below! 
After nearly two weeks of being cooped up with illness, my family needed a fun getaway.  A chance to break out of the house, explore, laugh and grow together.  So the timing for our trip to Castaway Bay was perfect!
Castaway Bay is Cedar Point's indoor water park in Sandusky, Ohio.  It is a 38,000 square-foot opportunity for fun and sure to please the whole family.  With a great assortment of wet and dry activities for all ages, my family enjoyed every minute.
What can you do?  Take a look . . .
 1. The Waterpark 
Naturally, this is where you will want to spend most of your time.  As a mom, I loved the versatility of this waterpark to appeal to different ages and abilities.  There was a toddler section for families with little ones.
There was the wave pool which was hands-down my kids' favorite.  (Life jackets are available at no cost.)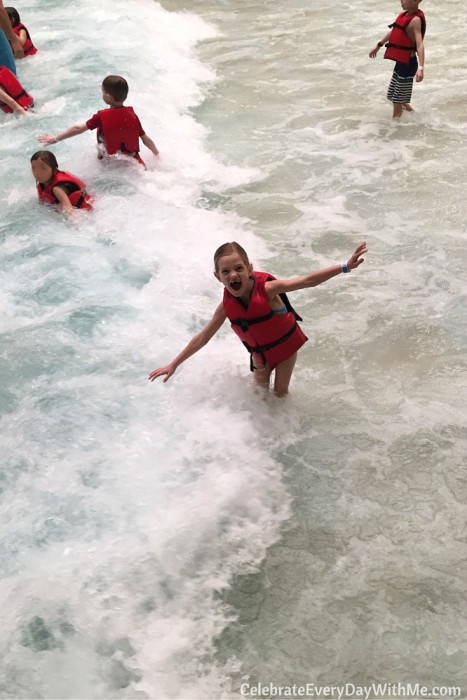 The enormous bucket that dumps 1,000 gallons of water every few minutes.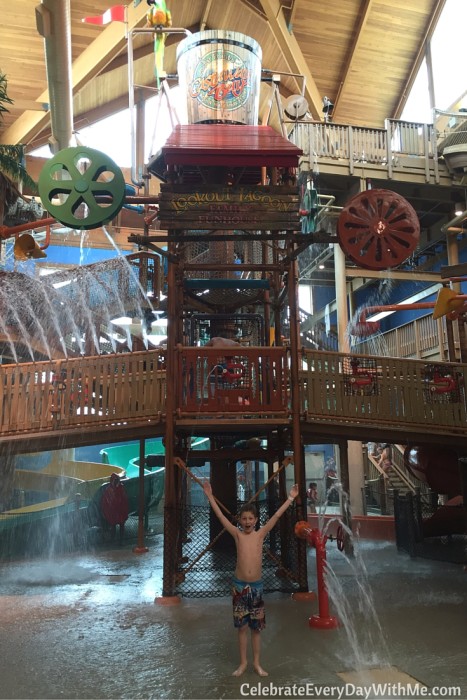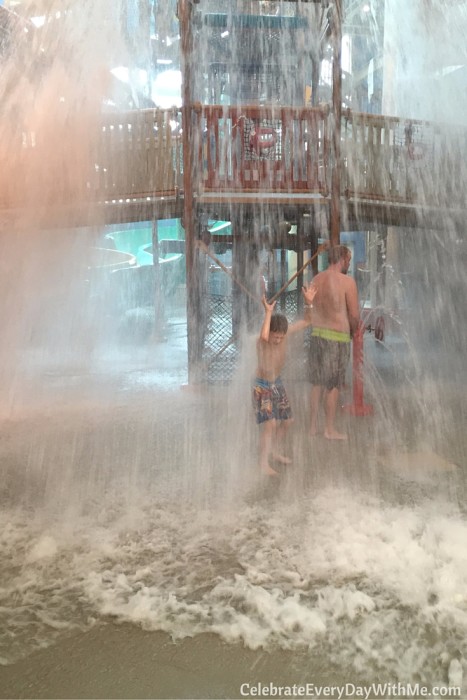 A variety of water slides from the toddler section to intermediate options for my kids and the bigger, faster slides that my husband had a blast riding.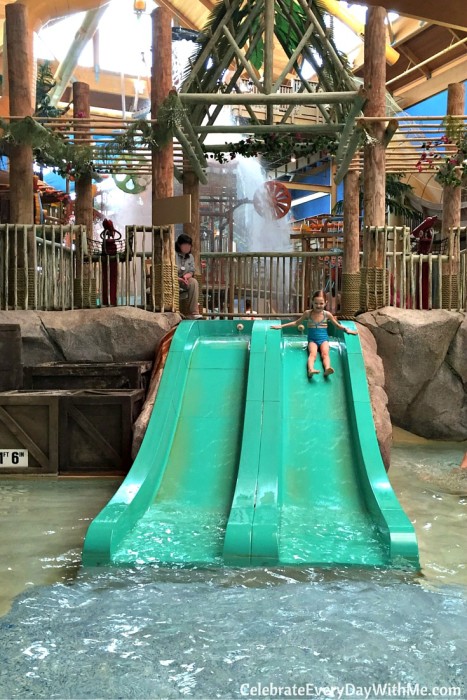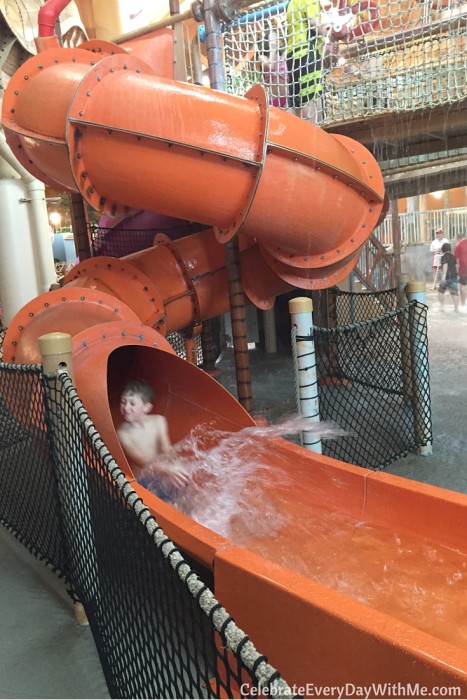 The Lookout Lagoon Family Funhouse where you get sprayed and splashed as you explore.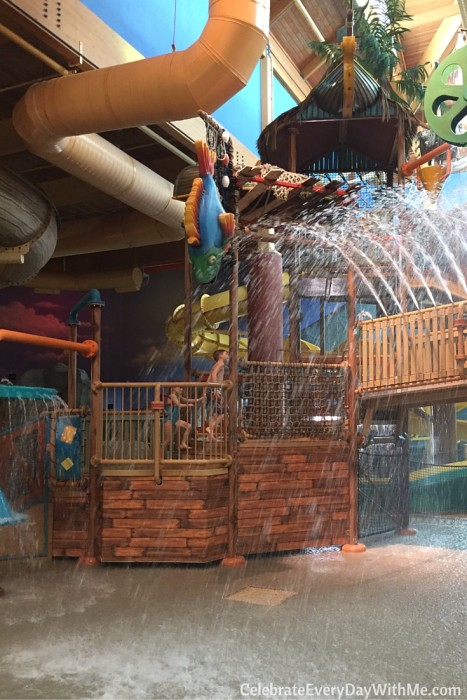 The Cargo Crossing where you navigate across the pool, stepping on shaky barrels and boxes.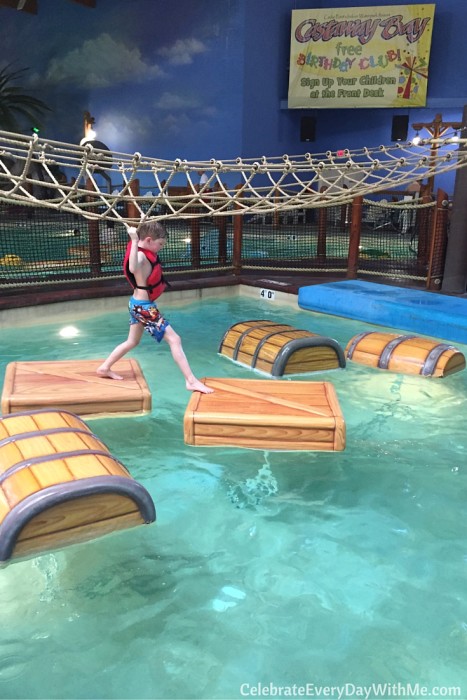 You may think that the water park is all Castaway Bay offers, but you'd be wrong.  Here are 8 MORE ways to enjoy your time at Castaway Bay.
2.  On-Site Dining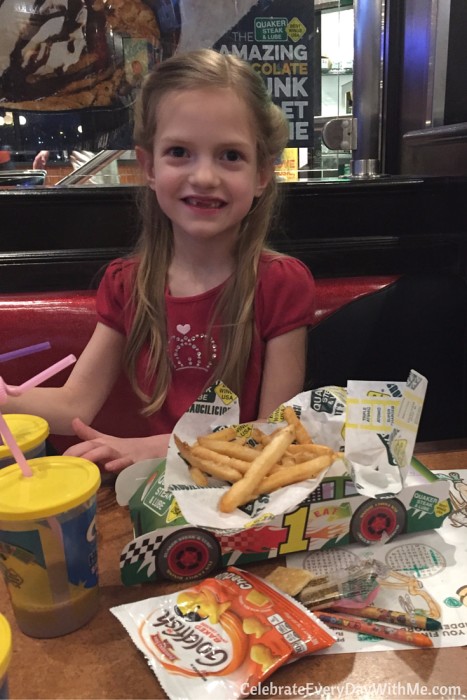 It is so nice that you don't have to leave the resort to find reasonable dining options.  When we first arrived, we enjoyed dinner at Quaker Steak & Lube.  The restaurant is connected to the hotel, so no need to hop in the car for a great meal.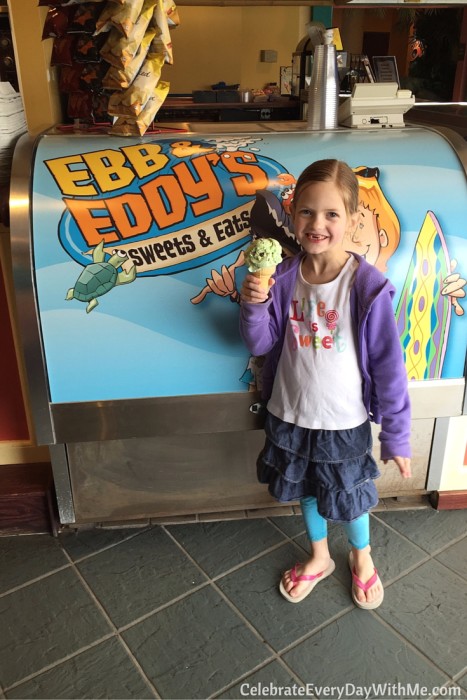 The next morning, we ate at Big Mike's for a breakfast buffet and later in the day, feasted on the largest of ice cream cones at Ebb & Eddy's.  The kids were thrilled.
3.  The Hotel Scavenger Hunt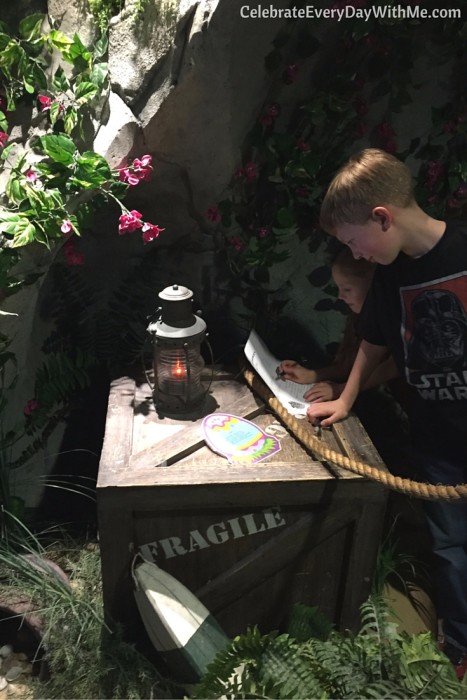 We trekked all over the resort on a scavenger hunt.  My kids had a blast figuring out clues and exploring the hotel.  I liked it because it gave us an immediate sense of where things were as the scavenger hunt highlighted the different parts of the resort.
4.  Meet & Greet Opportunities with Snoopy and Friends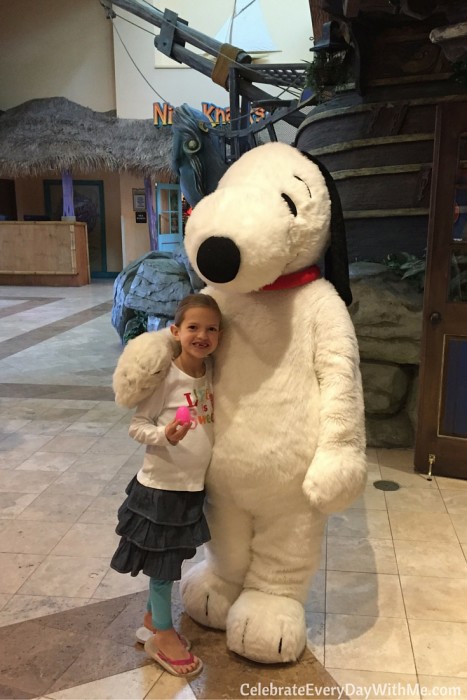 We loved hugs and photos with Snoopy and his friends.
5.  Movie and Story Time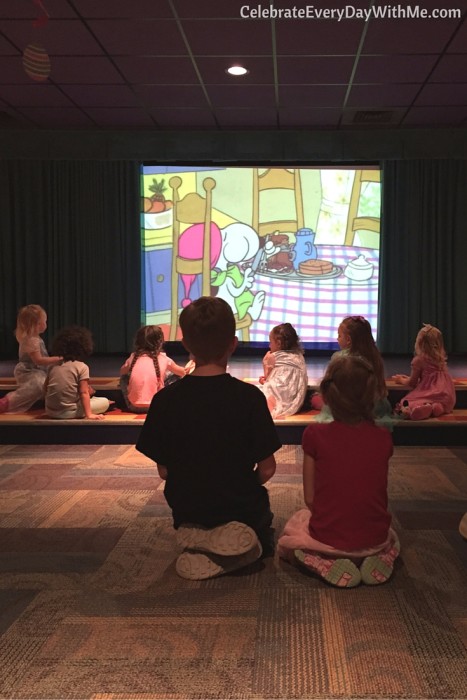 Each evening in Club Castaway are an assortment of activities for kids.  We watched a little karaoke (although were too shy to try it ourselves).  Then later in the evening, the kids watched a Snoopy movie and listened to a bedtime story.
6.  Color-Your-Own T-shirts & More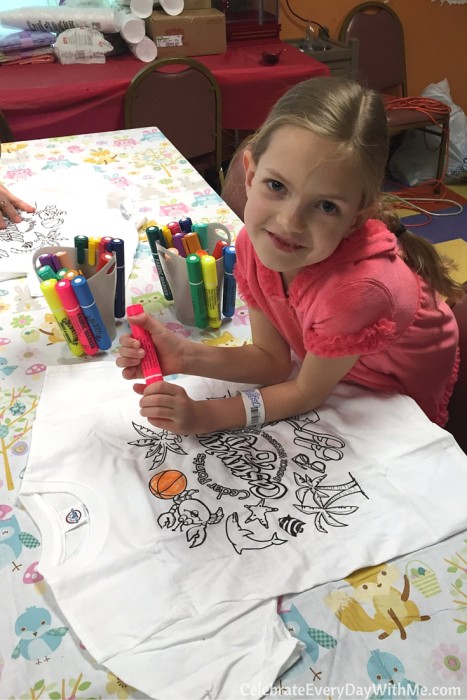 My kids colored Castaway Bay t-shirts with fabric markers.  Also available are masks, beach towels and more!  (This activity does cost a small amount extra.)
7.  Rooms to Suit Your Family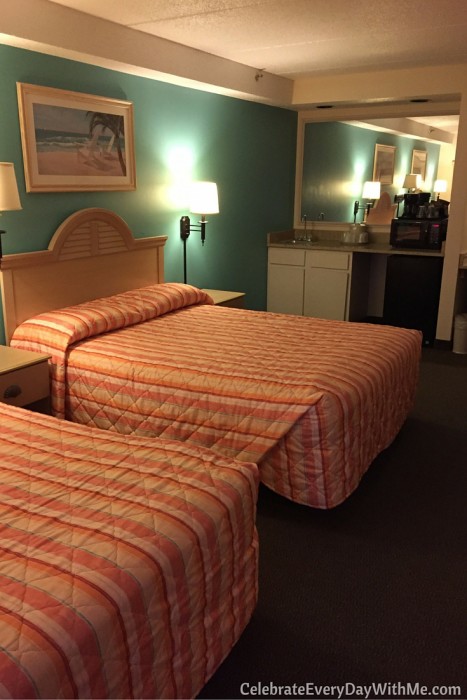 The rooms are very nice and large.  We stayed in an Angelfish room category.  It had two queen beds and a pull-out sofa.  My kids were especially thrilled with having two tv's in the room, which meant they could watch a bit of Disney Jr. in the morning while Dan caught up on sports before heading to breakfast.
See more room and suite configurations here.
8.  Big Mamma at the Pirate Ship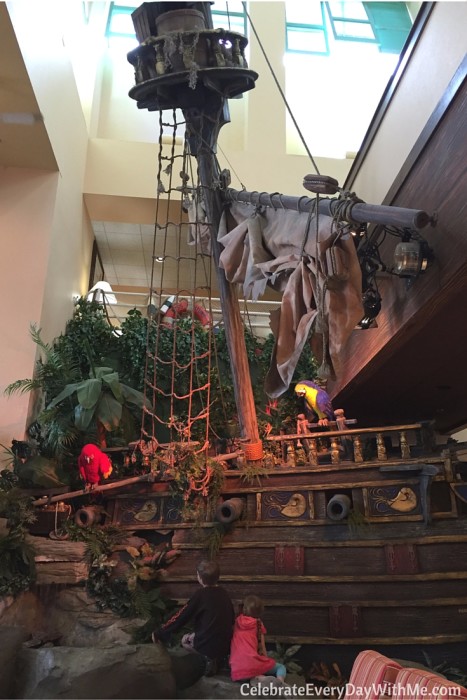 Take a few minutes to catch Big Mamma's song and brief show at the pirate ship in the lobby.
9.  The Arcade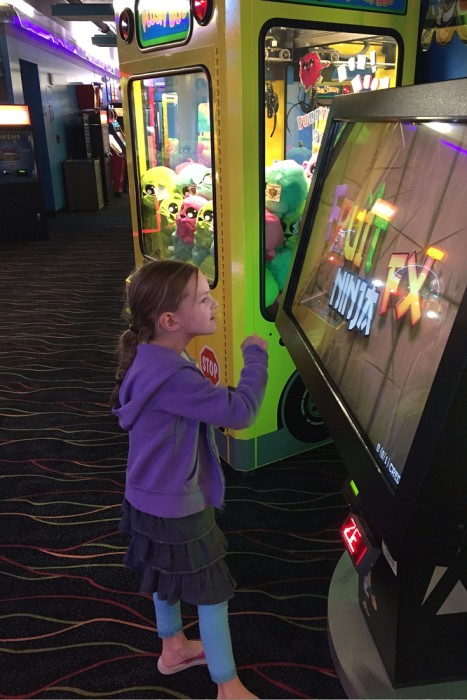 This was the last thing we did.  Just a few games before heading home.
I left Castaway Bay still wearing my flip flops in spite of the cold weather . . . maybe I was missing the 82-degrees of the water park or not wanting to let go of our fun and relaxing trip . . . or maybe, both!
Have you visited Castaway Bay?  If not, here is your chance!  Enter below to win 4 1-day passes to Castaway Bay!
Connect with Castaway Bay on Facebook or Twitter.