Spectacular!
That is the most fitting way to describe our visit to Ark Encounter in Williamstown, KY.  The 511-foot-long gorgeous, timber structure is awe-inspiring from the moment you arrive and step off the shuttle.  It is incredible to walk through the decks seeing how Noah, his family and the animals might have lived during their time on the Ark.
This life-size re-creation of Noah's Ark, built to biblical specification, is the largest timber framed structure in the world.  The craftsmanship is amazing and completely impressive.  It is hard to describe what you feel when you first see the Ark.  Not even stepping foot inside, my mom who joined my family on our voyage, said the sight alone would have been enough.
It has been two weeks since our visit and I have to tell you, I could go back right now.  I want to be walking up the ramps, looking at the cages, hearing the sounds of the animals amidst the thunderstorms.  The nature of the experience, the attention to detail . . . it rivals the quality of a Disney park (and y'all know how much I love and visit Disney World).
On to the tips . . .
31 Ark Encounter Tips So You Don't Miss the Boat
1.  Ark Encounter is 45 minutes south of the Creation Museum.  Many people think that the Ark is right next to the Creation Museum, however it is not.  If you are staying overnight at a hotel, know that there are great options in both areas.  We stayed at a Comfort Inn (with a complimentary breakfast) only 6 miles from the Ark.
2.  Plan your time well and purchase the tickets that make sense for your family.  If you plan on visiting the Creation Museum at the same time, purchasing the combo pass will not only save you money but also keep you from rushing through everything.  I do think that it is easier to process all the exhibits over a couple days.
> > If you're wondering how long you will spend at the Ark . . . We spent about two hours in the Ark itself, and a total of five hours on property (including eating lunch and exploring some of the outside activities).  Keep in mind that the length of your visit will depend on crowd levels.  As to our time in the Ark, we did not rush.  We read most of the information on the first two decks.  However on Deck 3, we did pick up the pace and did not read everything.  Deck 3 had a lot of cool information on validity of Ark history and the science of the flood.  This is where another day could be helpful to truly take it all in.
3.  Because the Ark is new, many GPS's can't find the exact address.  Use this address:  220 KY Highway 36 West, Williamstown, KY 41097, or see this page on the Ark Encounter website for exact coordinates.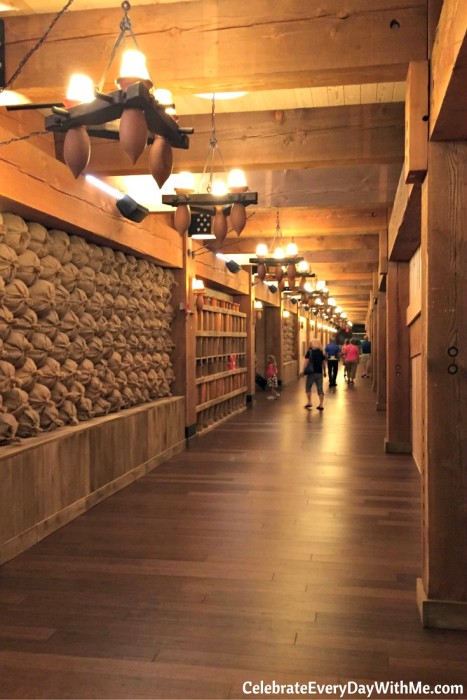 4.  Get there early!  We arrived at the park about 15 minutes before it opened.  It was not crowded.  We flowed quite well through the exhibits (especially ones with reading).  When were leaving Deck 3 and looked down, we were surprised by the crowds waiting to get into the Pre-Flood World exhibit (photo below).  With all there is to read, it would have taken much longer to move through.   Now with school starting, I am guessing crowds may lessen.  But nonetheless, get there early.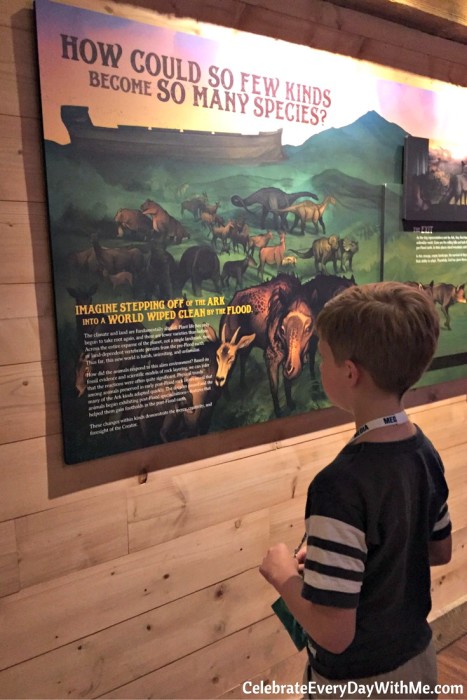 5.  They bill the Ark as "family-oriented, historically authentic, and environmentally friendly."  We found this to be very true.  I liked the blend of reading, visual exhibits and interactive displays.  My kids were engaged at their own levels and enjoyed it all.  Some of the questions answered with Ark Encounter are:   How big was Noah's Ark?  How did Noah fit all the animals on board?  How did Noah feed and care for all the animals?  How did Noah build the Ark?
The Ark Encounter builders held to biblical specifications as to the size of Noah's Ark.  It truly is amazing.  And for environmentally friendly, it was neat to learn that most of the wood came from a dead forest.  They didn't kill healthy trees to build the Ark.
Below is a photo from the living quarters.  Noah and his family wouldn't have known how long they would be on the Ark so they may have brought quite a bit to make the living area comfortable.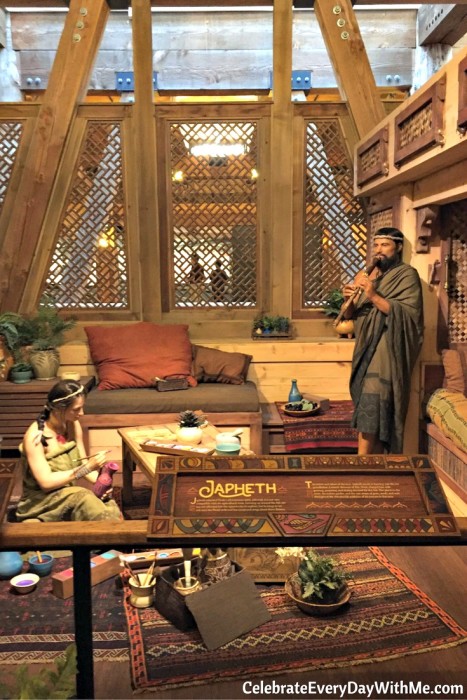 6.  Read the biblical account (Genesis 5:32-9:17) before your trip.  This will put things afresh in your family's minds.
7. A shuttle takes you to the Ark.  After purchasing your tickets, you will board the Ark Encounter shuttle and be driven 1 mile to the Ark.
8.  Parking is $10.  We saw signs for the parking fee and it is on their website.  However, we didn't have to pay on the day we were there.  I am thinking this must be because it was during their first 40 days of opening.  They offered extended hours to visit the Ark and I am betting parking fees were waived while those 40 days lasted.
9.  Lockers are available at the Guest Services Building.  Keep in mind that your car is a mile away and with large crowds, it could take some time to catch a shuttle back to the parking lot.  Be sure to throw necessities in your purse or rent a locker for your time near the Ark.  I had wished I didn't leave my sunscreen in the car while we were doing the outside activities.
10.  Plenty of bathrooms or porta-potties are available.  Regular bathrooms  can be found on each floor of the Ark, in the restaurant and in a building near Guest Services.  The parking lot and other places on property do offer porta-potties.  So if you have a child like mine who has pretty much refused to use a porta-potty since age 2, be sure she goes to the bathroom before catching the shuttle back to your car.
11.  Strollers, wheel chairs and electric scooters are available for rent in the Guest Services building (with the lockers & ATM machine) near the Ark.  You are free to bring your own as well.
12.  Enjoy three decks of exhibits.  There is a lot to see and the Ark has great ramps that won't leave you breathless in traveling up the three decks.  Elevators and stairs are available in the towers on the backside of the Ark.  Make sure you take everything in, from world-class exhibits, beautiful music (seriously, I looked for a soundtrack in the gift shop) and delicious timber scent filling the Ark.
13.  Free wifi is available.  Check the brochure for network and password info.
14.  Get your hand stamped if you plan on re-entering the Ark later in the day.    
15.  Prepare young children who may be afraid of thunderstorms.  As you enter the ark and during the beginning of your journey, the sounds of thunderstorms are played over the speakers.  My daughter was a bit intimidated.  It would be helpful to let young kids know beforehand.
16.  Check out the Pre-Flood World exhibit.  It offers a wonderful presentation (signage) of creation, the fall of man and beyond.  If your kids are familiar with biblical stories, be sure to read and point out different parts of the stories they will recognize.  The artwork is beautiful.
17.  Take a break to sit and watch a quick movie about the making of the animals seen on Ark Encounter.  My kids loved watching this and it made them appreciate all the work that went into this single aspect of creating our experience.
18.  Don't miss the spot where your kids can go in the cage and you can snap pictures.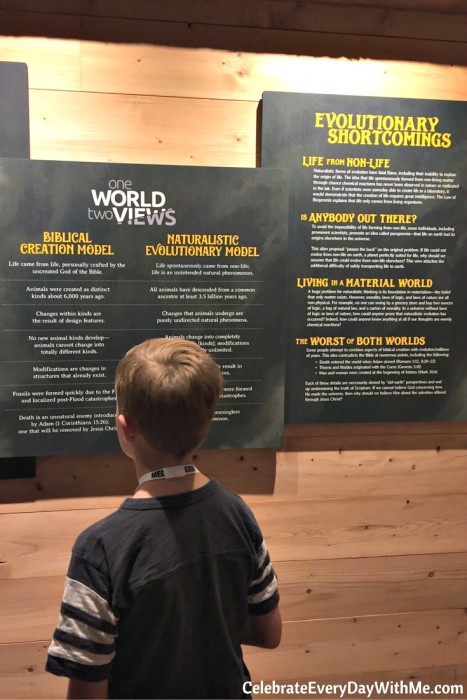 19.  If you don't want to read everything at the moment or want to re-read text later, take photos with your phone.  There were several signs that I wanted to be able to re-read and remember at a later point.  I love the convenience of smart phones.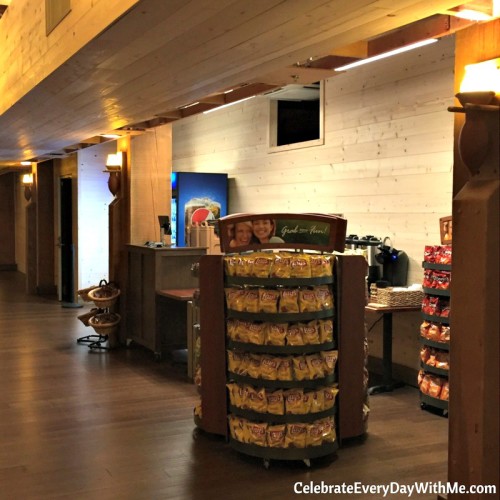 20.  Hungry or thirsty on the Ark?  There is a snack station on Deck 1 where you can purchase an assortment of food and drinks.  Just an FYI, I noticed at least one exhibit on Deck 3 that did not allow food or drink.
21.  Be sure to spend some time with the talking Noah.  You and your kids can interact with Noah by asking pre-programmed questions and listening to his responses.  He talks, moves and looks amazing.  But hey, if your daughter wants Noah to answer ALL the questions, be prepared to spend some time there.
22.  Nursing rooms can be found on each deck if you're a nursing mom looking for privacy.
23.  Convenient Seating!  There is an abundance of benches throughout the Ark if you or someone in your family needs to slow down and rest.
24.  The door was one of my favorite places to stop.  When the Ark first opened, I had heard Ken Ham on the radio talking about the one door in Noah's Ark.  Why only one door?  In John 10:9, Jesus says He is the door.  Be sure to take a moment and read the signs in this area.
25.  Stop and see the Fairy Tale Ark exhibit.  You'll walk out with a new take on all the children's Ark stories.
26.  When you arrive at Deck 3 (via the ramp), there is a beautiful presentation of the Gospel.  I love the careful attention to the most important part of Christianity.
27.  Don't miss the gift shop.  Well, technically you cannot miss the gift shop since you have to go through it to exit the Ark.  However, take some time and look around at all the resources as well as fun things for sale, including fair trade items from other parts of the world.  And very soon, the gift shop will have a coffee bar, where they will also sell fudge and ice cream.
I bought a couple t-shirts for $15 each (super reasonable!) and the moment I saw Noah's rain forecast t-shirt, I knew I had to get it for Dan.  Check it out when you're there.
Also, when you board the Ark, Ark Encounter photographers take family photos and superimpose different backgrounds.  You can view and purchase the photos in the gift shop.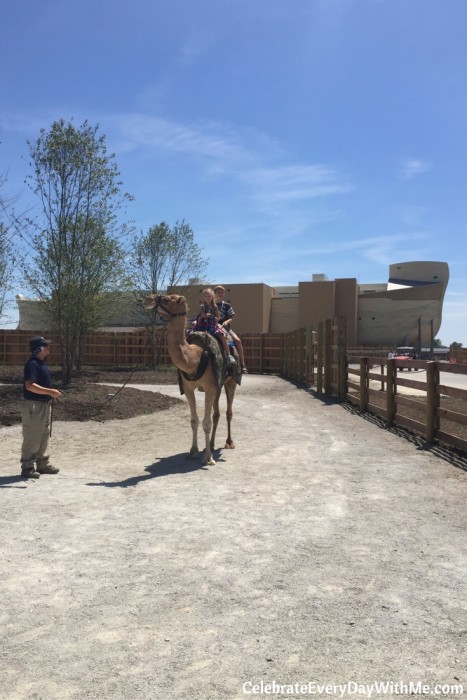 28.  Know what costs extra.  Activities such as the zip lines, ropes course and camel/donkey rides do cost extra beyond admission.  My kids rode the camel and can now cross that off their bucket list.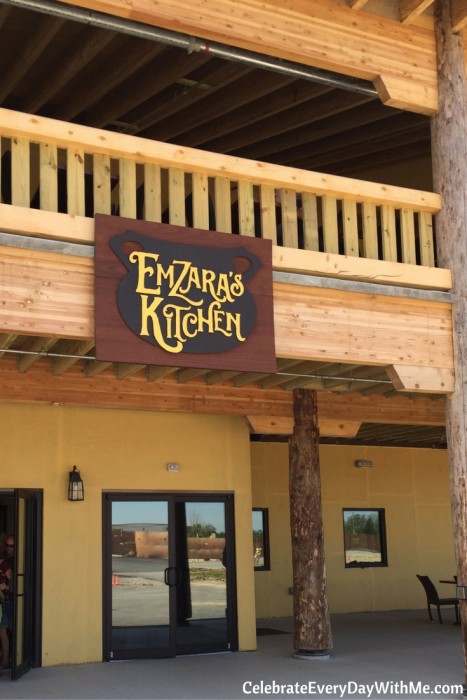 29.  Dining at Emzara's Kitchen.  We enjoyed lunch at the restaurant during our time at the park.  Know that there are NO kids menus here, however there are kid-friendly options.  The lower level has fun animals to look at while you eat or you can head upstairs and sit outside with a fantastic view of the Ark's bow.  Click these links to see the menu here:  page 1 and page 2.
30.  Stop and Visit the Ararat Ridge Zoo.  My family enjoyed petting the goats and walking around seeing other animals as well.   It seems like this will be an area of growth.
31.  Know that more is coming.  With phase one being the construction of the Ark itself, there seems to be much more coming to Ark Encounter.  The website talks about a Walled City, the Tower of Babel, a first-century Middle Eastern village, a journey in history from Abraham to the parting of the Red Sea, a walk-through aviary, and an expanded large petting zoo.  Eventually, they will also offer daily live mammal and bird shows, an extensive interactive children's area, live entertainment, and many themed restaurants, creative food outposts, and shopping.  We even heard that there will be a fancier restaurant on the top floor of the Ark (taking reservations only).  Doesn't that sound cool?  Although I do wonder what will be on the menu . . .
What a fantastic, encouraging, faith-building and fun visit we had to Ark Encounter.  I am looking forward to our next trip and eager to see the development of future plans!
Disclosure:  I was provided free and discounted admission to facilitate my post.  All opinions are mine.