Train Party Display
I know it has been awhile since we visited 31 Days to an Awesome Party.  But at last, we're hitting Day 9.  And this is one of my favorite places to sit a spell . . . the party table display.  This is the oh-so-cute table that may have treats, desserts, favors and decorations.  This isn't the formal buffet table with the full meal presented.  (We'll hit the buffet table another time.)  For the party table display, think short and sweet, fast picks, usually finger foods.  The emphasis is on eye-appeal.
How do you create a great display?  Let's look at 9 things to consider.
1.  Choose the right size table.  I usually go with a 6′ banquet table.  While you don't want your items to be too crowded, a smaller table like a 6′ (as opposed to 8′) is easier to work with.  You can make a more powerful impact and it will save on how big of a backdrop you need to create.  Leave the 8′ for the full buffet.
Sometimes, a buffet will work perfectly for you (as in the Dr. Seuss party below).  It just depends on how much you have to put on it.  Unless you are using great skirting and putting it in the center of the room, I would suggest steering away from a round table for the display.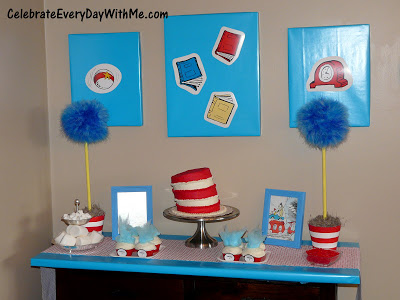 Dr. Seuss Display
2.  Choose your tablecloth, overlays and skirting (if applicable).  Personally, I love linens as opposed to plastic tablecloths for this particular table.  However, it isn't always an option and plastic may offer the color you really want.  Read my tip for scoring linen tablecloths at great prices or the wrapping paper secret to party decor.
Think of what you have on hand (renting is an option, too).  Then be creative for an overlay.  For the train party, I used a piece of burlap as a runner.  You can pick up discounted fabric and lay it over the table.  I have also used linen napkins to add variety to my table top.
If you need to be creative for skirting, which I usually have to do, think outside the box.  Use streamers, tulle, wrapping paper or even another linen taped appropriately to create a skirt.
3.  Think high.  Think low.  A key to the dimension of this table is to think of the levels above and below your table surface.  What can you drape?  What can you hang from the ceiling?  Do you have a banner?  What can draw your guest's eye to the different levels?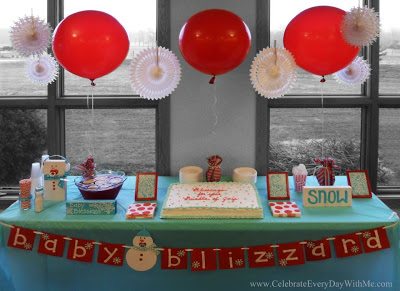 Baby Blizzard Shower Display
4.  Choose great serving pieces.  I love the look of all white serving dishes and have found most of mine at T.J. Maxx.  If you don't have all of one color, try an eclectic assortment.  Use glass, go rustic, search your kitchen.  Try not to mix too many styles unless you are doing it intentionally for effect.

5.  Vary the height of items on the table surface itself.  Having a flat table top may not be very interesting.  Use crates, boxes, cake pedestals and items of varying height . . . whatever you can find to achieve an assortment of heights.  I have used photo boxes and then covered them with another linen or upside down bowls covered by a linen napkin.  Be creative and create interest.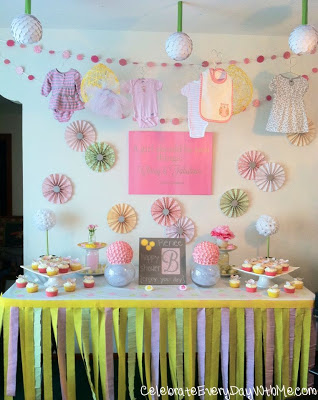 So Sweet Baby Shower Display
6.  Consider textures.  Different textures will create interest.  Again, think of the burlap or wooden crate on the linen or soft fabric on a wrapping paper base.  You can see the great effect this fishing net creates in this Under the Sea Party.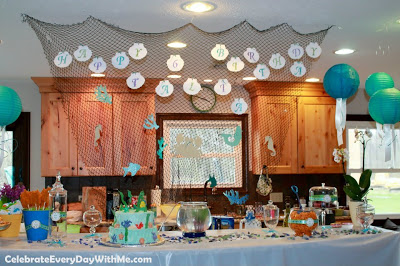 7.  Use labels.  This can be a fun addition to your table display, especially if you have a theme and you are renaming foods to fit that theme.  For example, below are goldfish crackers named Baby Whales from the same Under the Sea Party.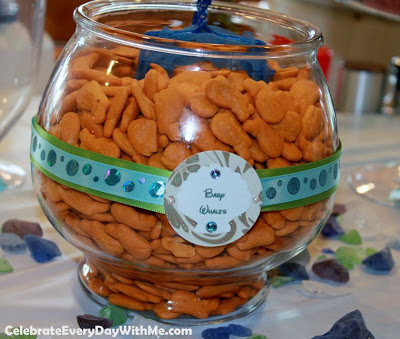 8.  Draw it out.  I'm no artist, but I always sketch out what will go on the table.  It helps me visualize how the table will look.  Seeing it on a two dimensional piece of paper prompts me to see where I need to create three dimensional depth.  Don't forget to put a place on your sketch for plates and napkins, etc.  It serves as a great reminder to include all the little things too.

You Are My Sunshine Display
9.  Play early.  Once you have your table set up, play around with your table.  Move the items on your table top.  See what is most appealing.  I have often found it helpful (yes, I'm nuts) to take a photo of the table and look at it from the perspective of my camera display.  Does it look complete?  Does it show depth?  If not, I may play around a little more.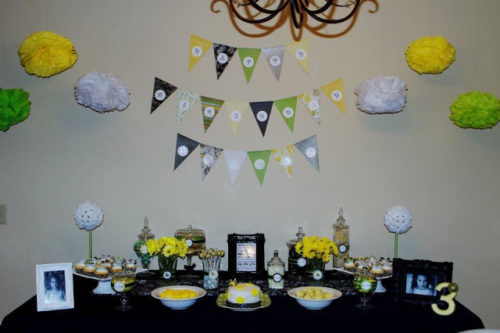 Do you have anything to add?  How do you create a great display?
See the entire series of 31 Days to an Awesome Party here.