Spend time together . . . just the two of you.  Yep, all the relationship experts say this is important.  But sometimes when you have small children, it just isn't all that easy.  You have to dedicate time, call on family for help or hire a sitter and then pay said sitter.
Dan and I love going out on date nights.  We love the spending the time together but truth be told, we get out on a date night once a month . . . maybe.  Our main hitch is that when we have a sitter (usually family), there is another event to attend and those kind of things tend to fill the schedule taking a priority over time alone.
But then I saw
an idea for a Date Night Jar
 and my wheels started spinning.  The original idea comes from Sarah at Taylor Design Studio.  She was throwing a bridal shower and had the guests write date night ideas on the craft sticks.   (Seriously, if you haven't headed over to like her
Facebook page
, you've got to do it.  She is an interior designer with great little tips and ideas.)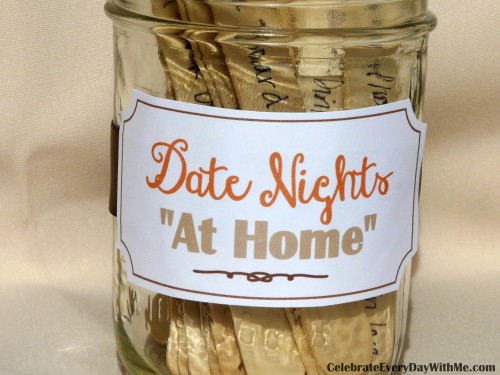 And while date nights out are important, sometimes when you have kids, date nights at home are simply more feasible.  
And that is where this idea comes in.  Here are 30 ideas for Date Nights "At Home."  Try choosing one date night idea each week.  Most require no forethought or effort.  But some may require a quick run to the store.The point?  
Be intentional.  Relationships don't improve without attention.  (<-tweet this)  
Spending deliberate time together even if at home after the kids are in bed can be a great blessing to your marriage.  Time spent together, whether talking, sharing, playing or laughing is what we're after.
Date Nights "At Home"
1.  Play a Board Game
2.  Video Record the Story of How You Met & Fell in Love
3.  Cook a Late Night Dinner Together
4.  Rent a Red Box Movie
5.  Write a Prayer List & Pray Together
6.  Make Smoothies or Milkshakes
7.  Share 5 Goals Over a Late Night Snack
8.  Do a Puzzle Together
9.  Play a Card Game
10.  Have a Chip & Dip Night – Add Conversation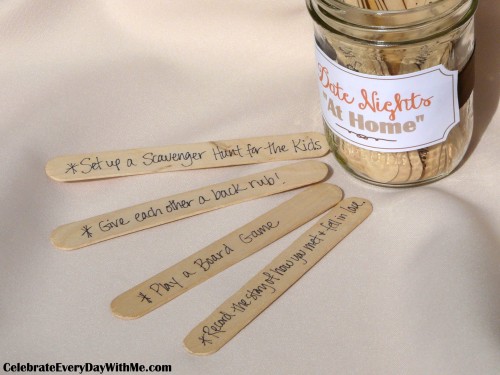 11.  Set up a Practical Joke for the Kids
12.  Make Calzones Together
13.  Give Each Other a Foot Rub
14.  Play a Game with High Stakes – Make a Bet!
15.  Record Each Other Sharing a Recent Memory
16.  Tackle a FUN Project
17.  Write a Gratitude List Together
18.  Have an Ice Cream Sundae Night
19.  Play a Video Game Together
20.  Search for Funny YouTube Videos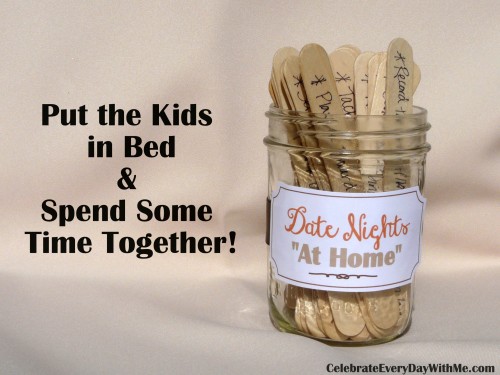 21.  Grab Take Out & Eat By Candlelight
22.  Give Each Other a Back Rub
23.  Share Where You Want to be in 5 or 10 Years.
24.  Play a Prank on Someone
25.  Set up a Scavenger Hunt for the Kids
26.  Watch a Home Video Together
27.  Write a Story Together – Mad Libs Style
28.  Make a Dessert Together
29.  Read Something Together
30.  Write Your Bucket List and Share
Have fun!  What Ideas Would You Add?  
Related Post: