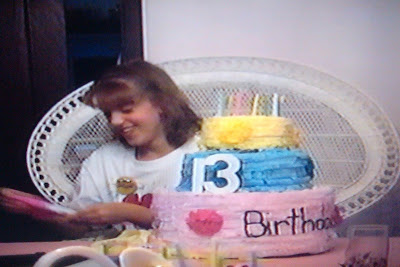 First, let me tell you that the reason the picture quality isn't great is because I took this picture off the TV with my camera phone.  Not to mention, the picture is old…yes, because that is ME!  (Check out those bangs!)
My mom is great at celebrations!  (Most definitely where I got the notion to make a big deal of anything.)  She always made birthday celebrations especially fun.  For my 13th birthday, she gave me 13 little gifts all found in this adorable cake pinata.  There were other gifts too, but this was extra special because I was becoming a teenager.
I love this idea!  I think it could also work for a kid turning "double digit" 10-years old.  I was searching online for cake pinatas and only came up with big Cupcake Pinatas.  But, I imagine you could make a giant cake pinata.  So if there are any pinata-making veterans, leave me a comment with your thoughts.  (I realize a 13 year old boy isn't going to be too thrilled with the cupcake pinata! So go younger or go with a theme he may like.)
A fun little way to celebrate a birthday!
Cupcake Pinatas from Amazon


Dimensions are 16.5 x 16.5 x 13 inches.
(This post contains an affiliate link.  Please see the Disclosure Policy on the About Page.)