When we recently had a twins' birthday party to celebrate, I began thinking of what I wanted to get the kids.  They are very close to my son and I was planning on heading to the store to find some cool toys.  But that was when I remembered this idea.
I had pinned this idea on my Gifts Board on Pinterest and when you follow all the bloggers linking back to where they found it, it started with Meg and Andy, but eventually led to a guest post from Mrs. B on Bloom.
As I read through the various tutorials, all of them involved sewing.  Ugh!  I wish I could sew.  I would like to sew.  But I don't have a sewing machine, nor the time to learn.  Maybe someday . . . [wishful sigh.]
So after much thought and a couple trips to the craft stores.  Here is what I've got for you non-sewers!
* * THE NO-SEW FORT KIT * *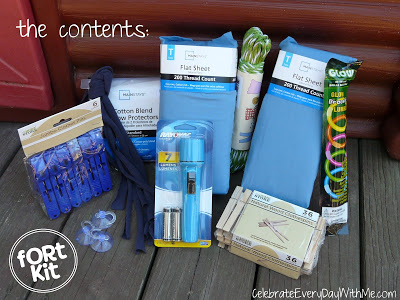 Fort Kit Contents:
* 2 Flat Sheets (Many of the bloggers pointed out that they saved money by buying thrift store sheets.  But because this is a gift, I couldn't bring myself to buy used sheets.  So I picked up a couple at Walmart for only $4.47 each.)
*Rope (I chose the 70′ clothes line from the Dollar Tree.  All the items below except the last one are available at the Dollar Tree.  I love that store!)
* Flashlight
* Clothespins
* Clips or clamps
* Suction Cups
* Glow Sticks
* T-Shirt Ties (made myself)
How To Make it "No-Sew":
All the other fort kits have ties sewn to the four corners and centered on the long sides of the sheets.  This is where I got stuck being the non-sewer and not interested in doing it by hand.  So I bought grommets.  If you buy the 1/4″ ones, you can also buy a little tool to assemble for only $1.50 compared to the $25 one needed for larger sized grommets.
You will need –
* Zippered Pillow Protector
* Ribbon and Cardstock for tag
* 12 – 1/4″ grommets
* Tool to assemble grommets (the cheap one!)
Follow the simple instructions for inserting grommets.  And FYI – I am suddenly addicted to grommets and looking for anything else I can grommet-grommet!
Make a tag!  I made this tag with my Silhouette Cameo, laminated it and added some ribbon.  I did pin the tag's ribbon to the bag so that when the fancy, tied ribbon is lost and the bag is just being zipped,  the contents tag will remain.
I also made a third kit for my son's upcoming birthday (shhh!)  I had a blast making this fort and so badly wanted to share it with my kids! . . . patience. . .
I see lots of fun forts in our future and plenty of imagination for each one!