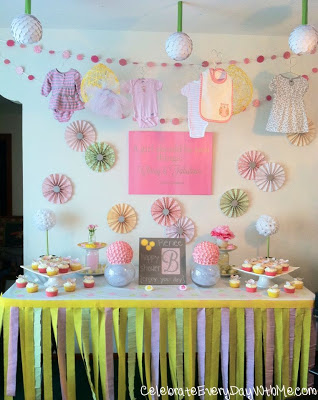 This beautiful baby shower packed a triple punch.  It was designed by three ladies (Sarah, Marcy & Cherise), all who have had parties featured here before.  Isn't this the most gorgeous party table?  I love it!  They have interest at every level from a table skirt of streamers to the sweet baby girl clothes hanging from the ceiling.  And what's more, many of the decor items double as gifts for mom-to-be.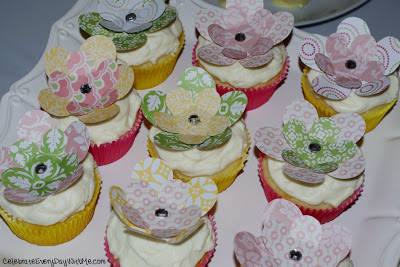 Cassata cupcakes with embellished flower toppers.
Canvas to be hung in the baby's room.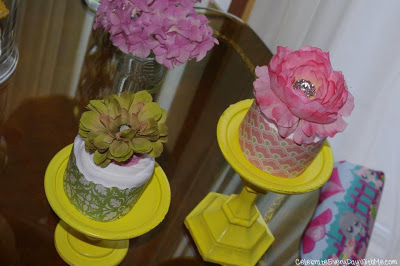 "Cupcake" onesies with flower hair clips set on
pedestals
.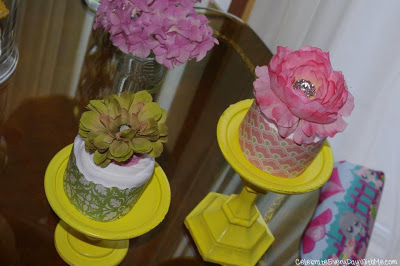 Simple way to add tiers to your table!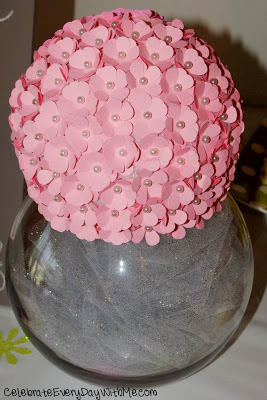 This decoration was made by punching out flowers from scrapbook paper, bending the petals up and adhering them to a styrofoam ball with pearl corsage pins.  So sweet!
What a lovely shower!  Thanks for sharing.
Want to see more parties from these girls?
Cowboy/Western Themed Party
Under the Sea Party
You Are My Sunshine Party