There are times when you need quick birthday decorations.  Hours spent making pom poms for a photo backdrop or the longest threaded balloon bunting is not going to cut it.  You are out of time.  But what can you do in just 5 minutes when you need to decorate quickly?  Here is a list of ideas to get you decorating.
Items to keep on hand:  assorted colors of balloons, streamers, and tape (painter's tape is good too).  Stock these for bonus points: gift bows, dry erase markers and post-its.
10 Ideas for Quick Birthday Decorations
1.  Streamer-Wrap something belonging to the birthday person…his or her chair at the kitchen table, office chair, steering wheel.  Be creative.
2.  Put bows on the person's belongings.  If a family member, put bows around their bedroom, on their toothbrush, etc.  If a co-worker, tape bows to their desk phone, stapler, cabinets, picture frames.
3.  Create a Breakthrough Birthday Banner with streamers.  Simply zig-zag whatever colors you have and voila!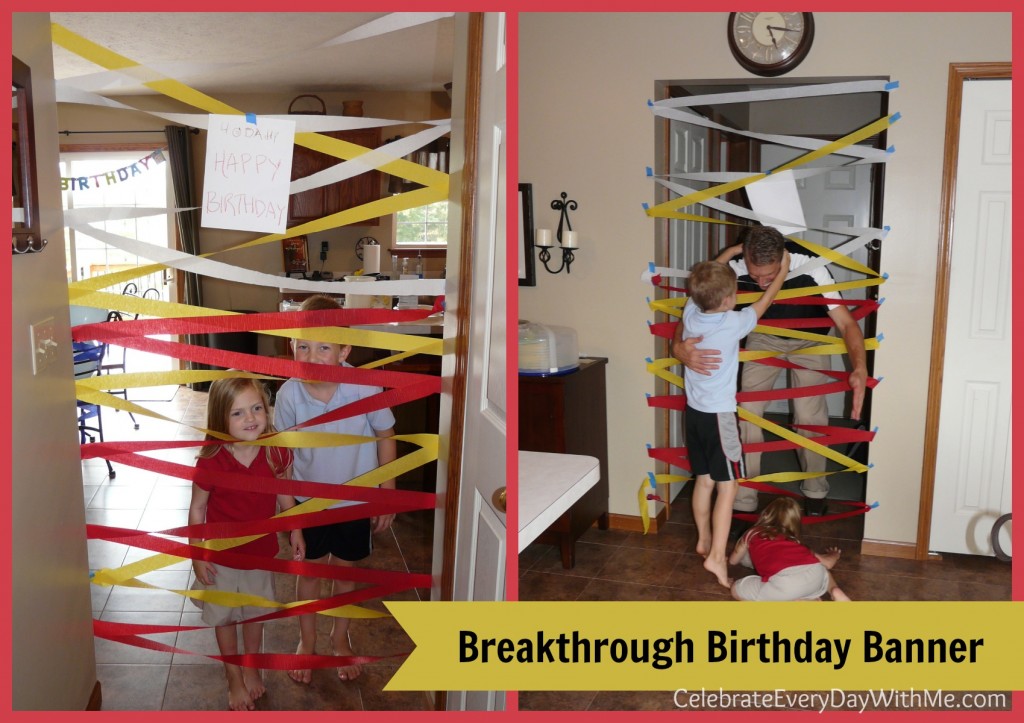 4.  Fill the floor with balloons.  Kids especially love being able to kick around balloons.  How many can you do in 5 minutes without getting light-headed??
5.  Plaster a doorway with hanging streamers.  Bedroom door, bathroom door, office door.  Easy peasy.
6.  Print a message out, many times.  This was the note that was all over my husband's office on his birthday.
7.  Fill someone's front seat (or whole car if you have a lot of people to help) with balloons.
8.  Print a picture of someone's face and plaster it around.
9.  Post-It Note Love:  leave messages all over with encouraging words or simply the person's age as an "in your face" reminder.
10.  Create some quick birthday art or messages with dry erase markers on the mirrors or windows.
What are your "go-to" quick birthday decoration ideas?
Happy Decorating!