Marshmallow Pops are a great treat for a party.  Not only can you display them in a variety of fun ways, but you can also tie them into any theme or color scheme.  Here are a few examples.
Above are marshmallow pops from
The Glamour Party
.  My cousin used jumbo marshmallows, dipped them in chocolate and rolled them in a variety of sprinkles.  She inverted them and served them in cupcake wrappers.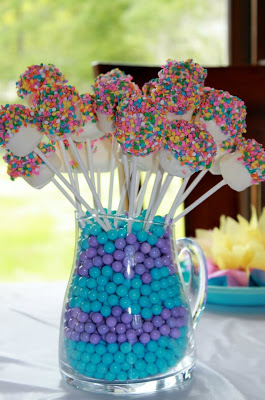 These marshmallow pops are from Marcy's daughter's
Tea Party
.  Not only did she use colorful confetti, but check out her cute display of striped colored candy in a glass pitcher.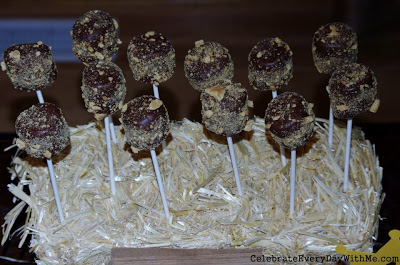 Cherise made these s'mores marshmallow pops for her son's Western/Cowboy Birthday Party.  Look how she stayed in-theme by using a small hay bale for display.  Cute!
So many possibilities with this simple treat.  Have you made marshmallow pops before?  What kind did you make?