Whether you are looking for a handmade gift or unique party favors, today have a fantastic craft for you!  I will be showing you how to make tiles into coasters.  They are surprisingly inexpensive and can be suited to any theme (which is always a huge win in my book).
I made these map coasters out of white bathroom tiles for my father-in-law's birthday party.  The celebration was supposed to have happened a few weeks ago, but unfortunately he fell and broke his hip.  So we are postponing the party until he is doing better.
Our party theme was all about maps and thanks to a family friend who saw my facebook plea for old maps, I found myself with more than I could have imagined.  The best part?  Most were National Geographic and from the 60's.  Could it be any better?
(This post contains affiliate links.)
What You Will Need to Make Tiles into Coasters:
White Tiles (you can find them here on Amazon, however, I found them cheapest at Home Depot.)
Old Maps, Scrapbook Paper or the Paper of Your Choice
Foam Brush
Sheets or Rolls of Cork
White Gloss Spray Paint (I wish I had used this at the beginning!)
I loved the simple, step-by-step nature of this project.  The first thing you need to do is pick up your tiles.   If you are getting them from the hardware store, be sure to inspect each one.  Isn't the price amazing?
One thing I wish I would have done was add a coat of white spray paint to the sides of the tiles before I began gluing on the maps.  It would have made the sides look more polished and finished.  I have pointed this out to a couple friends and they said they would not have noticed.  But in case you are as 'particular' as I am, I thought you would want to know.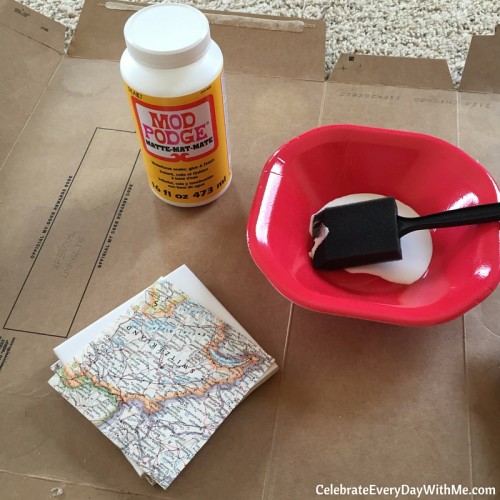 Cut Your Map Squares.  Trace your tile onto a piece of paper to create a template for cutting the maps.  You will need to shave the template down a bit so it fits on the top of your tile.  Once you are satisfied with a template, cut the maps into squares.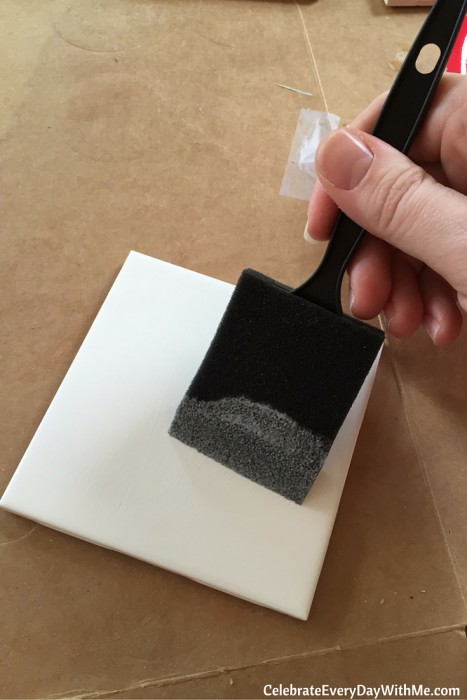 Put a coat of Mod Podge on the tile with your foam brush.
Carefully, place your map square on the tile.  You will be able to slide it around a little to get it in the perfect spot.
Run your finger across the map to smooth it out and ensure there are no air pockets.
Now put two two coats of Mod Podge on top of the map, allow the glue to dry between coats.
Next, spray the tiles with a clear coat of sealer or spray paint.  Once they are good and dry, you are ready to move on.
Make a new template for the cork sheets.  Trace the template onto the cork and cut out the squares.
I tried hot gluing the cork to the tile and only ended up with a huge mess and the unpleasant job of tearing the cork off bit by bit.  Mod Podge worked so much better.
Apply a coat of Mod Podge to the bottom of the tile and press on the cork.  Again, allow to dry.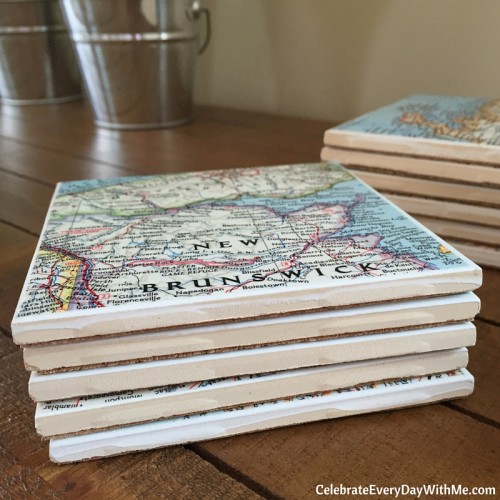 Do you notice the unevenly glazed sides?  This is where spray painting first would have been awesome.
I love how the coasters turned out.  All from a 16 cent tile!
Stack them up, tie them up . . . use them at the party and then send your guests home with the memento of the celebration!
Happy Creating!
~ Kristen