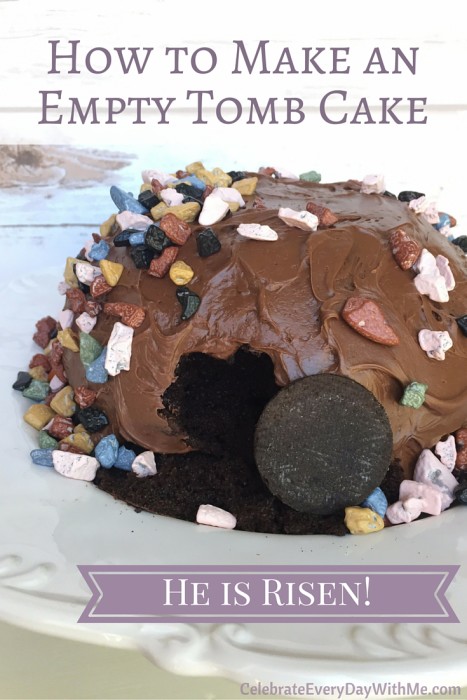 Today, I have a fun and easy way to celebrate the Risen Savior, and as so many things around here do, it involves cake!
The most profound aspect of Christianity is that Jesus died for the penalty of our sins and conquered death when He rose from the grave.  We don't serve a dead savior.  On the contrary, He is alive and at work today.  The excitement of that fact is something I want my children to comprehend and find thrilling.
We can teach and celebrate this in many ways, but today we are making a cake!
Here is What You'll Need to Make an Empty Tomb Cake – 
2 Mixing Bowls (one must be metal)
Cooking Spray
Flour
Cake Mix and the Ingredients on the box
Icing
Chocolate Candy Rocks
Heating Core depending on the size of your bowl (this post contains affiliate links)
One Oreo
Two things I love about this process – 
 It's easy!  Buy a box of cake mix and a can of icing and you're half way there.
You get to bake in a metal bowl!  Throw out the rules.  Pack away your traditional cake pans and feel the freedom.  Embrace baking in an ordinary mixing bowl . . . oh dear, my life must be a little dull for this to be exciting!
Instructions – 
Prep Your Medium-Sized Metal Bowl for Baking.  Prepare your bowl by lightly spraying with cooking spray and dusting with flour.  For a chocolate cake, it is often best to use cocoa powder.  But I didn't have any and the white flour worked just fine.  

In your other mixing bowl, make your cake batter according to the instructions on the box.
Pour the batter into your bowl and bake at 350 degrees.  For my medium sized bowl, I was expecting 30-35 minutes like the ladybug cake I made years ago.  But because I used all the batter, it took more like 50-55 minutes.  For the last 10 minutes, I added a flower nail (substitute for an actual heating core) to help push it along.  Maybe I was just getting impatient.
Once your cake is mostly cooled, invert your bowl and pat it out.  You may wish to slice the bottom of the domed cake to make it flat.  I wanted the height, so I added extra icing at the bottom to make it work.
With a sharp knife, begin to cut out your cave-like tomb.
I cut reasonably far into the cake and used the crumbs as the path out and in front of the opening.

Next, frost the cake.  Again, I was thinking simple here, so I just used a can of icing.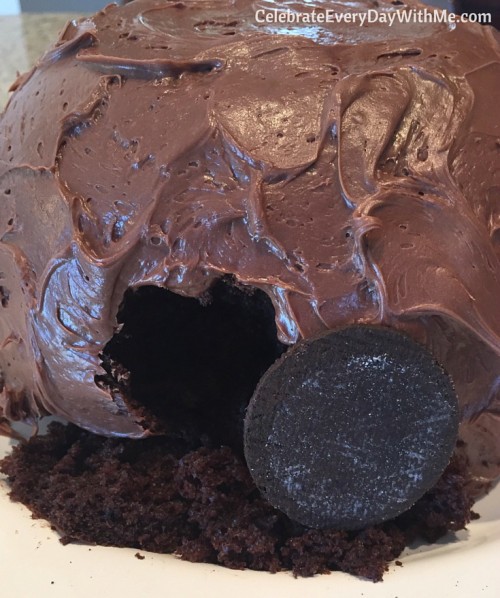 Now, you will need to add the stone that was rolled away.  Twist an OREO and use one of the cookie sides as the stone.  What you do with the rest of the cookie (or the box for that matter is up to you!).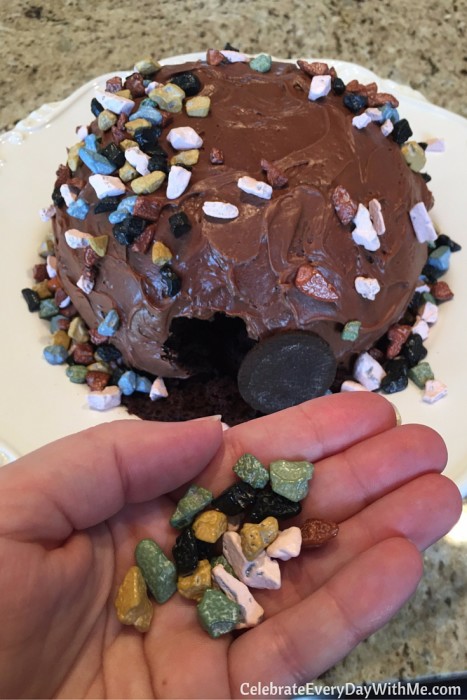 To finish up your empty tomb cake, add some chocolate candy rocks.  I put mine around the bottom and in no particular pattern on the cake.
This is a great time to have the kids help!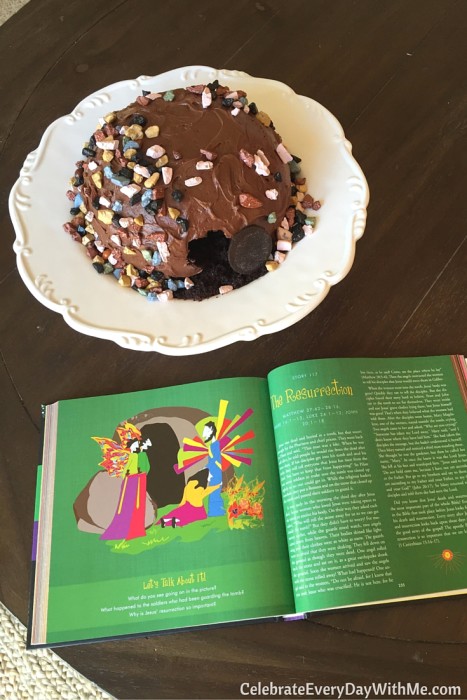 When we were done with the cake, we grabbed our Gospel Story Bible and read the story of the resurrection.  I love this story book Bible!  It has such a focus on the Gospel weaved throughout all the biblical stories, emphasizing our need for Jesus, His sacrifice and our redemption.  It also has discussion questions for each story that can spur on some great conversations!
Now, I will tell you that my son asked if he could put some figures on the cake.  And if he had been talking about soldiers, angels, the women or Jesus, I would have been okay with it.  But something tells me he was thinking Star Wars and Lego minifigures.  So, keep them on track and continue to point them toward Jesus!
What special things does your family do to focus on the resurrection?