Today, I have a lovely spring centerpiece that will look gorgeous on your table.  Instead of flowers arranged around a vase filled with stacked candies, this arrangement nestles the candy atop the flowers, inviting your friends and family to gather near to taste sweet treats and enjoy the scents of spring.
I saw an image of this style of arrangement a while back, but haven't been able to find it since.  So, here is my take on how to make it with much of what you already have in your house and garden.
Here is what you need –
A cylindrical vase
A candy dish
A bowl
Flowers
River Rocks (my affiliate link)
Twine, Jute or Ribbon
Candy (pick something that pulls from the coloring of your flowers)

1.  Place your cylindrical vase in the bowl.  Be sure you are selecting dishes that fit well within each other and sit flat.  Then, set your candy dish  on top so that you know the right spacing for your flowers.


2.  Cut the flowers to fit.  They should be taller than the vase so that the candy dish appears nestled into the bed of flowers.


3.  Tie the jute around the vase with a couple of the flowers in place.  Unless you have someone helping, you will need to secure your flowers from the start.


4.  Continue to add flowers around the vase and pulling the jute around them.


5.  Don't forget to add water to your bowl to keep your flowers happy.  I started with just enough to keep them in water.  Once everything was done, I added more.


I used a rock to apply tension to my jute as I worked around the vase.


6.  Once you have worked your way around the entire vase, wrap the jute many times to give it a fun, vintage feel.  Then, tie it off.  I knotted it to another one of the wrap arounds.


7.  Add your river rocks.


8.  Adjust your jute spacing as needed to give an even look and be sure to snip any loose end.


9.  And finally, add your candy.  I used Reese's Pieces Eggs.  And boy, they went fast!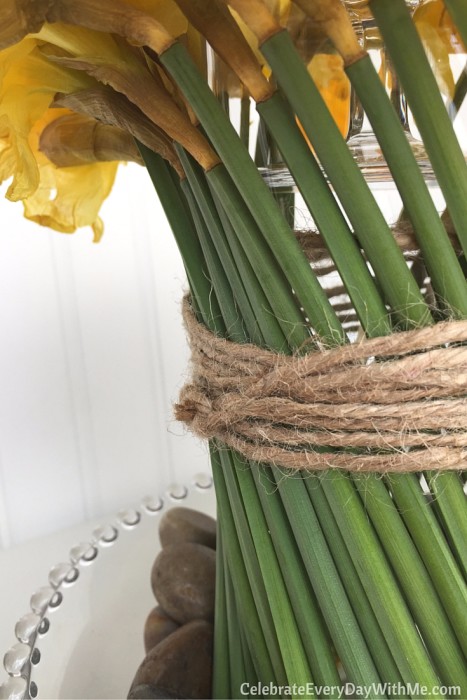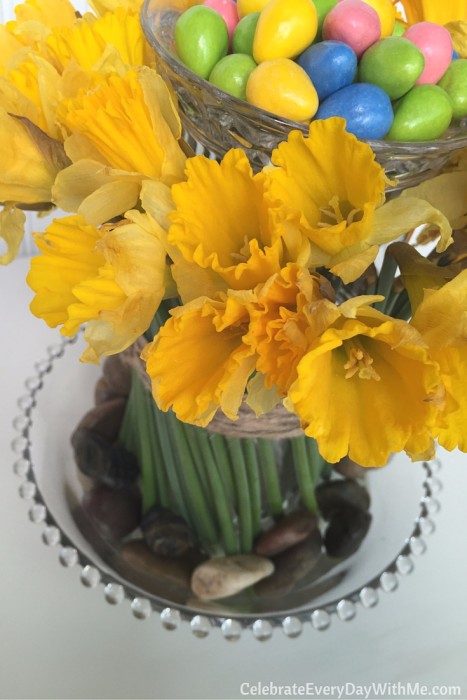 What flowers and candy will you use in your centerpiece?