Did you catch last week's fun breakfast for a kids' sleepover?  Milk, fruit cups and a bagel bar with a DIY chalkboard serving tray.  But what I didn't show was how I made these adorable bagel stands.  And that, I saved for today.  Whether you're serving bagels or doughnuts, these display stands will look great for any celebration.
Here is what you'll need to make 3 Bagel Stands:
3 Pine Rosette Mouldings (3-3/4″ x 3-3/4″)
1/2″ x 48″ dowel
Square Layout Tool
Drill
Sand Block and/or Sand Paper
Hack Saw or other Hand Saw
Stain and Supplies (brush and rag)
Food-Grade Sealer – oh, the drama
Wood Glue (optional)
For your bagel stand base, you could use a simple block of wood, but I opted for these fun pine rosette mouldings that I purchased at Home Depot (or take a look at these 'affiliate' options).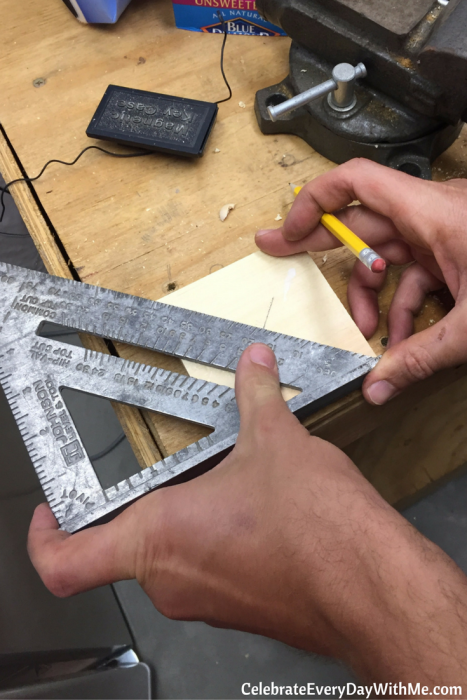 First, you will need to mark the center of the rosette.  Use a Square Layout Tool to find the center.  Not all rosettes are perfectly centered and square.
Drill a pilot hole from the backside.
Then, drill a 1/2″ hole from the front side.  (Don't mind the mess of Dan's workbench.  I just bought him organizers for his birthday.  It's on the list!)
Sand around the hole as needed to give it a smooth finish.
Next, cut the dowel into 12″ pieces and sand the ends for a finished look.
Stain the rosettes and dowels.  Allow them to dry fully.
Now, to seal the wood and prep it to be food-safe.  In all my research, I found several things that are deemed to be food-safe on wood.  A couple options are shellac (wax-free), beeswax  and 100% tung oil.  There are others, but I would suggest doing your own research to find what you are comfortable with.
I first tried beeswax which was a disaster in the application stage.  It cooled and caked too quickly when I was putting it on the wood.  It took holding the block and dowel over steam to soften everything so that I could try to wipe the excess wax off.  Not my idea of success.
Then, I found Butcher Block Conditioner.  It is made of mineral oil, beeswax and carnuaba oil.  All are food-safe and it was a breeze to apply.  I simply warmed it a little and put it on with a rag, followed by buffing 20 minutes later.  I applied 3 coats as suggested for initial use.
I choose not to glue the dowel into the block to keep the bagel stand easy to store as separate pieces.  My stands have a great, tight fit.  However, if your stands wobble, add wood glue to the bottom.  Just be sure to keep it away from where food will touch.
What do you think?  I loved how the bagel stands turned out!  If you want to see more of this breakfast, click here or on the image below.