Join me to #SayMore to those you value and appreciate this holiday season.  Disclosure:  I participated in an Influencer Activation on behalf of Influence Central for Hershey's KISSES Deluxe.  I received product samples to facilitate my review and a promotional item to thank me for my participation.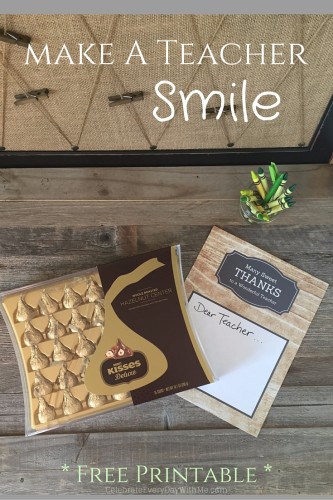 Hi Friends!  I am so excited to be partnering with Hershey's KISSES Deluxe for their #SayMore campaign and I think you'll love the reason and motivation behind it all.  Read on!
We all live busy lives, right?  As much as technology has made life easier, it has also taken some of the pleasantries and thoughtfulness out of our daily interactions.  It is easy to text or shoot a quick email, but the notification on our screens doesn't always express that personal touch.  One thing I am trying to be more deliberate about is saying thank you and looking for meaningful opportunities to express my gratitude.
Over the years, my kids have been blessed with many great teachers.  Being a teacher is hard work.  If you have ever helped in your child's classroom and come home exhausted, you probably appreciate even more the individuals who pour themselves into this important profession.  Classrooms filled with kids who are not their own, yet teachers invest in their students' lives, training, teaching and loving them.
During the school year, my son spends half of his waking day at school.  (My daughter is still in half-day kindergarten.)  That is a huge chunk of time under the influence of the teacher.  So when we have an exceptional teacher, we want to make sure we share how much he or she is valued.
My son is blessed to have had the same teacher for two years now.  She made the jump from 1st to 2nd grade with the students this past year (and we were so excited).  His teacher is someone who helps my son and her other students to grow in their academics, character, maturity, relationships and faith.  She has had wonderfully creative ideas to help my son grow in areas of development.  She has spent time, effort and love on him and I am so thankful.
So . . . with the help of Hershey's KISSES Deluxe, we expressed our thanks for the amazing job she does.
Don't miss the free printable below or the chance to win a box for yourself or someone you love!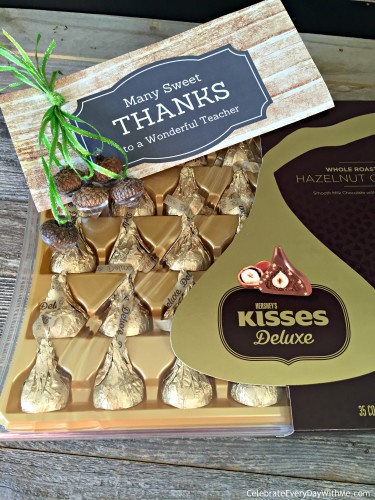 You may not have heard of Hershey's KISSES Deluxe yet.  I had not before this.  So, let me tell you just a bit about this sweet deliciousness.
The KISSES Deluxe Chocolates are twice the size of original Hershey's KISSES.  Yes, twice the size!  They have a creamy chocolate center surrounding a whole roasted hazelnut.  And finishing it off is smooth milk chocolate with delicate crisps . . . My mouth is watering!
I love the presentation because it makes a great gift.  The KISSES, covered in gold wrapping, are perfectly placed in a sturdy, clear box so the recipient can immediately see the treat in store.
Do you want to join me in saying more this holiday season?  Do you have a teacher you would like to thank?
Make it Personal!  Along with the decadent chocolates, I included a handwritten note.  Remember letters?  There is something nice about a written note as opposed to a typed email.  Download the printable below and add a handwritten note of thanks.
Download:  Many Sweet Thanks -Free Printable
Wrap it up!  The Hershey's KISSES Deluxe speak for themselves, so you don't really need to wrap them.  But I chose to put them in a simple white gift box, tied with jute and the note tucked on top.  I also added a cluster of my acorn ornaments for a little fun on the top of the box.  See the tutorial on how to make them.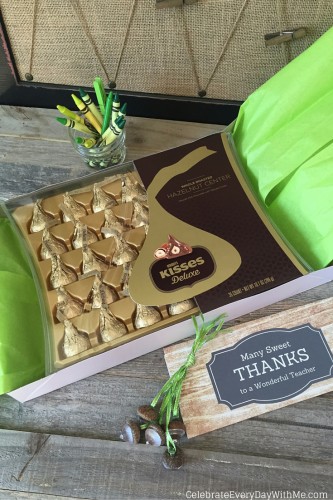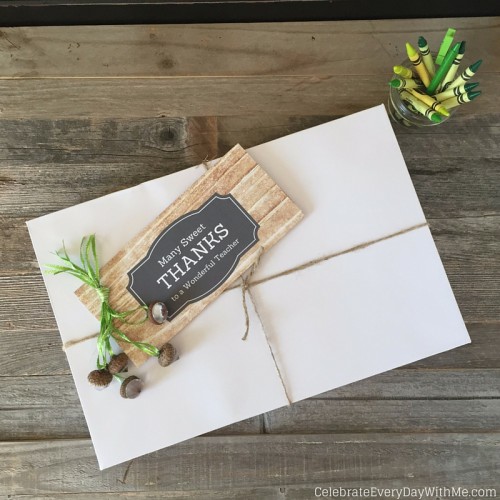 Who can you say more to this holiday season?  Watch this sweet Say More video for inspiration.
Hershey's KISSES Deluxe Giveaway:
Influence Central is hosting a contest to win one of 50 Hershey's KISSES Deluxe 75-piece gift box valued at $35.  The contest closes December 14, 2015.
Enter Here:  Hershey's KISSES Deluxe Giveaway
  (I-C will randomly select fifty winners from all program entries and will handle fulfillment of the winning prizes.)
Other Ways to Connect with Hershey's:
Hershey's KISSES Deluxe website: http://www.kissesdeluxe.com
Hershey's Facebook: https://www.facebook.com/hersheyskisses
Hershey's Twitter: https://twitter.com/HersheysKisses
Say More video: https://www.youtube.com/watch?v=rvGpp8o91-U