If your family has been in need of a little getaway that offers both excitement and relaxation, while providing fun for a variety of ages, read on!
I am guessing that your life is full-speed ahead like mine.  Busy with kids, school and homework, extra-curriculars, church life and more.  And for us, after the week that my daughter was in the hospital while Dan was out of town for work, we were most definitely ready for a little getaway . . . a chance to laugh, have fun and enjoy being together without a schedule.
So last week, we packed up the car and headed to Hotel Breakers in Sandusky, Ohio to visit Cedar Point, the Roller Coaster Capital of the World.  I have been there many times before (both for fun and for Bloggy Con) and this was the kids' third visit.
You may think that taking young kids to a roller coaster amusement park isn't the best idea for a family getaway.  In fact, just recently, I was talking with another mom who didn't know all that Cedar Point offers for young families.  And boy, there is a lot!  It is a great place for the whole family, no matter what age.  Here is what we loved most.
Our Top 10 Cedar Point Memories (and why you'll love a family getaway to Cedar Point!)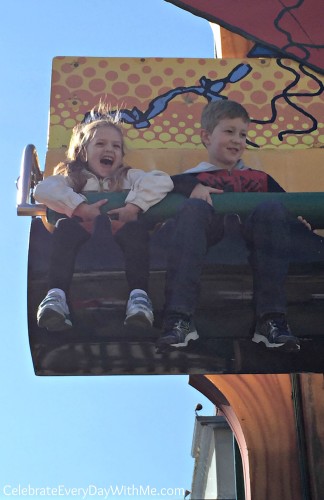 1.  Lots of Smiles
It is such fun for parents to see their children thoroughly enjoying themselves.  My daughter especially loved Kiddy Kingdom, Camp Snoopy and Planet Snoopy (three fun-filled areas that cater to guests under 54″ tall).  Tons of rides for little ones!
I should also mention how impressed I was with the park's cleanliness!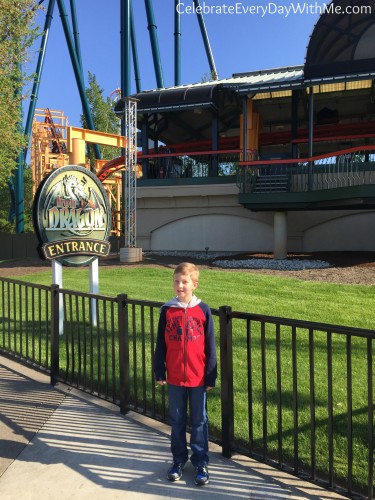 2.  Riding Iron Dragon Three Times in a Row with No Wait!
As guests of Hotel Breakers, you can enter the park an hour before the public and enjoy riding a selection of early attractions.  My son loves Iron Dragon and of course, we had to ride it first thing in the morning over and over again.  Three times put my stomach at its limit.  But sitting in the first car without waiting is such a treat!  As you can see in this Instagram picture, he was completely thrilled.
3.  Toes in the Sand
Hotel Breakers and Cedar Point sit on one mile of beautiful beach on Lake Erie.  It is picturesque and relaxing.  The kids and I enjoyed putting our toes in the sand and walking along the water.  Definitely could have spent more time here!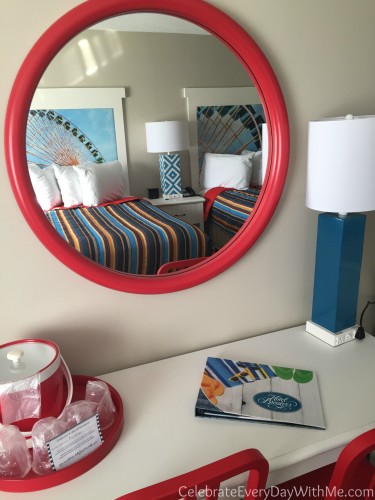 4.  Fun Features and Convenience at the Newly Refurbished Hotel
Hotel Breakers was originally built in 1905.  It has a rich history and just finished a complete renovation.  It looks terrific!  The rooms were fresh and clean, and my kids loved sleeping under the roller coaster pictures above the beds.  The whole place has a great nostalgic atmosphere.
And staying at Hotel Breakers is so convenient.  It doesn't get any better than a hotel encompassed by beautiful Lake Erie on one side and the amusement park on the other.  To enter the park, you only have to walk out of the hotel and down the boardwalk or the path.
I must also mention the Silly Mirrors in the hotel lobby.  While they did provoke a great deal of [loud] giggling, the mirrors occupied my kids quite well while why I was checking in.  And I would like to thank whoever it was that put five hooks in the shower.  Brilliant and perfect for families!
Check out this rotunda ceiling off the main lobby!  Gorgeous architecture and beautiful dangling lights . . . the wedding planner in me is seeing fantastic parties and receptions, with guests dancing under this rotunda as they enjoy a relaxing view of the lake.
5.  Screams
Usually, any kind of screaming would not make my top 10 list of anything.  But hearing my daughter scream on Woodstock's Express (a kid-friendly roller coaster) was a hoot!  Only to be followed by racing off the ride to run and see her photo on the screen.
6.  Crazy Fun Servers
Meet Jamal!  He was our fun server at Johnny Rockets and made the experience such a treat.  A throwback to the fifties, we enjoyed burgers, fries and shakes…and some entertainment from the staff.  PS – try the Chocolate Peanut Butter Malt Milkshake.  It was the best!
7.  Views from Above
Whether we were on one of the big roller coasters or the Sky Ride, the views of the amusement park and the lake were awesome.
My guys caught some terrific views riding the Wind Seeker.  Can you see their feet?  Nope, me neither.  They were so high up!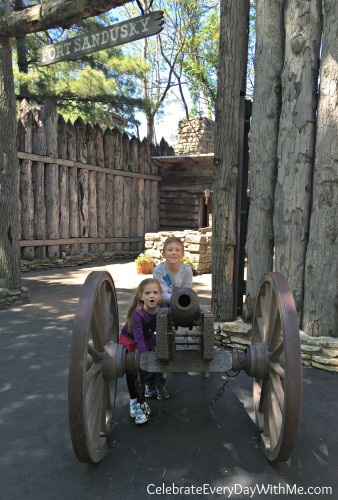 8.  Hands-On Fun
There is plenty of fun for all ages, including young children in Cedar Point's Frontier Trail area.  You can go into 1800's log cabins that were original to the area and relocated to park.  And my kids' favorite part:  the barnyard and feeding the goats.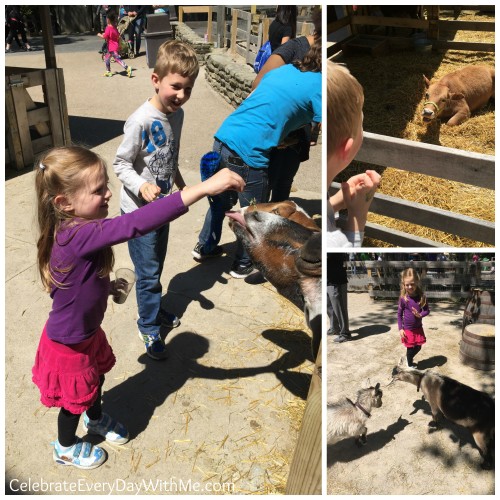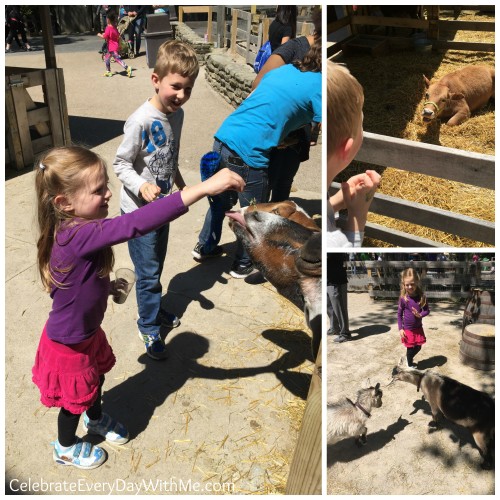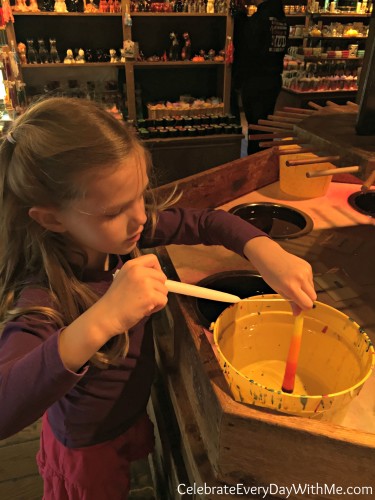 There is also a cool candle shop where you can dip your own candles.  My daughter L-O-V-E-D this!
9.  The Memorable "Firsts"
As the kids get older (and taller), it is fun to experience their "firsts."  This photo is from my son's first ride on the Magnum XL-200.  It was scary, but he loved it.  Nothing like choosing the first car for the biggest roller coaster he has ever ridden.  🙂
10.  The Anticipation of Return
The kids have already talked about what they'll do on the next visit.  And with each trip, I'm sure they will find something new to try and we will continue to create great family memories.
Disclosure & Thanks:  Special thanks to Cedar Point and Hotel Breakers for hosting my family as their guests.  All opinions in this post are my own.