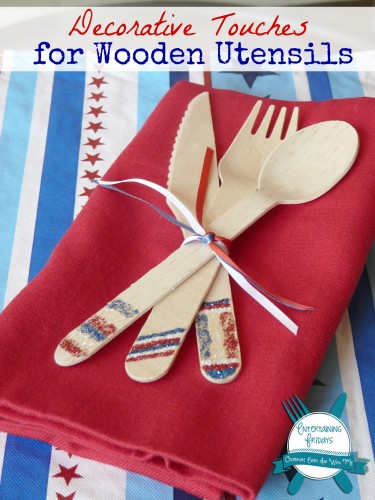 I have loved hearing about your upcoming celebrations in the Shindigz giveaway.  So many birthdays, showers and other fun events that you are getting ready for.  (If you haven't entered to win $50 at Shindigz, a great party supply website, you can do so here through Sunday night.)
Are you entertaining for the 4th of July?  I love planning for patriotic parties.  The meaning, symbolism, not to mention the fantastic trio of strong colors to work in throughout your entertaining-wares.
If you have been on Pinterest at all recently, (and let's face who hasn't spent way too much time there),  you have probably noticed the latest trend in using wooden utensils.  And by the way if you haven't been on, let me congratulate you for being more productive than the rest of us.  
The use of wooden utensils is a craze that I am in love with.  The natural look.  The "something" other than clear plastic.  The perfect-for-summer entertaining.  Yes, I am liking this trend.  But another aspect that I really like is the fact that you can add decorative touches.
I began playing around with glitter glue on the handle of the utensils.  When looking for the perfect medium to use on utensils, you wouldn't normally think anything with glitter would be appropriate.  
But rest assured, this glitter glue is non-toxic!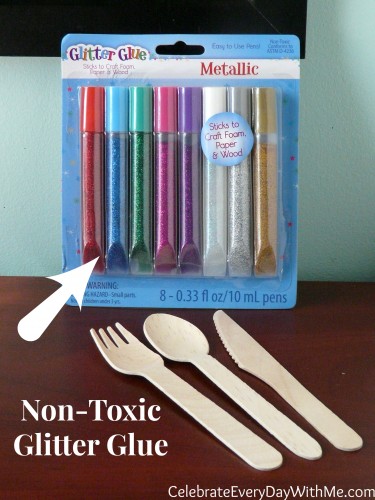 Whether you are entertaining for Independence Day or another reason, have fun with the designs.  I played with three different patterns on my utensils.  My favorite?  The spoon's design where I smeared the glitter glue on rather than leaving thick.
I loved how the glitter glue dried and even with rubbing, it did not come off.  It is a fun way to dress up your place setting and tie in with a theme.  What decorative touches would you add to wooden utensils?
Thanks so much for joining us for our second Entertaining Fridays.  I am so glad you are here!  Next week, I will be sharing my hack for gorgeous flower pots to welcome your guests when the arrive on your front step.
And if you're feeling patriotic, check out my Patriotic Pretzels.  They are easy to make and so delicious!  The kids can even help you.