This post contains an affiliate link.
I was super excited when I saw this new devotional by Karen Ehman and Ruth Schwenk called, "Pressing Pause:  100 Quiet Moments for Moms to Meet with Jesus."  It looked perfect for busy moms and truthfully, I have yet to meet a mom who isn't busy.
Personally, I have felt so rushed lately.  House projects, work deadlines, school, extra-curricular activities, and a myriad of other pressures and commitments . . . the thought of pressing pause was refreshing.
Whether you are up many times at night, changing diapers or you've moved on to the emotional roller coaster of raising teenagers, I think you'll love the heart to heart talks these two women bring to the table, all with a focus on meeting with Jesus, finding who you are and what you're made to do.
The book is filled with 100 encouraging devotionals and I quickly discovered three things I love:
1.  I love that the devotionals all start with Scripture and are filled with good and challenging thoughts to help you in parenting, marriage, your pattern of thinking and spiritual journey.  Each day, you are pointed to the Lord, His Word and His Truth for your life.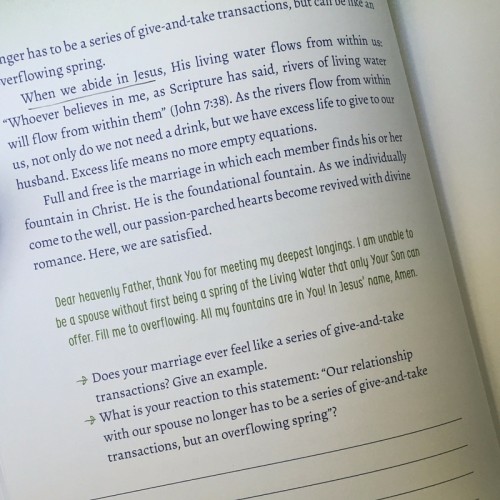 2.  At the end of each devotional, there are thought-provoking questions and a spot to journal your answers.
3.  It is [squeal of joy] hardcover!  How often do you see a hardcover book anymore?  I love holding this book in my hands and running my fingers over the textured cover.  It feels like wallpaper and makes me happy.  (I know, I'm weird.)
The book is incredibly reasonable in price . . . less than $10 on Amazon with Prime and definitely, a book I am enjoying working through day by day.  It is a wonderful addition to my devotional life.
Click here to learn more, read reviews and buy the book.
What are you reading these days?
Disclosure:  I received the book free of charge in exchange for my honest review.  All opinions are my own.