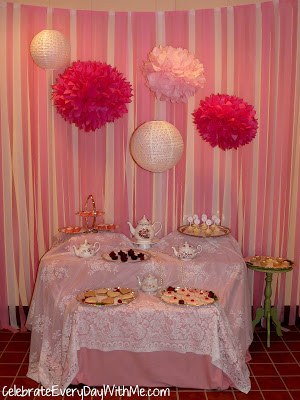 If you have been following along, you know that we hosted a "Bring Your Doll" Birthday Tea Party for Sweet Girl's 3rd birthday.  You can catch up on the last post here.  Today, we're taking a look at all the tea sandwiches and tea fancies (desserts).
Tea foods are meant to be small so I opted for three tea sandwiches and three tea desserts.  I'm getting hungry just looking at all these pictures!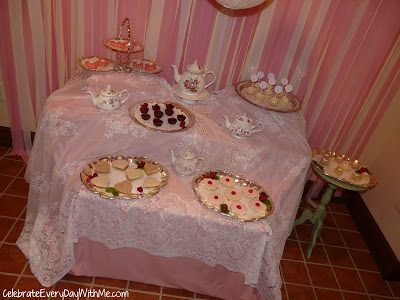 It was important for me to have a buffet setting that all the little girls would be able to see.  A regular-sized table wouldn't do, so I used an old double school-desk and nested my piano bench under it.  Perfect!
The Tea Sandwiches:

There are two important things to know about making tea sandwiches.  First, always work with frozen bread.  When you are using cookie cutters to create different sandwich shapes, you will have less tearing and crushing of the bread by freezing it first.  Only take out what you need at the moment and work in an assembly-line fashion.
Second, lightly butter your bread first.  It will keep it from getting soggy.  So for any of the sandwiches that don't have a thick spread (ie. peanut butter), layer a thin coat of butter down first.  And move fast, that bread is thawing.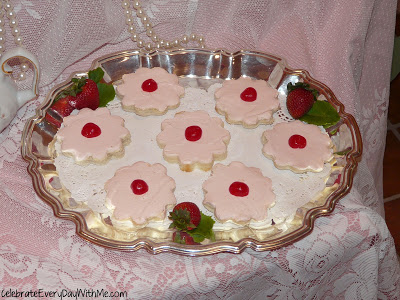 Cream cheese sandwiches – I colored the cream cheese with a little maraschino cherry juice and then topped with half a cherry.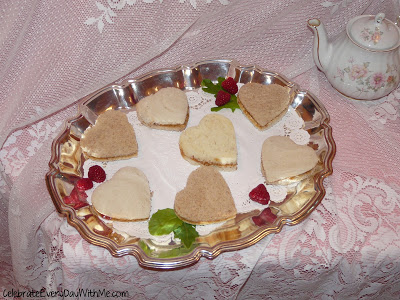 Peanut Butter & Jelly – perfect for a child's party.  For each of these tea sandwiches, I used one white slice and one wheat slice.
.
Ham & Cheese Sandwiches – Deli ham, colby jack cheese with a tiny dab of cream cheese between each layer so that it would hold together.  The garnish is cream cheese (piped on) and a sliver of carrot.  Except for the gluten-free sandwich in the center, wheat bread is on top and white on the bottom.
The Tea Fancies: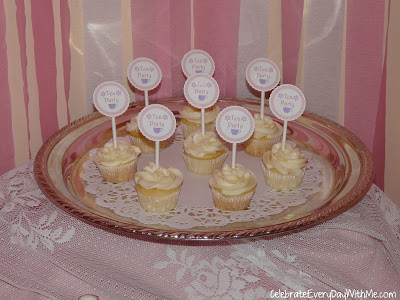 Little Cupcakes:  Vanilla cupcakes with my favorite Kid's Buttercream from
this cookbook
.  The cupcake toppers were made with my
Silhouette Cameo
.  Boy, I love that thing!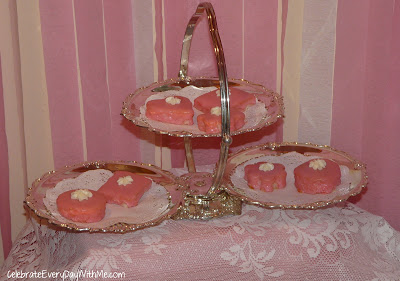 Petit Fours:  These are delectable and sweet treats!  It is a cake covered in sugary icing cut into various shapes.  Thank you to my mom, who made this batch of goodies.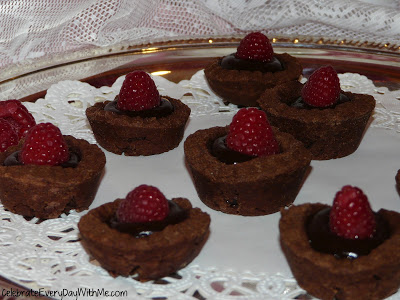 Chocolate Tarts:  Every party has a food that gives you great difficulty, right?  Well if there was ever one, this was it for me.   The chocolate tarts come from
this recipe on Brave Tart
.  The recipe is in ounces instead of cups or tablespoons.  So the trouble first started when I had to find an online conversion tool for each ingredient (because ratios are different if you're talking flour or sugar).  Then, there was the making fit into my pans . . . I won't bore you with any more.  They didn't come out perfect.  But filled with chocolate pudding and garnished with a raspberry, they were pretty good.
Our "tea" for the day was . . . simply pink lemonade.  And the girls loved it.  They kept asking for more "tea," but we only let them put a sugar cube in on the first cup.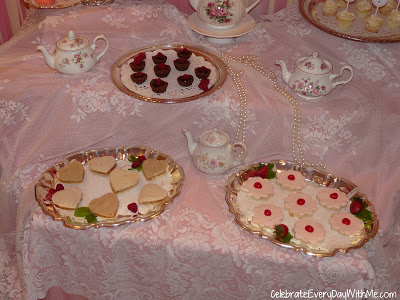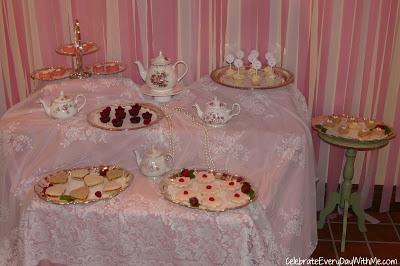 Tea is so much fun!  Next week, I'll be sharing about our party activities.
Related Post:  Birthday Tea Party Decor, Birthday Tea Party Activities
(This post contains affiliate links.  Please see my Disclosure Policy on the About page for more information.)