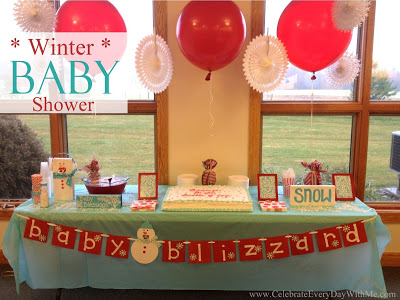 One may think that winter isn't a great time for a baby shower, but with a fun theme like this, any mom-to-be and her guests will be comfy and cozy.  Today,
Sarah from Taylor Design Studio
 is sharing a baby shower she threw in December.
The theme is
Baby Blizzard
and Sarah used so many great party and design elements.  You may remember back to her thoughts on color scheme from our series,
31 Days to An Awesome Party
.  Among her ideas, she mentioned the red, white and aqua party she was working on and the importance of sticking with the same shades of the color scheme throughout the party.  You will see how she does it throughout all the decorations.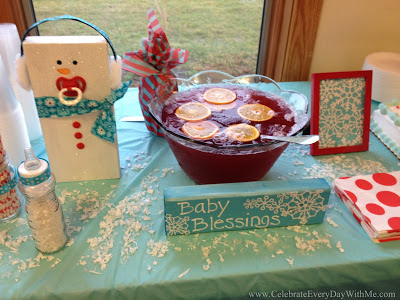 Check out all Sarah's creative touches from the Snow Baby and signs made out of wood, baby bottles filled with snow to framed snowflake art.  For the art, Sarah bought the snowflake paper and put the aqua paper behind it in the red frames.  The 36″ round balloons were purchased from the 
Sweet Lulu Shop
.  I also love the red and white striped straws pictured below.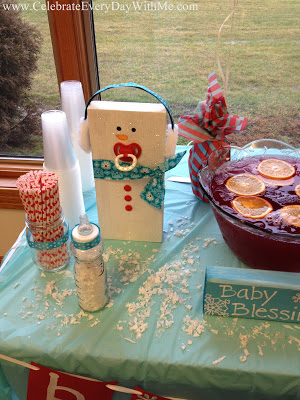 Sarah had two different table decorations for the guests' tables.  One thing about the snowman table is that Sarah uses a 60″ snowman tablecloth (from Walmart) as on overlay on the 60″ round table.  A white plastic tablecloth is underneath.  Clever if you want a certain look but can't get a longer tablecloth!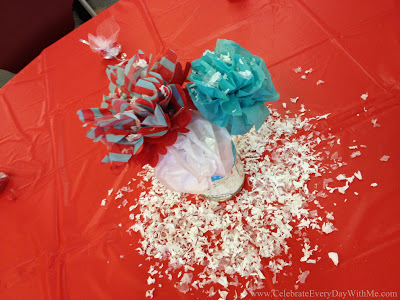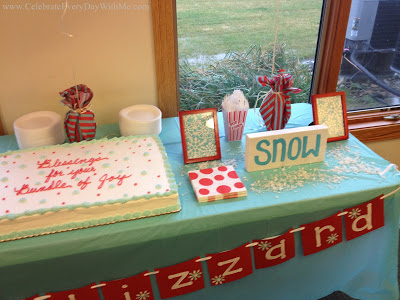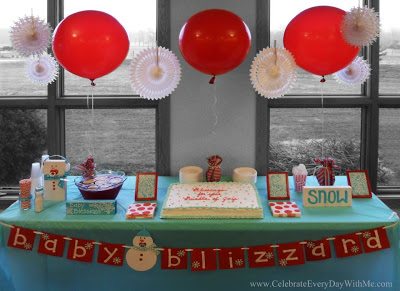 Be sure to stop by Taylor Design Studio's Facebook page and tell her what you think of the party.  Like the page and you'll also get her great design and decor tips.  Soon, she'll be selling her once-used party decorations on Etsy.  Check back here to find out when her shop is up and running.