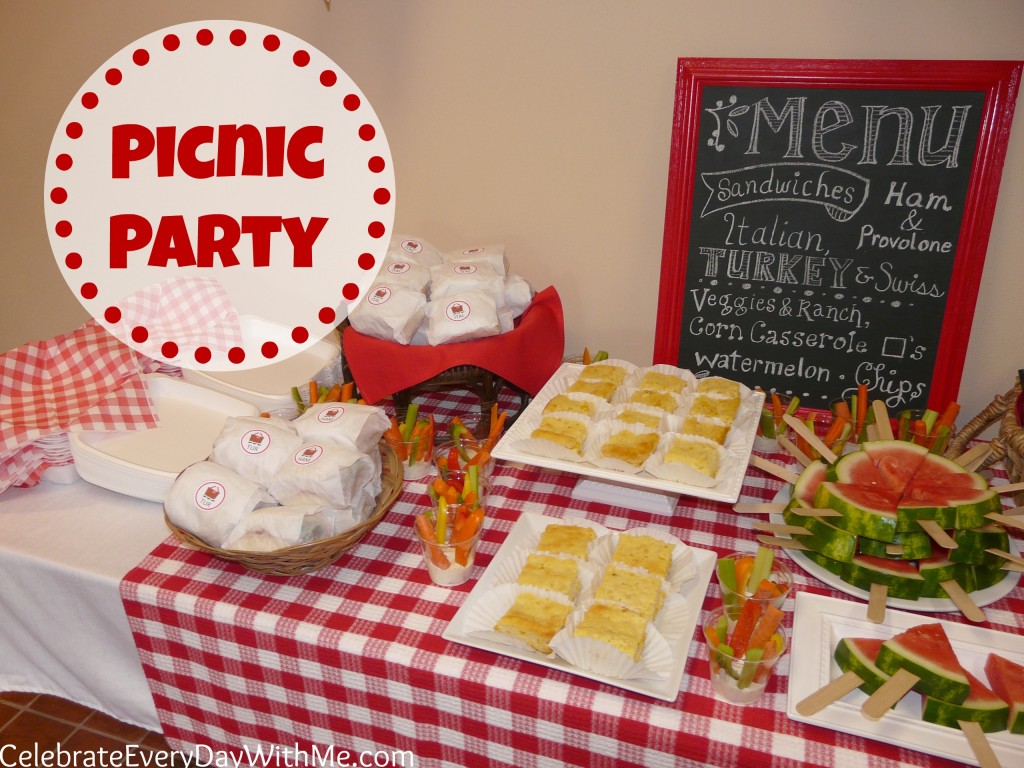 If you follow me on Twitter or Facebook (and if not, come & join me!), you know that I think I have found my favorite party theme ever!!  … PICNIC.
I love the simplicity, the oh-so-easy menu and the great red and white colors and pattern.  And for a party that was originally not supposed to have a theme, it came off spectacularly!
It started earlier in the summer when I was thinking about the kids' family birthday party.  Yes, I do separate parties for everything.  Dan's family is pretty big, so we do a separate party to celebrate my kids' birthdays (but at least the two special days are close enough to do a combo-deal!)
Anyway, with the busyness of trying to sell our house, I had decided I would keep the family party low-key . . . no theme.  We'd grill burgers and dogs and leave it at that.  I would leave the themes to the friends' parties.
But then a week before the party, I started itching to "theme-up" the party.  I walked down into the storage and glanced around my rather large party stash of goodies.  I remembered I had a huge stack of plaid picnic napkins.  And that is where this started.  I put it together in about a week with many of the 'props' already in my possession . . . It doesn't get better than that!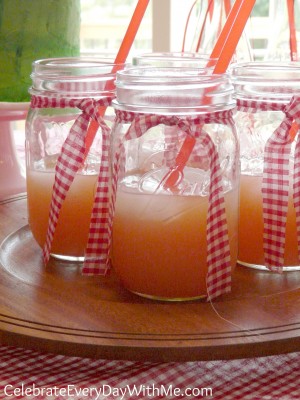 Our guests were greeted with this amazing Pineapple Pink Lemonade Soda from Lil' Luna.  It was sweet and refreshing and I could have sipped it all.
MONEY SAVING TIP:  Instead of buying expensive ribbon for a party, try buying fabric and cutting to suit your needs.  For the same price of a small spool of picnic ribbon, I bought one yard of picnic fabric, cut my strips for the mason jars and had enough to lay on top of this table too.
PARTY TIP:  Don't want your guests' glasses don't get confused?  Use a fun ribbon/fabric on each glass (or mason Jar) and write their name with a Sharpie on the ribbon.  Pretty and practical!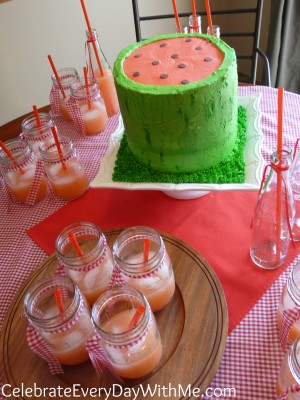 Along with the special drink, came a peek of dessert.  I made a watermelon cake with 4 layers of 8″ cakes.  I didn't use straws for support; I just treated it like two separate double layer cakes and put a cake round in between for support.  A little icing (or a lot), a few chocolate morsel "seeds" and we were done.
The 3-D stars were something I picked up a month earlier on clearance from JoAnn Fabrics.  My chalkboard needed only a fresh coat of red paint and I borrowed the picnic table cloth and drink dispenser from my mother.  It is great to have a mom who loves to entertain too…double the resources!
On the left of the table, I started with To-Go Boxes with a picnic napkin draped over the bottom.  Guests grabbed their container, their ready-to-go food and headed outside.
The Menu:  
Sub Sandwiches (Ham & Provolone, Italian, Turkey & Swiss)
Veggies & Ranch in single serving punch cups
Corn Casserole Squares presented in large cupcake wrappers
Watermelon served on jumbo popsicle sticks (less mess!)
Assorted Chips
Cheese, Crackers and Pepperoni
Wonderfully easy, right?
I love chalkboard art for parties!  This frame has been repainted more times than I can remember.  My inspiration for this board came from a couple different pins, but primarily this one.   (And if you are having a wedding or formal event, you've got to check out this girl's work for chalk menus.  Amazing!)
I ordered the subs from a local supermarket, sliced them up and wrapped them in deli paper.  The labels were made with Printable White Sticker Paper
 for my Silhouette Cameo
.  Ah, I still madly love this machine!
It was a perfect evening!  We ate outside on the deck and lingered until dusk.  Then it was time for . . .
Sparklers & Glow Sticks!
Do you have a favorite party theme?  I'd love to hear!  
Follow Me on Pinterest! and check out my party boards!