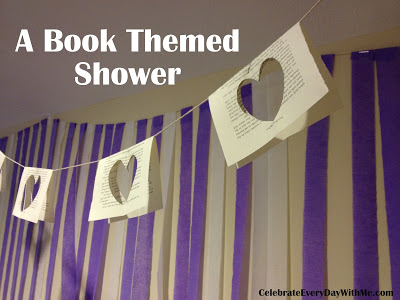 Well, the shower has come and gone.  But I wanted to share with you some of their fun "booky" decorations.  The ladies throwing the shower played on the bride's love of reading.  She and her fiance also met at a library, hence the perfect theme.  (And I love themes!  You can be deliberate about little touches throughout your party.  Simply be creative.)
Sweet Centerpieces!  All the books and pages you'll see came from library book sales.
BIG [REALLY IMPORTANT] NOTE:  if you decide to do something similar for a party or shower, scan the books first or know the author.  My cousin didn't have time to read them and unfortunately discovered a little too late that the language in some of the books wasn't exactly  . . . um, clean and wholesome.  So during the shower, we were instructed NOT to read our fans.  😉
The party was supposed to be outside, but the weather did not cooperate.  Fans were made of book pages secured with ribbon to help with the summer heat.  The heart on the cute bookmark is a reverse applique with fabric.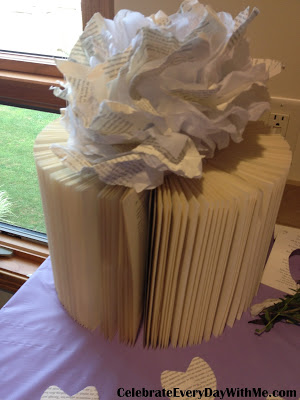 This was a fun and unique decoration.  360 degrees of book pages with a fluffy page topper.  Can you figure out how it was made?
My cousin took a 900 page book, tore off the cover and then folded every other page in half towards the middle of the book.  (Can you imagine?  900/2=450 folded pages!)  She then used a hot glue gun to keep the book in the circular form.
It was a fun shower where the bride received four griddles (one from me – and yes, I did scan the registry when I purchased it).  But with pancakes for life, this sweet couple is off to a good start.