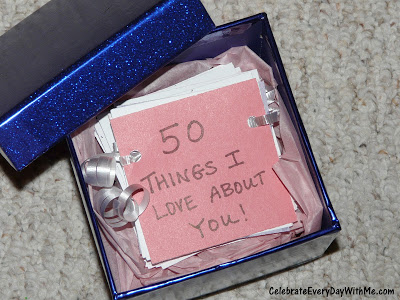 How often do we tell the person we love most what it is we love about them?  When was the last time you shared with your spouse the things that you appreciate?  This past Valentine's Day, I made a banner of "50 Things I Love About You" for Dan.
It was a fun project and I think he really enjoyed it.  It is a great gift for the person whose love language is words of encouragement.  (Want to read more about love languages?  Go here.)
Has it been too long since you told that special someone what you love about them?  Who else may enjoy hearing all thing things you value about them?  Your child, another family member, a friend?  Grab a notebook and start making your list.
On a Side Note:  
You may have been able to read one of the signs that says that my husband has a great sense of humor.  He really does!   But I should have also added that he has the ability to laugh at himself (a quality needed in our family).
For example, I was telling him that I was going to be writing this post about the "50 Things I Love About You."  He said to be sure to include his phenomenal ability to dress our children.  So with that thought it mind, here is the evidence.
Exhibit A
Dan dressed our daughter by putting on her pants then snapping the onesie on the outside.
Exhibit B
(Unfortunately no photo) This past Saturday, I gave Dan clothes to dress the kids
but when I walked back downstairs, I noticed my daughter's pajama pants were
peaking out of her blue jeans . . . yep, he put her pants on over her pajamas.  Not
to mention the number of times he has put her shirt on backwards.  But I
guess buttons on the back of a shirt could be confusing to a guy.
Exhibit C
Fresh from Tuesday night, this photo shows my son with the pajama
pants handed to him by Dan . . . they're my daughter's pants!