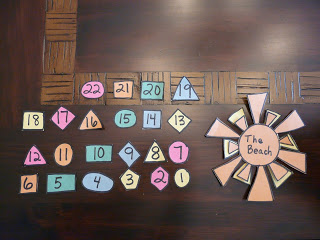 I am a planner!  I love scheduling a trip and making all the arrangements early because part of my fun is simply looking forward to it.  My husband is quite the opposite.  He thought I was crazy for booking our trip to Disney World a year in advance.
But in my fun, I like to get our kids involved in looking forward to the trip as well (really just Sweet Boy, Sweet Girl is too little to comprehend the concept).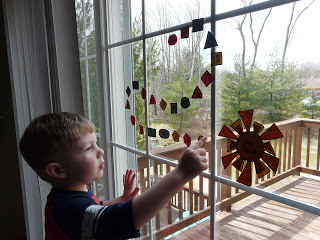 Counting Down to Vacation!
As your trip approaches, create a countdown so that your children can share in the excitement and anticipation.  It may also help answer the ever repeating "When do we leave?"  You can use a traditional ring countdown or have fun and be creative.   I made a sun as the "finish" for a trip to the beach and then used different shaped numbers for the kids to pull off.
Counting down is great practice in working with numbers.  Sweet Boy has always loved counting down for absolutely anything.  (Try holding a baby and over-flowing  bags while your son counts down from 20 just to push the button to open the garage door!)
You can also get your kids involved in making the pieces and with cutting, if age appropriate.  Sweet Boy loved playing with the numbers before I hung them on the window.  In fact, it occupied him for forty-five minutes!  For young children, practice shape and color sorting for added learning.