It was years ago.  But I can still remember it as if it was yesterday.  There was no Mary Poppins finger snapping and magically my work was done.  No, for me, it was calling out names and poof, my tasks were addressed.  Linens were placed.
Tables were set.  The sweet aroma of a beautiful flowers filled the room.  You see, once upon a time, I had a staff.  In my professional life, I was a wedding and event planner and before that, a banquet manager.   Talk about dream jobs for someone who likes to entertain.
Whenever I needed something, I had a group of responsible adults and phenomenal teenagers who could take care of the task at hand.  And when they worked with me long enough to know the way I liked things, it was even better.  Sounds luxurious, doesn't it?

Enter the stay-at-home mom world with two young kids and there went my staff.  Adios.  Sayonara.  Catch ya later.   Let's face it, in every day life, we are our own staff.  We live in the real world where we make the decisions and we carry out the decisions.  We set up, we create, we cook, we bake and we clean up.
We are the hostesses.  
As if maintaining the right heart and focus on hospitality weren't enough, we need some tricks up our sleeves so we don't burn out in opening the doors of our home to others.  Entertaining can be a lot of work!  (Incidentally, I did just use my 3 year old to help me hang a party backdrop and she did surprisingly well, but let's just say . . . it was not quite the same.)
So how does the everyday domestic diva become a Hostess with the Mostess?  How can she make entertaining easier, less stressful and more fun . . . when there is no staff to take care of every task?
Here are 15 Tips to help you become the Hostess with the Mostess.


1.  Build Up Your Pantry.  Have items that make entertaining easy regularly on hand.  Try keeping a jar of salsa, some great spreads, assorted crackers, nuts, chocolates or even tea cookies.   A box of pasta with your favorite sauce can make for a quick and easy dinner.  My cousin always keeps a bag of chips, a container of sour cream and party dip seasoning on hand.  This way, even if she has some unplanned company stop over, she can whip up an easy order of chips and dip.
2.  Freezer Cooking.  I am a huge fan of freezer cooking.  I love having  items in my freezer that are great for entertaining.  Not only can you keep little appetizers or desserts on hand, but main course items (casseroles, meatballs, etc.) make life much easier and less hectic on the day of your gathering. Some of my favorites are Baked Ham & Swiss Sandwiches or the Santa Fe Hot Dip from Don't Panic – Dinner's in the Freezer.
Search out recipes that you can prepare, freeze and then thaw when you have company coming over. Money Saving Mom recently shared a freezer chocolate chip oatmeal cookie dough recipe that would make it so simple to pull out of the freezer and bake fresh cookies for your guests.
3.  Develop a Cleaning Routine.
 This is one of
my goals for this year
.  Imagine if you didn't have to break your neck cleaning every time company was coming over.  A routine would have you doing bathrooms one day of the week, floors the next and etc.  If you happen to have a good cleaning routine, please share it in the comments!
4.  Be Open to Inconvenience.
 Let's face it, everything doesn't go the way you plan when you are entertaining.  (Did you read
Melissa's post
from yesterday??)  Inconviences happen.  Learn to expect and accept them.What happens when a friend calls you in need of a listening ear?  It may not fit into your schedule to invite her over, but a focus on relationships and people will make the invitation easier.  A hospitable heart is open to interruptions and sees them as divine interventions.[1]

5.  Think of the Details.
 What little detail could make your guests feel extra special?  Try putting out a dish of your friend's favorite chocolates.  Stock your guests' favorite sodas.  Has your guest raved about a particular dessert?  Why not make it when your company comes over and also a little extra for them to take home.
6.  Let Go of the Details.
 I realize I am totally contradicting myself from above.  But there are times when you will be less stressed if you can let go of the details and focus on the
purpose of hospitality
.
7.  Have a Trademark Treat.  Find your dessert.  This is your go-to, no-fail, tried and true, "you can practically do it with your eyes shut" treat.  And do it well.
8.  Compile a Great Play List of Music.  We subscribe to Spotify, an online music service where you can create and share as many playlists as you like.  We have developed quite a repertoire of Christian modern music, instrumental and kid-geared music.
9.  Have an Entertaining Task List.  This list will serve as your reminders for the usual entertaining tasks.  Mine includes last minute cleaning tasks, lighting candles, turning on the music, lighting sterno if needed and even choosing the appropriate serving spoons and utencils.
10.  Ask in Advance if Your Guests Have any Dietary Restrictions.  With the prevalence of gluten-free diets, other food allergies and vegetarian pursuits, your guests will appreciate your kindness and thoughtfulness in accommodating any restrictions they may have.
11.  Prepare Early So You Can Enjoy Your Guests When They Arrive.  While you don't need to have everything done when your guests walk in the door, you do want to be able to greet, welcome and converse with your guests.  Have as much done as possible before they arrive.
12.  Give Your Guests Something To Hold.  When you are meeting new people or have invited people who are more introverted, putting something in your guests' hands can set them more at ease.  This may be a plate of appetizers or something to drink.  Isn't it easier to talk when you can fidget with something in your hands?
13.  Don't Do It Alone.  While your family won't necessary qualify as your staff (and too bad), don't be afraid to recruit help.  Entertaining can be a lot of work.  Ask your husband to vacuum or cook a meal on the grill.  Think of tasks your children can manage like setting the table.  Use this as an opportunity to teach them to serve others.
14.  Be a Good Conversationalist.  Learn the art of asking questions.  While you don't want to interrogate your guests, genuinely ask questions that will spur on conversation and allow you to learn more about them.
15.  Keep a Hostess Journal.  In a notebook or even inside the back cover of your favorite cookbook, write down the date, who came and what you served.  This will help you plan future meals when the same people return to your home.  

* Be sure to join us tomorrow over at Hive Resources.  We have a special treat for you!  Christian author, Mary DeMuth is guest posting and sharing about her new cookbook, The Irresistible Table.  To see the entire Hospitable Hearts series at a glance, click here.
Want to keep up with what I am pinning for parties and entertaining?  Come check out my boards &
And now for our giveaway!  Creative Chics is an Etsy Shop that offers a full collection of vintage style aprons with a modern twist.  And they have graciously given us a waist apron to help you become that Hostess with the Mostess.  It is simple to enter!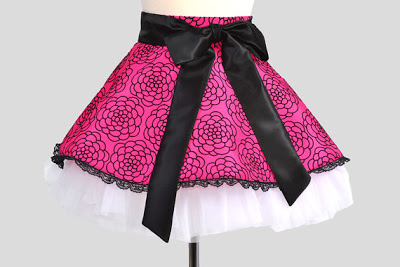 Creative Chics Hostess Apron Giveaway
(petticoat not included)
Special thanks to the 
Creative Chics Etsy Shop 
for not only giving us a great apron to give away to our readers but also for use of the fabulous apron in the title image.  Head over to the shop to see their full collection of vintage style aprons with a modern twist.  You're sure to find something you'll love!Giveaway ends Thursday, February 14, 2012 at 12:00am.  Open to U.S. Residents, 18+.  Winner will be notified by email and have 48 hours to respond.
___________________________________________