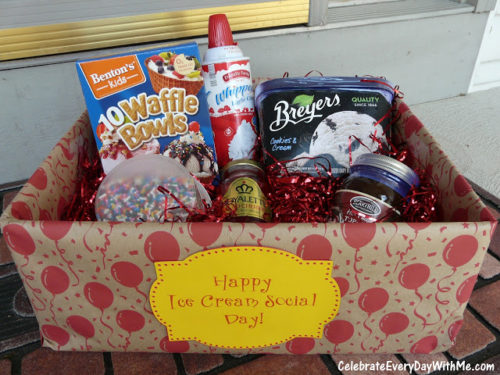 This little package is going to end up on someone's doorstep today because we are celebrating National Ice Cream Social Day!  (And I'm really hoping the person is home so the ice cream doesn't melt.)
I love surprising a family with a special treat.  (We did this in our 31 Simple Ways to Celebrate Today.)  It couldn't be easier.  Run by the store and grab a couple items.  We have included:  ice cream, waffle bowls, hot fudge, sprinkles, whipped cream and cherries.  Deliver it in the shopping bag or create a fun box.  I wrapped our box with wrapping paper, threw in some foil shreds and made a quick sign with my Silhouette Cameo.  All set to go!
The kids can't wait to deliver it to the family . . . and they are also excited that I bought the same stuff for them.
Happy Ice Cream Social Day!  Share the fun!