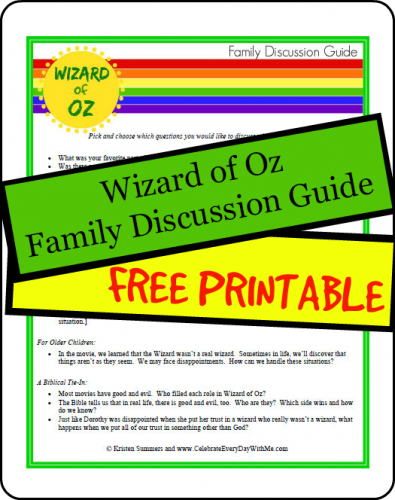 Does your family enjoy Family Movie Nights?  I love settling down and watching a movie with the kids.  Some of my favorite movie nights are the movies I saw as a child. Watching my kids see a classic for the first time is exciting and for me, like seeing it again with fresh eyes.
Not too long ago, we hosted a Wizard of Oz Family Movie Night party.  Be sure to check out all the fun, themed snacks and colorful decorations.  Yes, I get carried away but for me, the creativity is half the fun.
Yet beyond serving great snacks and enjoying the movie itself, family movie nights provide a terrific opportunity to discuss predominant themes in the movie, the good and bad choices of the characters and even add a biblical worldview interpretation.
It is a natural opportunity to delve into discussion with your kids.  Find out what part your kids liked and didn't like.  Ask how we can be a better friend to others?  What should we do when we face disappointment?
To make it easier, I have put together this free printable, a Wizard of Oz Family Discussion Guide.  [Download the Guide Here]
Simply download, print and turn your family movie night into a teachable moment.
Now, off to see the Wizard.
Free Download:  Wizard of Oz Family Discussion Guide
See the Party:  Wizard of Oz Family Movie Night Party