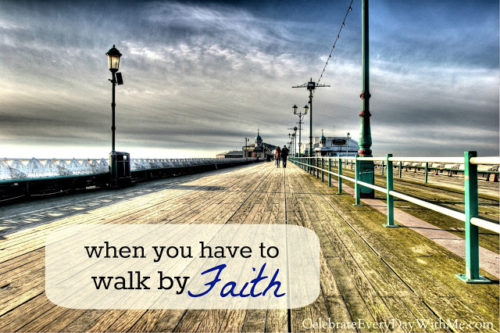 Today, some of my dear friends in the blogging world stop to honor and encourage a beautiful and brave woman of God. Our sweet sister-in-Christ, Desiré from the blog When You Rise, will soon give birth to her third son, Caleb. This little boy is a precious gift from our Heavenly Father who has a long road ahead of him. He was diagnosed with a severe congenital heart defect and will almost immediately need to undergo the first of many surgeries to help his little heart work properly. As we anticipate his arrival, we want to take a moment to celebrate this new life as well as encourage our sister Desiré as she prepares for the days ahead. Would you join us in praying for Caleb? You can stay updated on his journey by "liking" his Facebook page, Pray for Caleb.
Dear Friend,
There are times in life when we can't see what is coming around the bend.  When we don't know the solution to the equation . . . times when the final image of the puzzle has yet to be revealed.
We'd like to be the ones in control, calling the shots and orchestrating the next turn of events.  Suddenly, we find ourselves subject to a circumstance, a diagnosis and something out of our control.  "Is this really happening?" is the thought that echoes in our mind.  It wasn't supposed to be like this.  We question what will happen, how this will work out.  We can't rely on ourselves to solve the problem at hand.  We are not the solution, let alone able to get through this on our own.
And that is when we have to walk by faith.  There are times in life and situations we face when we have no other choice . . . but to walk by faith.
Yet it is not a blind faith.  We know whom we have believed and can find rest in the fact that nothing is beyond Him.
We trust Him who is trustworthy.
We believe Him who is believable.
We follow the One who leads.
We yield to the One in control because He has loved us with an everlasting love.
We need to know He will carry us through.  And He will, with an outstretched arm.
We pray for the big things because we know His power exceeds our finite minds.
And it is when we can walk by faith, that we realize that the journey is as valuable as the destination.  He is teaching us, stretching us and drawing us closer to Himself.
I am praying big things for you and your family.  I am believing God for awesome works and knowing that He is faithful to care, love, protect and grow us in all He does.  I am praying for the little ones in your life who sit on the sideline, waiting, watching and wondering.  I am praying for Caleb to grow in strength and health.  I am praying for you and Matt to overflow with peace, grace and love as the Lord walks with you on this journey.
Walk by faith.  Put one foot in front of the other, each day trusting Him who is faithful.
"I know whom I have believed, and am convinced that he is able to guard 
what I have entrusted to him for that day."
2 Timothy 1:12
With Love,
Kristen
Follow along and read the other posts dedicated to our friend, Desiré:
Melissa of Hive Resources:  When You're Between a Rock and a Hard Place
Christina of To Show Them Jesus:  For When a Loved One Is Sick
Jessalyn of Desiring Virtue:  The Bravery of Caleb
Emily of Redeemed Reader:  Letter to the Helpless Mom