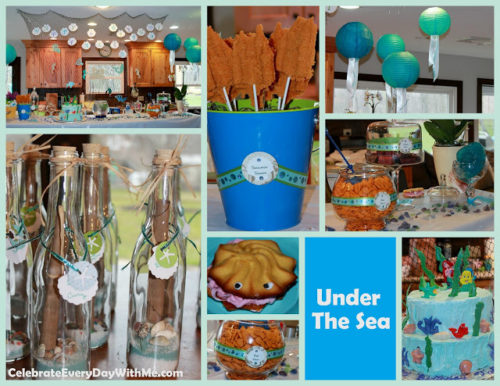 Hold your breath because we are going Under the Sea for an amazing birthday party any mermaid would love.  This featured party comes from Marcy as she celebrated her daughter, Talia's 6th birthday.  Today we'll be talking about her creative decorations but be sure to stop back next Tuesday to "catch" all details on the food.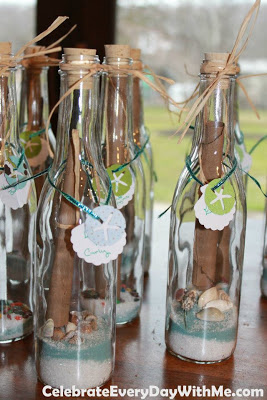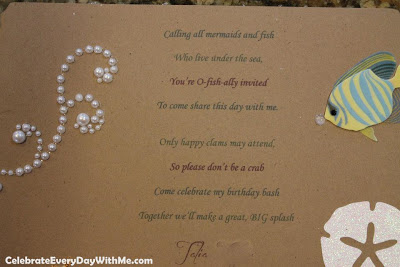 Marcy made "Message in a Bottle" invitations and even wrote the poem on the invitation:  "Calling all mermaids and fish who live under the sea.  You're O-fish-ally invited to come share this day with me.  Only happy clams may attend, so please don't be a crab.  Come celebrate my birthday bash, together we'll make a great, BIG splash."
The bottles (8.5″) were purchased from
Ebottles
 and had to be large enough to hold the full page invitations, sand and shells.  Marcy embellished the invitations with stickers and gems, and the bottles with shell and sand dollar cut-outs made from scrapbook punches.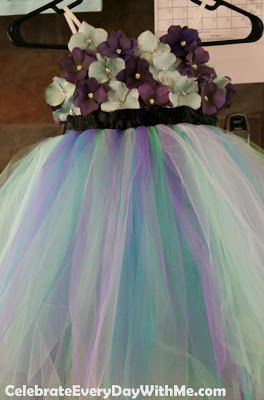 This is the mermaid dress made by Talia's aunt.  Isn't it beautiful?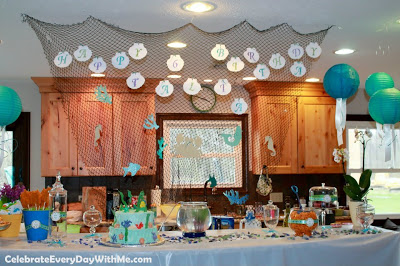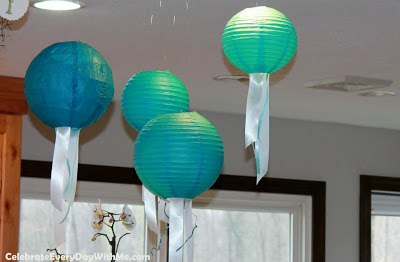 The Birthday Island:
 The Birthday Banner template comes from a shell that Marcy traced and then cut with scalloped scissors.  The lanterns were purchased at
Luna Bazaar
 and Marcy added the ribbons to make them look like jellyfish.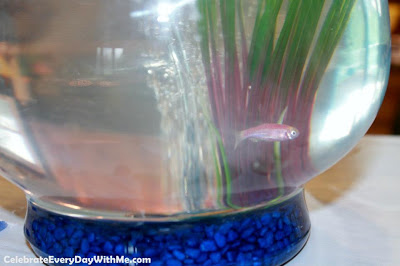 While the bright-colored Glo fish were meant to go home with a friend, Marcy's girls fell in love with them (even though one did have to be replaced).  They are affectionately named Shimmer, Lava, Sea Candy and Mango.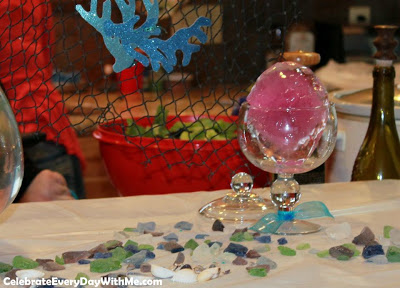 Check out these clever Mermaid bubbles.  Marcy took balloons, put a few drops of gel food coloring in them, filled them with water and tied them closed.  She put them in a plastic grocery bag so they wouldn't stick to the shelf and then popped them in the freezer.  Right before the party, she took them out and cut off the balloons.  Mermaid bubbles!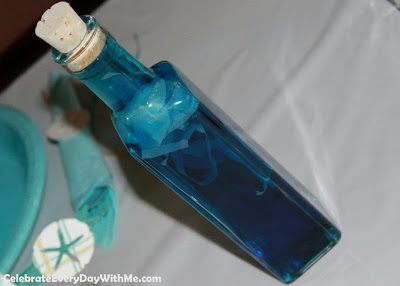 This Jellyfish bottle idea came from
Bhoomplay's Blog
.  They are made with water, food dye and white plastic bags.  The  bottles themselves came from
Sand Art Supplies
.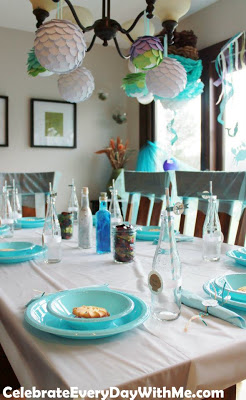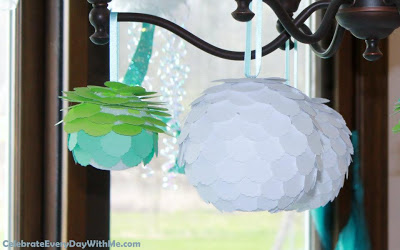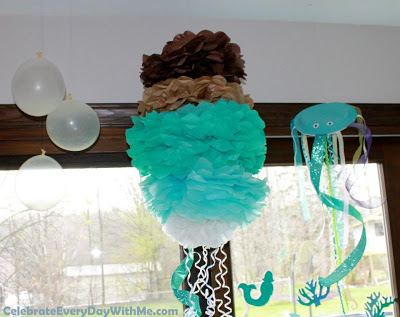 Sea Urchin & Jellyfish Decor:  The multi-colored jellyfish is three tissue flowers stacked together.  The other jellyfish are made of colored plates with lots of ribbons.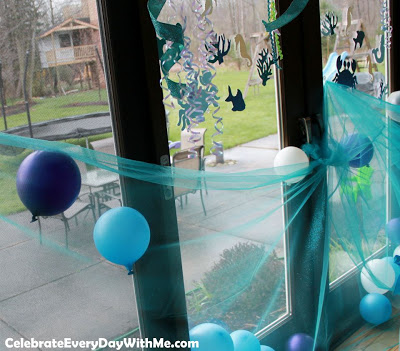 The sea creatures on the windows are cut out from images Marcy found online.  Creating a water effect on the door and the mermaid tail on each girl's chair are shimmer turquoise and aqua colored fabric.
Are you hearing "Part of Your World," yet?  I sure am.  Don't miss next Tuesday's post when we'll share about Marcy's party food.  
Linked up with:  Craftionary, Tutus & Tea Parties, The Better Mom, Many Little Blessings, We Are That Family, 733 Blog, Holy Spirit Led Homeschooling, Tip Junkie