Putting together a great gift basket takes more than throwing a couple items in a container.  Today, I am sharing some awesome tips that will help you build a beautiful basket and more than 65 theme ideas for inspiration.
My friend, Tara, makes amazing gift baskets.  Seriously, they are gorgeous (and I wish I had pictures to show you!).  For my bridal, baby shower and every other shower she has been a part of, Tara puts together 3-5 baskets as prizes for guests to take home.  They are the kind you pine over, hoping you'll win.  For this post, I picked her brain for her best tips on creating the perfect gift basket.
Tips for Building a Great Gift Basket
1. Plan ahead, if possible.  If you know your theme for the basket, shop early and keep your eyes open for items on sale.  Can you shop after a holiday when things are marked down?  Look at clearance items and use coupons when possible.  I love the site and app, Retail Me Not, for grabbing a coupon while waiting in line to check out.  I have also started using Ebates and am earning cash back for online purchases.  It is amazing what you can find in the online clearance section at deep discount.  Why not earn cash back at the same time?
(I found the white solar lantern below for $5 in Kohl's online clearance department and in-store pickup made it free shipping.)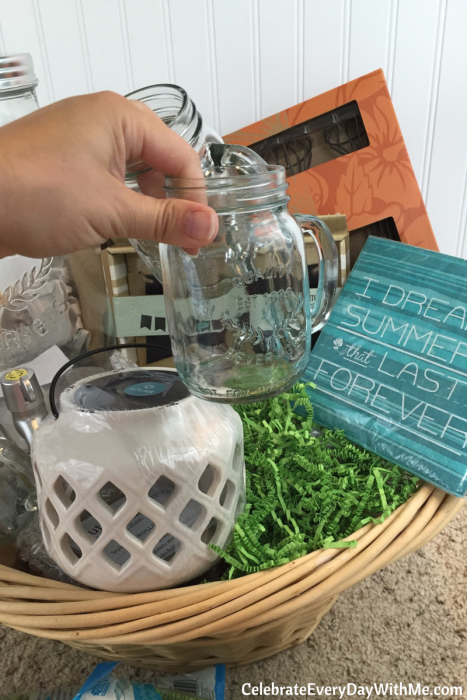 2. Think outside the basket.  There are many kinds of containers you can use for your gift basket; you don't need to stick with a traditional basket.  Think fun bowls, collanders, pots and skillets for kitchen, food or baking themes.  Laundry baskets or cleaning buckets are great for college students and new homeowners.  Try toy carts or wagons for kids' gifts.  Large glass jars with lids also look fun when holding many small items.  Vintage crates or items for home decor also prove to be interesting containers.
Stroll around the store and use your imagination.  Take into consideration the weight of what you will put in the basket and if the base of the container is wide enough to be supportive.
3. Build up your base.  When you are creating a gift basket, the items look best when elevated in the container as opposed to sitting low in the basket.  There are a couple ways to achieve this.  If your container is shallow, bubble wrap, tissue paper, crumbled newspaper and basket filler work great.
I buy basket filler regularly from the Dollar Tree and on clearance at Walmart after Easter when they mark down more than just the Easter basket grass.  I have found some pretty pink and blue shredded paper at amazing prices.
If you are using a deeper container, then you can also use boxes to build up the height.  For the summer entertaining basket above, I used the box from the mason jar mugs.  It was perfect and a win-win in case the recipient wanted to store the mugs in the box.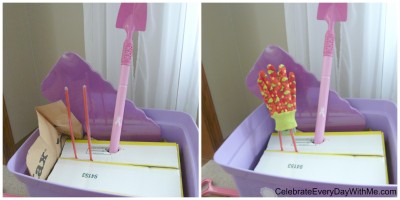 For these kids' farmer carts, I wanted tall items to stand upright, so I used a box and poked holes for my items.  It held them up quite well!
4.  Select a variety of gift items in size and texture.  Create interest in your gift basket by using an assortment of colors, textures, and sizes.  I always love throwing in an extra small item or two to fill empty space.  See the bird in this basket below . . . so cute!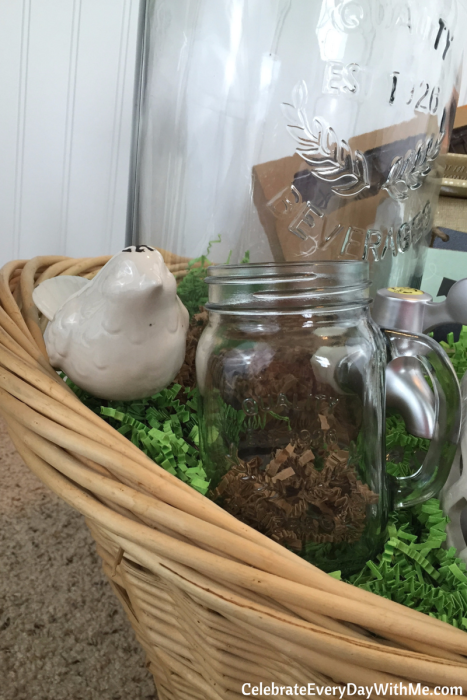 5. Put your tall items in the back.  Give all of your items a chance to be seen by working the smaller items in the front and the taller items in the back.
6.  Keep your items secured.  Glue dots, skewers, even straws can help you keep flimsy items in their place.
7.  Put something inside the glass jars, mugs or beverage containers.  Tara suggests adding a little basket filler or other item to the inside of glass in your gift to give it depth.
8.  If you're going to wrap . . . Not all gift baskets need to be wrapped.  If you are trying to dress it up, wrap your basket in cellophane and attach a pretty bow.  When you are tying off the cellophane, use ribbon or a pipe cleaner and then give the cellophane a tug to get it taut.  Don't want a bow?  On a more rustic basket, I used rafia and a large wood button as a focal point to tie off the top of the cellophane.
Tulle is another option for wrapping your basket and securing everything in place.  With tulle, there are so many color options and it is fairly inexpensive.
Theme Ideas for Gift Basket Inspiration:
Food Related:
Coffee Lover
Italian Dinner
Ice Cream Sundae with Fixin's
Mexican Fiesta
Wine Lover
Chinese Food
Feeling Snacky (a fun assortment of snacks)
Gluten-Free Treats
Kitchen Basket (any tools for cooking)
Cupcakes and/or Baking
Cake Decorating
Gourmet Snacks
Tea Lovers
Lemonade (include a cool beverage dispenser)
Grilling
Campfires (S'mores)
Candy Galore
Hot Cocoa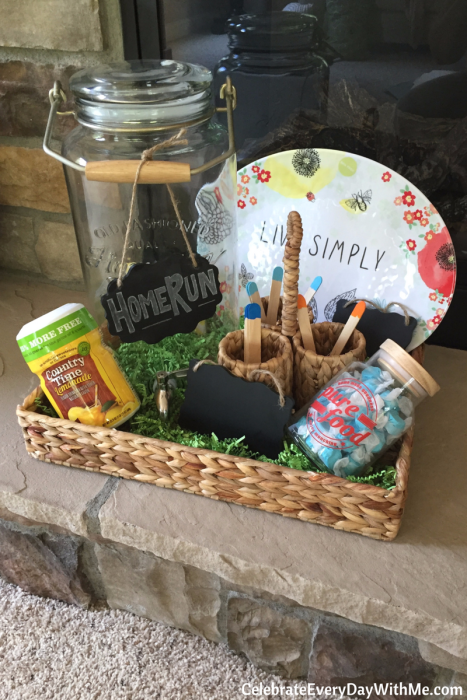 Celebrations:
New Home (cleaning supplies or localrestaurant menus with gift cards)
New Baby
New College Student (Laundry supplies)
"Elf" Basket (the movie and Buddy's four favorite food groups)
First Car (gadgets and cleaning supplies)
Holiday-Specific
New Pet
I put this basket together for our friends' new dog.  I customized the crate with her name using vinyl and my cameo.
General:
Summer Fun
Movie Themed
Sports (Football, Basketball, Baseball, Soccer)
Team-Specific (everything from a favorite sports team)
You Bring Sunshine to My Life (filled with all yellow items)
Color-Specific (filled with fun or edible items in one color)
Date Night
Local Goods (items made by local companies)
Entertaining
Game Night
Any Seasonal Basket!
Camping Fun
Lottery Tickets
Book Lovers
Hunting, Fishing, Outdoors
Party Basket (stocked with fun plates, napkins and decorations)
Teacher's Favorites
Laundry Themed (with a favorite or homemade detergent)
Road Trip
Beach-Ready
This local goods basket was filled with items made by local companies . . . from syrup and maple candy, chocolate and popcorn, to apple butter and apples from a local orchard.
Ladies & Girls:
Creative:
Scrapbooking
Crafts
Cake Decorating
Coloring Basket (with fun pencils, pens and coloring book)
Stamp Lover
Jewelry Making Supplies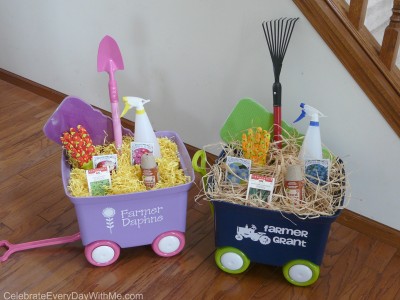 Kid-Focused:
Game Basket
Summer Toys
Swimming Fun
Adventure in the Woods
Tie-Dye Bucket and Supplies
Superhero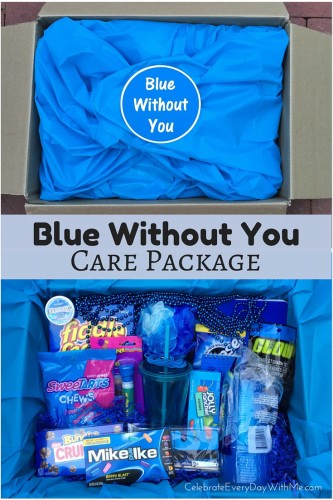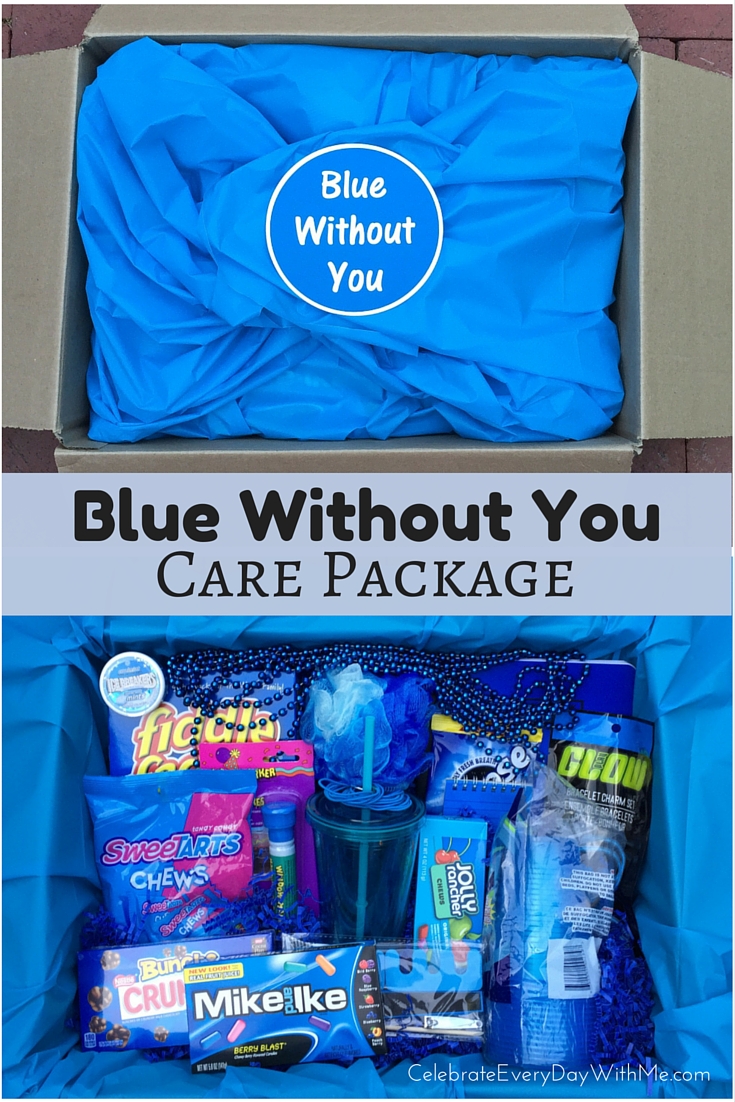 Are you feeling inspired?  What kind of gift basket will you make?  If you have other theme ideas, please share in the comments below.  
Disclosure:  This post contains my referral and affiliate links.