Having trouble finding the right table coverings for your party?  A great little tip is to use wrapping paper.    With so many colors, shades, patterns and prints, your party theme can inexpensively spring into life by simply wrapping things in your home!   
Here is a little sneak peak of our recent Dr. Seuss party.  I used wrapping paper to not only cover the table and buffet, but also to wrap picture frames.  I added cut-out Dr. Seuss pictures on the wrapped frames and inexpensive patterned overlays on my table and buffet.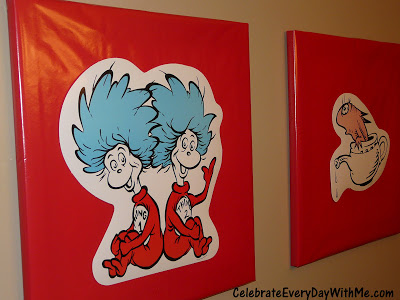 Wrapping Paper is an inexpensive and easy way to transform a room to suit your party theme.  Come back tomorrow for the full reveal on our Dr. Seuss Party Decorations.