This post is part of Lysa TerKeurst's "The Best Yes" Blog Tour which I am delighted to be a part of along with many other inspiring bloggers.  To learn more and join us, Click Here. 
Let's talk schedules.  Do you feel beyond busy?  What is your everyday schedule like?
Mine is crammed, filled to the brim and non-stop.  I'd like to say this all relates to the unique situation of selling our house.  But, even in my everyday non-selling/non-moving life, I know I try to fit in way too much.  How about you?
"The decisions you make determine the schedule you keep. The schedule you keep determines the life you live. And how you live your life determines how you spend your soul."  Lysa Terkeurst, The Best Yes: Making Wise Decisions in the Midst of Endless Demands
Everything we say yes to is a no to something else.  Sometimes the no is clear.  Sometimes the no is less obvious.  Here are some of my yeses that become nos to other things.
Saying yes to more work may mean additional income but less time focused on my husband and children.
Saying yes to that fun activity that takes me away from the house for the umpteenth day in a row means rushing to clean my house for the upcoming party.
Saying yes to too many commitments means more stress and less patience toward my kids.
Saying yes to selling my house means moving ahead on exciting plans but less time relaxing since the house has to be kept up for showings.
Yeses can be good things.  But they may not always be the best.  I have just started reading Lysa Terkeurst's new book, The Best Yes: Making Wise Decisions in the Midst of Endless Demands.  
Does that sound like your life . . . endless demands?  
I'd love for you to join me on this journey of finding the best yes.  Discerning what to say yes and no to and seeking the Lord in our decisions.  I think as we refine this process, it will mean a more fulfilling life spent on what is most important to each of us.
How about you?  Do you want to change your rhythm of rush?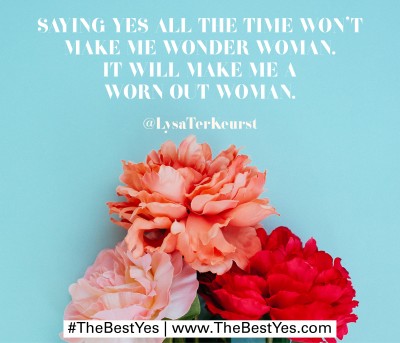 New York Times Bestselling author Lysa TerKeurst has written a new book about finding your Best Yes. Many call this book "inspiring" and "fabulous."  I call it a game-changer.  You can grab a copy at here.