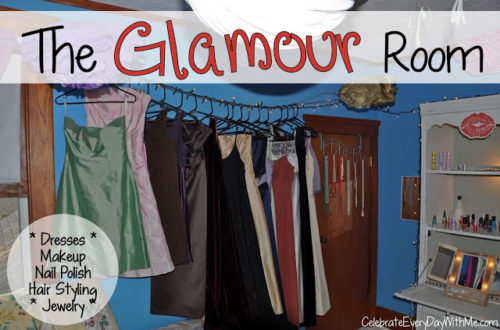 When you were little, did you play dress up?  I remember trying on makeup, wearing fancy dresses and feeling glamorous.  It was so much fun.
If you missed yesterday's post, you may want to catch up here.  My cousin was throwing a Glamour Party for her daughter's 10th birthday.  After the build up of a riddle scavenger hunt, the girls were led to a special room . . . A Glamour Room.  When they opened the door, they were greeted with over a dozen fancy dresses, new makeup, nail polish, jewelry, boas, hair styling accessories and a room full of mirrors.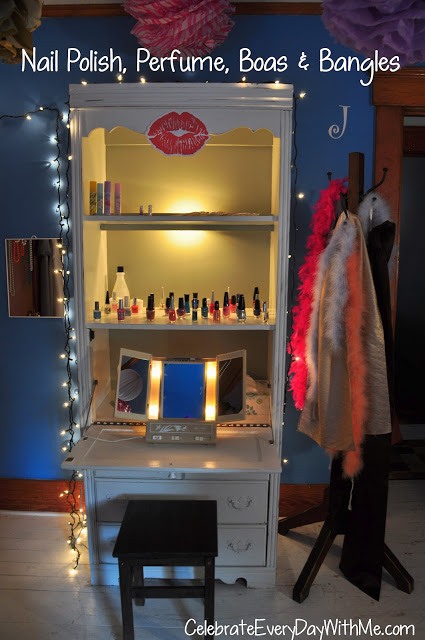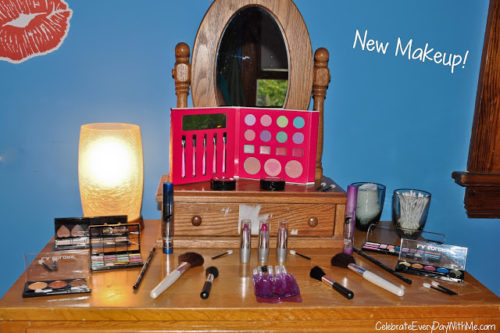 It was a treat seeing the girls' faces as they explored each area of the room.  They touched the dresses, they oohed and awed over the new makeup waiting just for them.  They looked at the 30 bottles of nail polish colors to choose from.  Excited faces.  Priceless comments.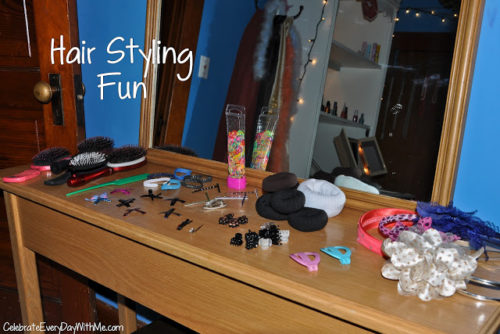 The pictures simply don't do the room justice.  At dusk, the Glamour Room glowed.  We decorated the room with white lights, neon tube lights, big kiss lips, the letter "J" for the birthday girl (both from
my Cameo
) and hanging pom poms and lanterns.  I think one of the neatest things was that my cousin borrowed over a dozen bridesmaid and prom dresses.  They looked great hanging on display across the wall.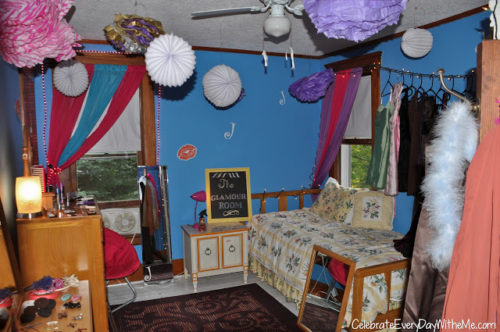 Once the girls were all ready, they headed down stairs for the fashion show.  (And yes, an audience was invited – mainly relatives of the birthday girl.)
The Fashion Show:  My cousin found red curtains at the thrift store.  We folded them to be the red carpet and taped them down with packaging tape.  Then we taped white lights along the "red carpet" and over the fabric shower curtain entrance (just use a tension rod).  And at show time, the glamour girls strutted down the runway to the tune of "Girls Just Want to Have Fun."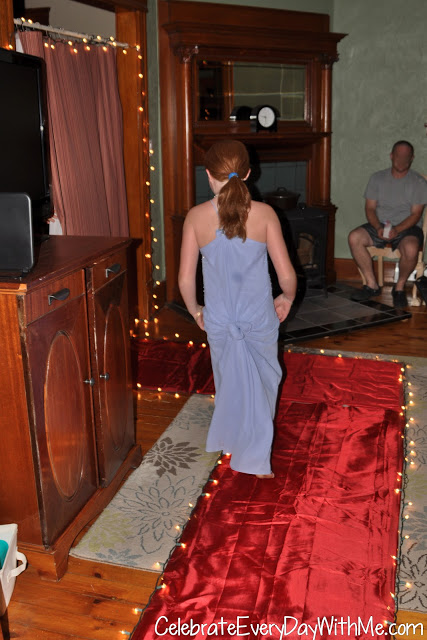 The party was so neat.  You could tell the girls were having a great time.  What I enjoyed most was playing a part in making them feel special and creating great memories . . . and it left me looking forward to about seven years down the road when I can throw a Glamour Party for my daughter.
Good to Know:  You can do this very economically!  Most everything was either something already on-hand, borrowed, purchased on clearance or from the dollar store.