A few weeks ago, I mentioned that I was helping my cousin with her daughter's 10th birthday party. She was planning a Glamour Room for the fun bunch of 10 year old girls followed by a Fashion Show.  To build up the excitement, we sent them on this Glamour Scavenger Hunt around the house.
When I first read the riddles to a couple adults, I became a bit nervous about whether the 10 year old girls could solve them.  But I added hints and they did an amazing job in figuring the clues out.  To recreate this scavenger hunt for your party, see the instructions below.  Can you figure out the riddles?

Start here and read the Game Introduction.  
Clue #1 
I come in a bottle
Along with a brush
My colors all vary
Put me on, but don't rush.
HINT:  I'm wet when you put me on.  Wait til I dry.
Clue #2
I sparkle and shine
I'm measured in karats
I come in HANDy
And am acclaimed in high merits.
HINT:  Think wedding.

Clue #3
I fit in your pocket
I'm shiny or matte
Some prefer gloss
Spread me on, but not so fat.
HINT:  I come in a tube.

Clue #4
Your tootsies are tired
They're rough and they're dry
Head out to the salon
And relax by and by.
HINT:  Get your feet up.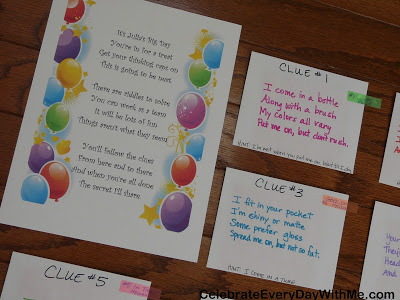 Rhyming Game Introduction & Clues
Clue #5
_______  _______ on the wall
Who's the fairest of them all?
Clue #6
I'm all initials
Figure me out if you may
You can ask Mrs. [name of mom]
For the meaning of SWAK.
Clue #7
I come in a bottle
I'll hold you in place
Just give me a squirt
But don't get your face.
HINT:  Wearing hats ruins me.
Answers:  1 – Nail Polish, 2 – Diamond Ring, 3 – Lip Stick, 4 – Pedicure, 5 – Mirror Mirror, 6 – Sealed with a Kiss, 7 – Hair Spray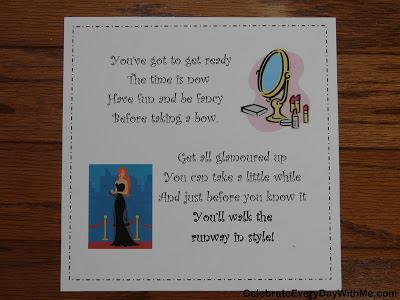 Sign for the Glamour Room Door
(free printable)
To Set up this Scavenger Hunt:  Write the clues on the outside of envelopes and inside, put the answer and where they will find the next clue.  (I also wrote hints on where to go for their next clue, i.e. Go to the bouncy spot – trampoline; I live with the birds – tree house.)  The removable colored tabs on the envelopes are the instructions for my cousin on where to put them.
Print a copy of the Game Introduction (tie it with fancy ribbon) and also the sign for the Glamour Room Door.  You can download the free printables here.
A Note on Copyright:  Please use, change and enjoy this Glamour Scavenger Hunt with your daughter, niece or granddaughter and her friends.  Have fun and create great memories!  And if you use it, will you leave me a comment below?  I'd love to hear how it went.
Coming Tomorrow:  The Glamour Room Reveal