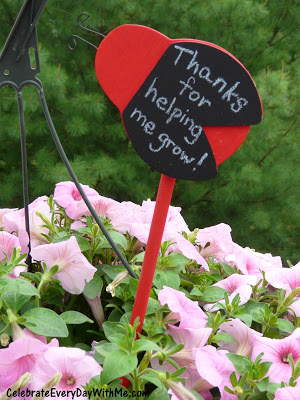 The end of school is here!  This Friday is my son's last day of his first year in preschool.  He has grown so much this year and I love it.  But at the same time, he is one year closer to kindergarten, fifth grade, middle school, high school and (gasp) college.  It really is starting!
How I have loved our time at home together and will miss our freedom as school becomes more time consuming.  And before you go grab me a box of kleenex, I will remind myself that he still has one year of preschool left . . . thankfully!
I am also so very thankful for my son's teacher.  He is blessed to have her both this year and next year.  What a difference a great teacher makes!  Even though our school just celebrated
Teacher Appreciation Week
not too long ago, I still wanted to show our gratitude at the end of the school year with a simple gift.
Ladybug Chalkboard Garden Sign
What You'll Need:
Ladybug Wood Craft (I bought mine at Walmart)
Dowel
Red Acryllic Paint
Sponge and/or Foam Brushes
Chalkboard Paint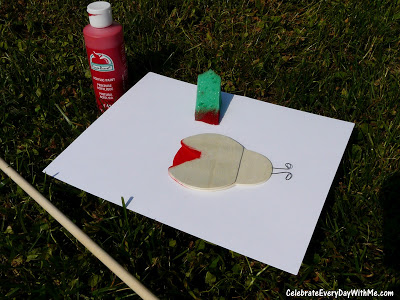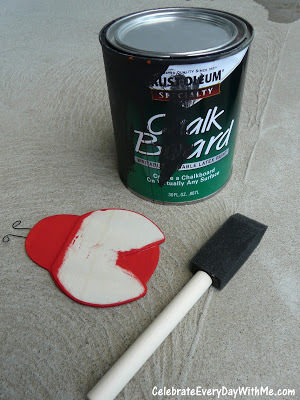 Paint a couple coats of the red paint onto the ladybug followed by the black chalkboard paint as shown.  Paint the dowel and then using wood glue, attach the two pieces.  So simple!
Write a message and insert into a hanging basket or potted plant and deliver to your favorite teacher!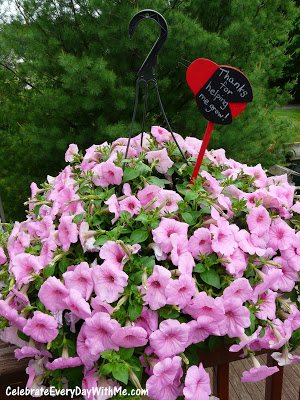 Happy Summer Break!