Welcome to Entertaining Fridays!!  Depending on where you live, there may be time to squeeze in one more outdoor party.
In our last neighborhood, the turn of cold weather meant seeing less of others as we each retreated inside for the winter.  But in Ohio, we've had a surge of warm weather and this is a perfect idea for gathering and connecting with your neighbors before the weather changes.
I love neighborhood gatherings, especially when you have new neighbors to welcome.  Make it an opportunity to serve those around you, literally, loving on your neighbors…with gooey marshmallows, chocolates and graham crackers of course.
A friend of mine, Hope, took these photos at a Camping & S'mores Party thrown by her neighbor, Kristin.  I just love the assortment on this traditional treat.  Let's see what she did!
Creating A Fun Station For Your S'mores Party:
* Serve a variety of graham crackers.  Original, chocolate . . . I bet the cinnamon crackers would be yummy too!
* Offer assorted chocolates.  Kristin used Hershey's Chocolate Bars and Cookies & Cream Bars, Rolos, Peppermint Patties and Heath Bars.
* Marshmallows:  I have seen many 'interesting' flavors of marshmallows.  Go classic or offer something crazy.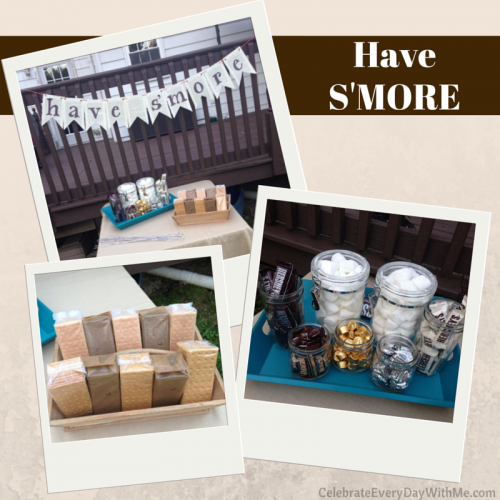 Thanks Hope & Kristin for sharing your s'mores party.  It looks delicious!