This shop has been compensated by Collective Bias, Inc. and The Coca-Cola Company. All opinions are mine alone. #ShareMemories #CollectiveBias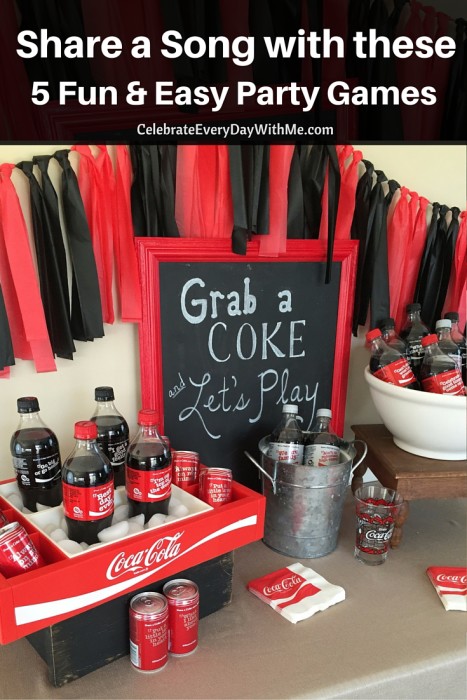 Do you love music?  We all have songs that take us back to moments in time, stir our emotions and make us want to grab the hairbrush and sing along.  Today, I have five easy party games that celebrate music, friendship and fun.
The best part of these games?  They require little more than the beverages you're serving at your next party. Coca-Cola™ has launched specially marked products with "Share a Coke and a Song."  Remember last year's "Share a Coke with _[Kristen]_?"  It was brilliant.  This year, Coca-Cola is sharing the love of music by printing lyrics on these specially marked cans and bottles.
And this, my friends, is a party game waiting to happen!
Before your party ::
Purchase the "Share a Coke and a Song" products.  I shopped at Giant Eagle and purchased Coca-Cola™, Diet Coke® and Coca-Cola Zero™.  I love the assortment of Coca-Cola products (glass, cans and bottles) that Giant Eagle carries.
Chill your drinks in advance and then set up a fun beverage station.  For my photos, I have all the lyrics facing out.  Before guests arrive, be sure the lyrics are facing toward the back of your table.  You will want to keep your party guests from learning too many answers.
At the Party ::
Divide your guests into two teams, making sure each person has their own bottle or can of Coca-Cola, Diet Coke or Coke Zero.  The goal of each game is to earn the most points by correctly guessing the name of the song or lyrics when a teammate is presenting.  If you don't have enough players to form two teams, play as one large group for individual points.
Game One – Name That Tune
A player from one team hums the tune of the song written on the side of the soda bottle while his teammates try to guess the name of the song.  The team is awarded two points if they guess the song in less than five notes and one point if it takes between 6-10 notes.  After ten notes, the other team has an opportunity to guess for a point.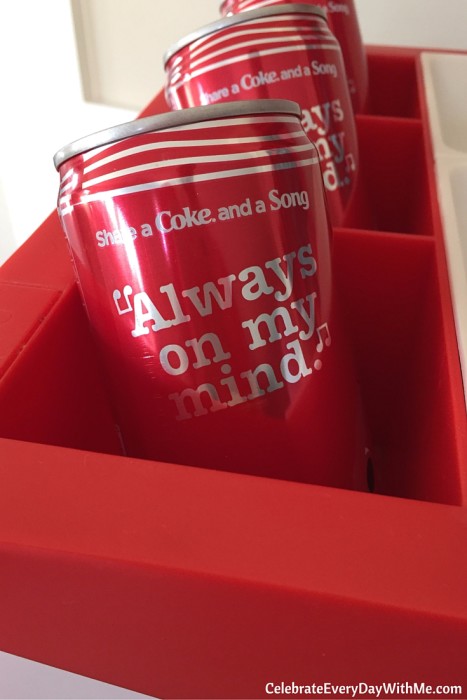 Game Two – Tell A Story
One player crafts a fantastic story in hopes of leading her team to guess the lyrics or title of the song.  For example:  if the song is "Always on My Mind," I may tell my group about the time that I woke up in the morning and kept thinking about my good friend, Dan.  Then I went to grab a coffee and the smell of Ohio roasted coffee beans caused me to once again think of him.  Later at lunch, the waiter resembled Dan.  Everywhere I went, the entire day, I had Dan on the brain.  >>> Always On My Mind.
How creative can your team be?  The big rule is that the player may not use any of the key words in the lyrics.
Game Three – Charades
Zip the lips and have fun while players act out the lyrics to their song.  How would you act out "Ain't No Mountain High Enough?"
Set a timer and give each team 45-60 seconds to guess correctly.
Game Four – Hangman
Go back to the old days and play a classic game of hangman with the lyrics printed on the Coca-Cola products.  Depending on the number of players on each team, you may want to let each teammate take two or three turns guessing different letters.  Afterwards, if the team has not correctly guessed the lyrics, the opposing team has one opportunity to answer and steal the point.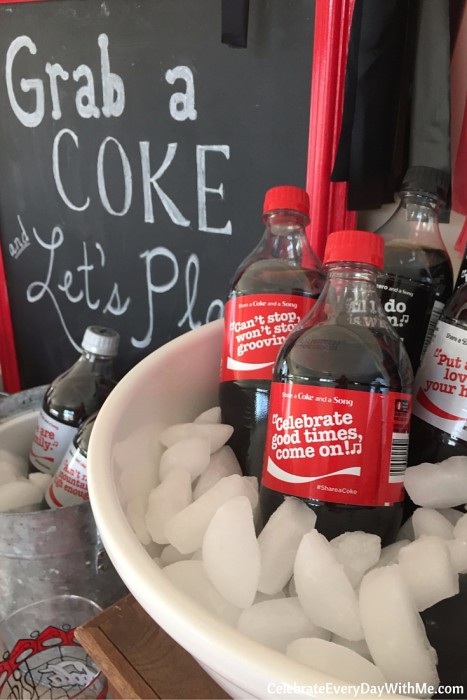 Game Five – Say It Without Saying It
For this game, the player has to successfully get his team to say the lyrics on the can without using any of the words himself.  For example:  If the lyrics are "Celebrate Good Times, Come On," I may say "Let's have a party . . .  and be glad about how things are going . . . and get everyone together . . . ."
Once a word is spoken by the team, the player presenting may then use it.  How adept is the player and how perceptive the team?
I love that all these games can be done with little to no preparation and they bring back great memories connected to the different songs.  I have been singing "A Moment Like This" for days now!  Do you remember where that song first debuted?
Here is where I found the "Share a Coke and a Song" products:
Which game will you play at your next party?  For more "Share a Coke and a Song" inspiration, click here.  
>> Download the Shazam App to get your Coca-Cola Share a Song (available on iPhone, iPod Touch, iPad, Android and more).
Connect with Giant Eagle on Facebook, Pinterest, Twitter & Instagram.