Before I was a Wedding Planner, I was a Banquet Manager and one of my favorite things to do was to set up the buffet tables before an event.  I loved to make it interesting and multi-dimensional.
Great Example of Various Levels, Colors & FillersPhoto by tracyhunter
Here are Some Tips You Can Use at Home:
Place food at different levels by using boxes, upside-down bowls or whatever sturdy items you have on hand.

Mask any ugly boxes or stands with table linens or napkins.

Have fun with colors in your linens or napkins.

Use great fillers like flowers, pinecones or "themed" objects tucked into strategic spots.

Be sure to have all your food within reach.  (You don't want someone leaning over food to get to a bowl or platter.)
Anyone can do this!  And now, your next buffet table will be as appealing to the eye as to your guests' stomachs.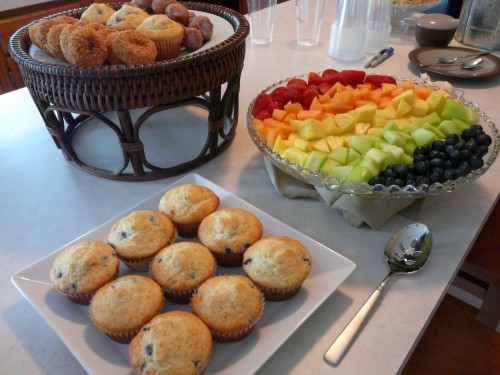 This is what I served at
my House Party
(very simple menu).  How boring would it have been to have all three dishes flat on the counter?  The fruit platter is elevated on an over-turned bowl with a napkin over it.  Simple, yet interesting.