This month we're not only going to take a moment to check out our amazing sponsors and affiliates, but we are also going to introduce a new reader photo each month.  This month's reader feature comes from Lynnette H.  She made this cake to celebrate her son's 5th Birthday party.  I love it!  Great job, Lynnette.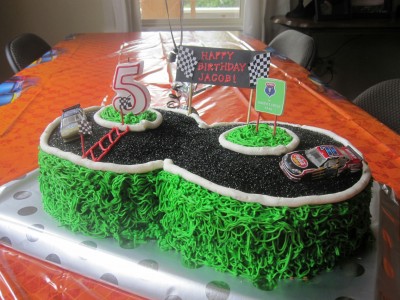 Do you have a photo you'd like to share from a recent celebration or fun activity?  Anything goes!  Email me at Kristen (at) CelebrateEveryDayWithMe (dot) com.
And now more about our Sponsors & Affiliates:
Are you on Blogger and thinking about moving to WordPress?  It was something I was thinking about for a long time but finally went through with it when I was having too many problems on Blogger and no recourse to have them fixed.  That was when I emailed Blogelina.  She was so kind to answer my questions and once I paid (only $99!!), she had me scheduled for the following week.  She made it easy and walked me through the process, answering more of my questions along the way.  The value was amazing and I only now wish I would have done it sooner.  Click here to find out more about her many services.
Redeemed Reader was founded by Janie Cheaney and Emily Whitten, both writers at World Magazine, to shine a gospel light on children's literature. RR's mission is to help Christian parents, educators, and the children they nurture to read in a more redeemed and redeeming way through book reviews, author interviews, book giveaways, and more.  Check out their current children's poetry contest and be sure to follow them on Facebook.


Beau-coup is a company I've been following since I was a wedding planner.  They offer cute and creative favors for birthday parties, baby showers, weddings and more.  And for a limited time, Flat Shipping is $8 for the continental U.S.  Stop by and check out all their fun containers, labels, ribbons, many of which is completely customizable.
 (Can't see the video?  Go here.)
When you and your family vacation with the Disney Cruise Line, you'll dine at a different restaurant each night while experiencing the personalized and quality service Disney has become known for.  And now through May 15th, Disney Cruise line is offering a special on Fall Sailings from Galveston, TX.
If you'd like to learn more about Disney Cruises, pick up the phone and call Beaches & Dreams Travel Co.  Or if you are thinking about a summer family vacation to Walt Disney World, currently, you can get up to 30% off hotel rooms for most stays June 13-August 14th.  Add a minimum of 4-Day Theme Park Tickets to make it a package and get a discount on the tickets too!  This offer must be booked by June 14th.
All Beaches & Dreams' travel services are free.  They specialize in all Disney Vacations (including Disney Cruise Line, Adventures by Disney, Disneyland and Disney World) among your other travel needs.  Call 1-877-R-Dreams (1-877-737-3267) and tell them you saw their ad here.