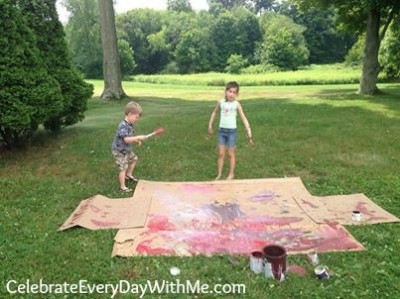 Who needs art camp when you have old paint sitting in your basement?  That is exactly what Missy thought when she grabbed the cardboard and paint for a day of artistic fun.
* I am totally doing this once I don't have to worry about house showings (did I tell you that my lovely kids spilled fabric paint on my cream colored berber last week?).
Thanks Missy, for inspiring us toward simple and cheap creative fun for our kids!
~ ~ ~ ~ ~
Photo Friday:  Over the next several weeks, I'll be featuring photos that are inspiring me in fun, parenting, entertaining and more.  Do you have a photo you'd like to submit?  Email me at Kristen (at) CelebrateEveryDayWithMe (dot) com.