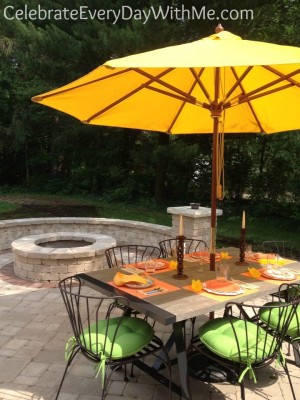 Do you love entertaining?  Now, wouldn't you like to enjoy a summer dinner at this beautiful table?
Today's inspiring photo comes from Megan.  Check out the presentation of her table and new patio.  Perfectly coordinated summer colors, a fire pit and even candlesticks for ambiance.  I saw this photo weeks ago and haven't been able to get this color scheme out of my mind.  I love summer entertaining!
Thanks for sharing it with us, Megan!
~ ~ ~ ~ ~
Photo Friday:  Over the next several weeks, I'll be featuring photos that are inspiring me in fun, parenting, entertaining and more.  Do you have a photo you'd like to submit?  Email me at Kristen (at) CelebrateEveryDayWithMe (dot) com.