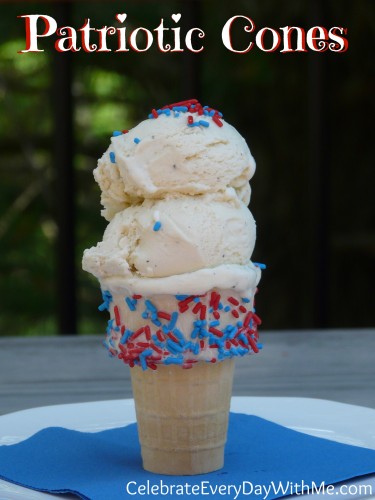 Fourth of July treats are on the scene!  I have been seeing similar sprinkle-covered cones on Pinterest.  Originally, I ran across the cone effect in ColorCakes
 and the chocolate dipped cone was filled with cake.  Yum.
But with it being summertime and the fact that I had a bag of white Chocoley dipping chocolate  in the pantry calling my name, I thought this would be a cool treat for the 4th of July.
Making these patriotic ice cream cones is fairly easy and they are very yummy.  In fact, eating the part of the cone that was dipped in chocolate was the best part!  The chocolate beefed up weight of the light, flaky cake cone.  I wonder if this is how Twix got started with chocolate and wafer . . .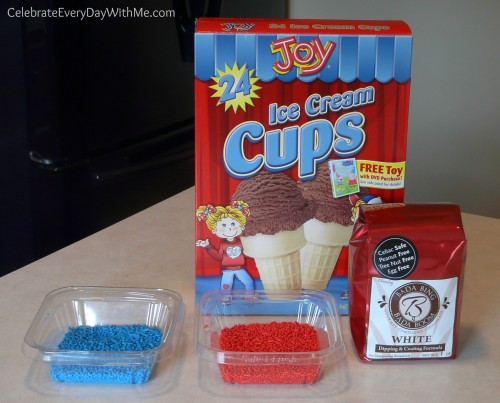 Here is all you'll need:
How to Make:
1.  Melt your chocolate according to directions.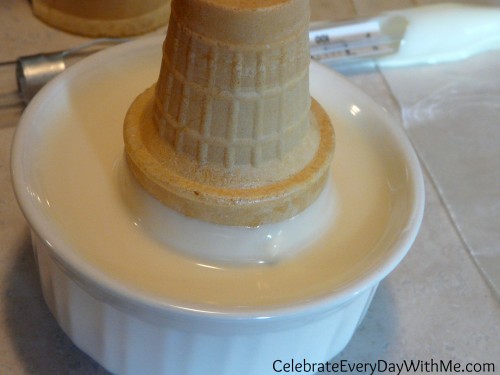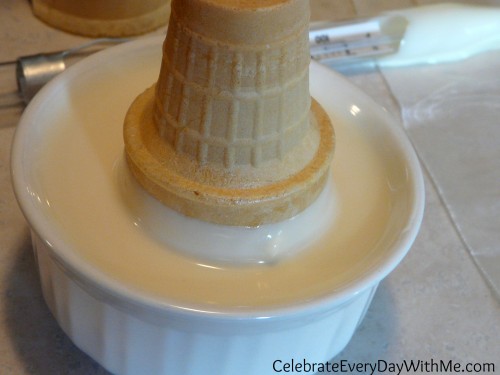 2.  Dip the top of the cone into the chocolate, allowing excess to drip off.
3.  Sprinkle red and blue "jimmies" (I went to college in PA) over the chocolate.
4.  Allow to dry.
5.  Fill with your favorite ice cream and add more sprinkles to the top for decoration.
Enjoy!
Disclosure:  The chocolate was provided to me at no cost and without any obligation.  I am writing about Chocoley's product because I enjoy working with it and it is delicious.
The Amazon link is my affiliate link.  Please see my Disclosure Policy for more information.