When it comes to centerpiece and table decoration containers, the possibilities are endless.  But there are two staple colors that can be most versatile when building your stock of party paraphernalia:  Items in white and clear glass.
Both can be used in a variety of settings and party themes.  Remember Cherise's Bumblebee party?  She filled various apothecary jars with candies and sweets for her daughter's birthday party to create a tablescape that had both interest and depth.
The beauty of clear glass is that you can use the same container for multiple party themes simply by changing up what you fill them with.  Think pink flowers, chocolate malt balls, yellow sour candies, green moss or even assorted sea shells.  And white can blend with so many different themes for a clean, fresh look.
Today, we are featuring two new lines of products from Luna Bazaar (an awesome party supply company):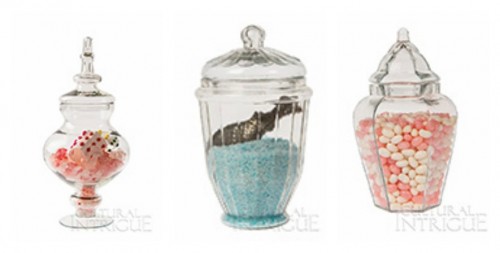 Vintage Milk Glass Vases and Candle Holders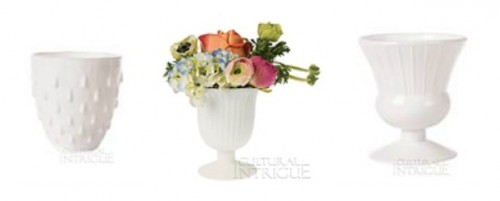 Luna Bazaar has a great collection of both the apothecary jars and vintage milk glass containers, not to mention all their other fabulous party and entertaining products.  And, if you purchase $75 or more, you enjoy free shipping on your order.
Head over and browse through their products.  There is so much to love.