Aloha!  We're back talking about the Luau Celebration we hosted for my kids' family birthday party.  On
the first post
, we talked about greeting the guests with pineapple-coconut smoothies, leis and more. Today, we're going to wrap up with the menu and buffet display.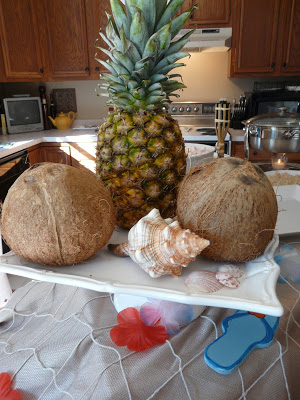 Naturally, I wanted to serve dishes with Hawaiian flavors.  So we served 
Tiki Tiki Chicken 
over brown rice and a delicious pineapple sauce, Hot Dogs, Ham & Glazed Pineapple Kabobs, 
Hawaiian Coleslaw
 and 
Ambrosia
.
Creating a Buffet of Interest:  
I created the buffet's levels using simple photo storage boxes.  The covering is burlap and fishing nets (from
Dollar Tree
).  I added little extras such as
hibiscus flowers
(Oriental Trading Company), wooden flip flops (local craft store) and assorted shells (from years of collecting shells and other ocean treasures).  My cousin had a Surfing party for her kids and let me borrow the
table top tiki torches
, also from Oriental Trading.  *Learn more about
setting your buffet table here
.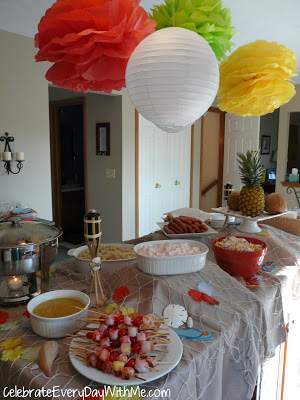 Aside from the usual birthday festivities, I did have one activity.  In years past, I have hidden little Minnie Mouses, played
Family Feud
, "Guess Which Family Member . . . " or done other little games at the family party.  They are not huge game players, so I knew I would be pushing my luck on this one.  We all watched a
"How To Hula" youtube video
and had a Hula Competition.  Thank you to my Sister-In-Law, her kids and a couple of my nephews who participated.  You were awesome!
With dinner, I served 
a Summer Strawberry Pineapple Cooler
(non-alcoholic) that I discovered on Pinterest.  It has a strong lime flavor which I usually do not like.  But this punch was delicious and very pretty.  (Sorry I don't have a good picture of it.  Click on the link to see it.)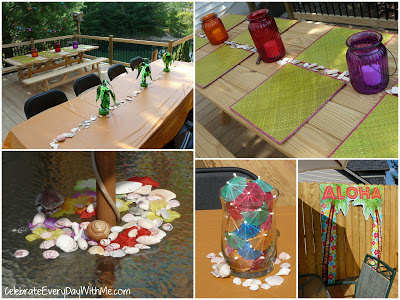 It was a beautiful day which allowed us to eat outside on the deck.  My table decorations were simple. And when you let your kids pick out some of the decorations, you end up with green shiny palm trees (see top left).  But the real inspiration behind throwing a luau party was the "Aloha" banner on the lower right photo.
Four years ago (at my son's first birthday),
Oriental Trading
accidentally sent this banner in with the other decorations I had purchased for my son's party.  They said to keep it and that was when I knew someday, I'd throw a luau . . . minus the pig.
Related Posts:
Disclosure:  This post contains affiliate links.  Please see the About Page for more information.