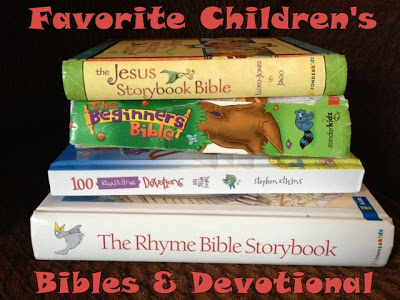 Raising children in today's world is tough.  Have you considered the additional challenges our children will face compared to our own childhood?  They need to be equipped to face, confront and change the world we live in.
One of the key ways we can prepare our children is to give them a Biblical foundation and world view.  How big is their God?  What is the impact of following Jesus?  Does God know them personally?  Will He direct and guide them in their life decisions?  Does He care about the details of their life?
It is in God's Word that they will learn the stories that reveal the character of God and that He is indeed, involved in the lives of His children.  They will learn that if they are afraid, God will protect them and is with them.  They will hear of God's mighty power to change hearts and situations.  They will come to know that God is their forever friend through His Son, Jesus.
When I think of my kids growing up in this world alone, I have to admit, it is a little scary.  But when I think of them with the Lord at their side, I am at peace.  They will be equipped to work through problems, face their enemies and be overcomers in a challenging world.
So to help with training up your children, I wanted to share my favorite children's Bibles and Devotional with you.  
1.  The Jesus Storybook Bible: Every Story Whispers His Name
This is the most beautiful Storybook Bible I have seen.  When I first read the introduction, my mind was filled with anticipation and my eyes were filled with tears.  Every Bible story recounted connects to Jesus and indeed "whispers His name."  The stories are beautifully told and point to the Savior.   Your kids (and you, too) will see an amazing connection to Jesus in every story read.  I love it!
2.  The Rhyme Bible Storybook
This is another unique Storybook Bible that your kids will love.  Each story is told in fun rhyme and perfect for holding the attention of your young children.  Its rhythmic wording and simple illustrations draw you into learning the stories of the Bible.
3.  The Beginner's Bible Deluxe Edition: Timeless Children's Stories
This is a classic Beginner's Bible published by Zonderkidz and great for kids under the age of 6.  I love the simple nature and colorful illustrations.  It is widely popular and also has a small dictionary in the back.
4.  100 Read & Sing Devotions, 100 Bible Songs
This is our new devotional.  It comes with two cd's, each with 50 songs.  The routine is to play the song of the day and then read the corresponding devotional.  Songs range from hymns to kids' Bible songs.  My kids like to finish our time by listening to songs #1 through wherever we are!  Can you imagine when we're listening to 49 songs in one sitting?  I really like the format and structure.  My son, at age 4, is just now ready for the content though.  It isn't perfect (ie. only listed a couple of the fruit of the Spirit instead of them all), but still a great tool for teaching Biblical principles.   My son asks me to do our devotions!

"Train up a child in the way he should go: and when he is old, 
he will not depart from it."  Proverbs 22:6
~ ~ ~ ~ ~ 




(This post contains affiliate links.  If you purchase any of these books through Amazon, I will get a small commission at no extra cost to you.  However, please know that it is more important to me that you hear about these great resources and should you decide to buy them, do so from wherever you like.  Thanks!  See the Disclosure policy on the About Page for more information.)