This little project combines three things I love:  rustic wood, mason jars and fresh flowers.  It is simple in design and will look lovely on your dining table, window sill, nightstand or hearth.  Believe me . . . I've moved it all over the place.  My favorite spot, however, would be to display it on the buffet amidst the delicious food you're serving at a dinner party.  Lovely, right?
If you don't have a piece of worn, old wood laying around, no worries.  You can save some dough by using what you have around the house.  I took a scrap piece from my scoreboard-inspired serving tray and beat it up . . . literally.
This is what I started with: (my dimensions are 2.75″ x 14″)
Way too fresh and clean.  So I hit it with both sides of a hammer.
I banged the sides to crush the long perfect edge.
I pounded the side of nail heads into it.  (Tip:  use long nails to keep from smacking your fingers with the hammer.)
Check it out!  There is no right or wrong.  Just the fun of purposefully ruining something.
And this is what I got when I was all done.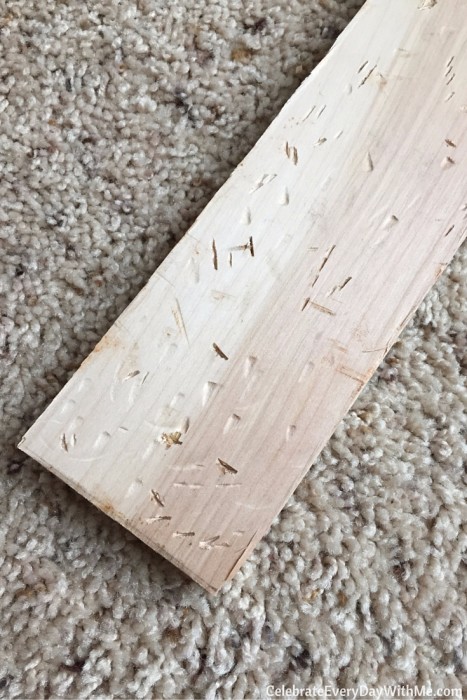 I added stain (affiliate link) and wiped it off with a rag.  I should have also put a coat of sealer on it, but was feeling just a bit lazy…
Then, all that was left was to add the mason jars and split up the bouquet.
As it turns out, one good thing about moving is that you get lots of "welcome to the area" coupons.  This bouquet was free from a local florist.  All I did was divide it up between the jars.
TIP:  Balance the colors.  I have some yellow on each end and at least a little of pink in each jar.  And because I have three jars, I made sure the middle had the tallest flowers.  
Here is a close up of the wood.  I love how the stain sits in the divots and gives depth to the warm browns.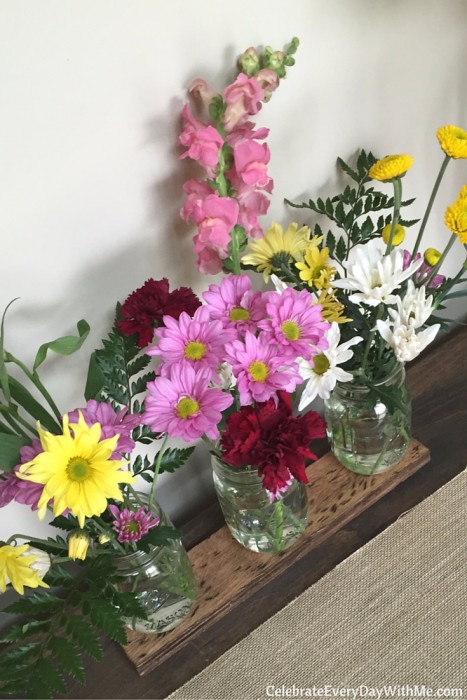 And now, the split bouquet is sitting on the window sill above my kitchen sink . . . something pretty to look at while I do the dishes.
Where would you put your rustic split bouquet?