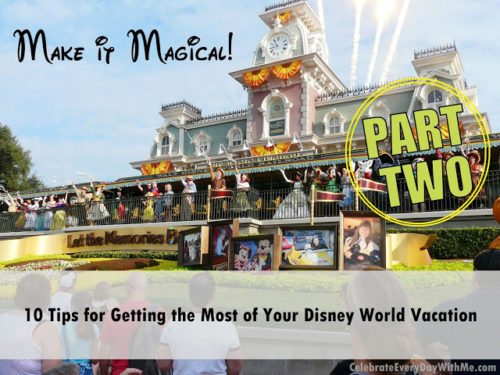 We're back talking about my favorite place on earth, Walt Disney World!  In case you missed the first part of this series, you can check out tips #1-5 here.  We are looking at ideas to make your Disney World vacation more magical while at the parks.  For my Disney vacation planning tips, go here.
Someone asked if these tips apply to Disneyland in California?  I have never been to Disneyland, so I can't speak justly to everything.  But I'm sure many things are similar.  See the end of this post for more specifics.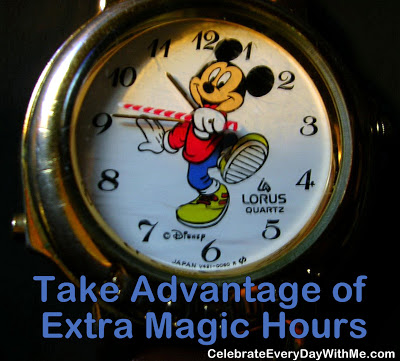 photo credit
6.  Take Advantage of Extra Magic Hours.  Usually every day, one of the four Disney World parks will extend their hours by opening an hour early or staying open later in the evening.  Magic hours usually mean smaller crowds and less wait times.  When you check in, you will receive a park schedule giving you the information.
I like to decide in advance which park we are going to on which day . . . so I check the calendar for times when I am making our dining reservations.  Here are the calendars for the Magic Kingdom, Epcot, Hollywood Studios and the Animal Kingdom.
During the course of the week, I try to take advantage of at least a couple mornings of extra magic hours.  My young adult niece and nephews, however, take advantage of the evening extra magic hours.  (Last year, they even messaged me a picture of Cinderella's Castle after midnight.  They know I LOVE Disney World.)
You can read more about Extra Magic Hours here.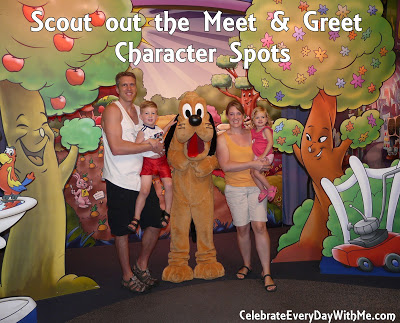 7.  Scout out the Meet & Greet Character Spots
When I was a child, I remember Disney characters freely roaming the streets of the parks, stopping in impromptu places for pictures and autographs.  Today, it doesn't really work that way.  Now they offer Meet & Greet Character Spots . . . and it is wonderful!
Each park has places where you can intentionally go to meet the characters.  Look at the map/schedule of the park or use your Mobile Magic app.  My favorites are:  Epcot's Meet and Greet near Innovations – wait in one line to see Mickey, Minnie, Donald, Goofy and Pluto; Magic Kingdom – right after the opening of the park, there are a couple characters on Main Street with fast lines; Animal Kingdom – an out of the way area where you can see the classics (Mickey, Minnie & friends), Chip and Dale and a couple not-so-common ones.    There are lots of other places, just check for location and times.
* Character Meals are also a great place to enjoy a buffet meal and have the characters come to you.  Yes, they make their way to each table.  It is very fun!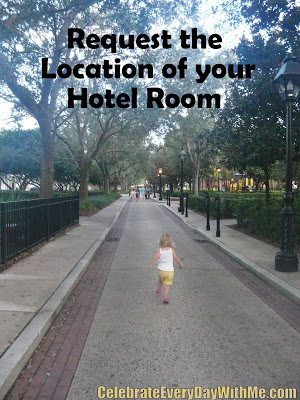 8.  Request the Location of your Hotel Room
If you are traveling with young children, this is a great idea.  But even before kids, we always made this special request.  If you are staying at a Disney Resort on Disney property (and here is why I highly suggest it),  request a hotel room near the bus transportation depot and hotel cafe.  You will be doing so much walking during your trip, why not minimize the daily walk to the bus and cafe.  The hotel properties are big!  You may be in a central location and still have a 3-4 minute walk.  I do suggest calling ahead for this, but confirm it upon check in.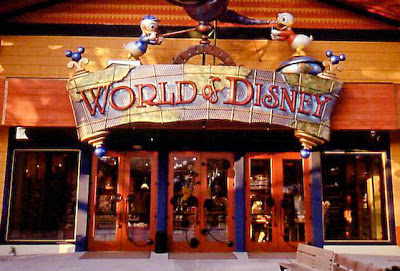 9.  Save Money on Souvenirs
One thing I look forward to is shopping at the Disney Parks.  At each park, I have a favorite store or strip of stores I enjoy browsing through.  But I seldom buy the items at these stores.  I'd rather save money by shopping at a discount.
When you are in the Downtown Disney Marketplace, there is a huge (and I mean huge!) store called the World of Disney.  If you love Disney memorabilia, you will spend a lot of time in here.  I love it because I can save 10% off any purchase greater than $50 (and that is an easy mark to hit when buying souvenirs and gifts).
As I mentioned on the Top 10 Disney Vacation Planning Tips, I have a Disney Chase Visa.  (Let me tread carefully, because I am only an advocate of credit cards when they are paid-off monthly and not causing extra spending.)  With my Disney Visa, not only do I earn 1% back on all my purchases in Disney Reward Dollars, I get a couple perks while at the parks (including a secret meet and greet with surprise characters at Epcot and 8×11 photo).  Did I mention I saved $400 on my last trip by applying my Disney Reward Dollars?  You can apply for the Disney Chase Visa Card here.
A note on the Disney Chase Visa Referral program:  Currently, there are no referral programs in place. But if you like the card and know some Disney-addicts, you can earn Disney Dollars through referrals. They will be bringing the referral program back soon which will allow the existing card holder to earn $25 Disney Reward Dollars for the referral and the new card holder to earn $50 Disney Reward Dollars after first use.  If you are interested in using me as your referral (and do it or don't do it), use Member ID Code 17849340.  You'll make me giddy at the next credit card statement which would be a welcome treat!
10.  Celebrate Something, Anything . . . and Get a Pin
When you book your vacation or arrive at check-in, you will be asked if you are celebrating anything . . . birthdays, anniversaries, first visits, family reunions, etc.  If so, you will receive a pin to wear throughout your trip.  For our last trip, we celebrated two birthdays and a first visit.
Now, let me warn you.  If you don't want to hear HAPPY BIRTHDAY from every cast member and a large quantity of other guests, do. not. wear. your. pin!  We, fairly quickly, took my son's pin off since he couldn't handle all the attention at his young age.  But I did make my husband wear his all day!  (insert villain laugh)
When you wear a pin, you get extra attention from cast members and sometimes the characters.  I've heard that you may get a special dessert or other little perks throughout your time in the parks.  So if you are celebrating something, why not wear the pin?  Give it a shot.  You're on vacation!
If you are thinking of a Disney trip, be sure to check out my other Disney World posts below and call our sponsor, Beaches & Dreams Travel Co.  Their services are free and they specialize in Disney.  They can be reached at 1-877-R-DREAMS and be sure to say you heard about them here.
A couple thoughts on the 10 tips for Disneyland vs. Disney World:
1.  The Disney Mobile App works for both parks.
2.  I do not see anything about daily park opening festivities, but that doesn't mean they don't exist.
3.  Napping . . . when is napping not a good idea?
4.  From what I can tell here, Disneyland does have parades that run a variety of times throughout the day.  I do not see a one that is only a nighttime parade, however.
5.  Disneyland does have Fast Pass.
6.  Disneyland does offer Extra Magic Hours.
7.  Meet & Greet Character Spots are offered in Disneyland too.
8.  Disneyland offers three hotels.  Judging from the pictures, it may not be as important to ask for particular location.  Plus, you can walk to the parks.  No buses needed!
9.  The Disney Chase Visa does offer perks at the Disneyland parks including a discount on shopping at certain locations and a character meet and greet with photo at the Disney California Adventure Park.
10.  I'm sure the celebration pins are offered at Disneyland too.
Keep in mind that Disneyland only has two parks, whereas Disney World has four.  You may not need to spend as long at the Disneyland parks.
Do you have any other tips for while at the parks?  
Related Posts:
Top 10 Disney Vacation Planning Tips