Disclosure: This post contain affiliate links.  Please see my Disclosure Policy for more information.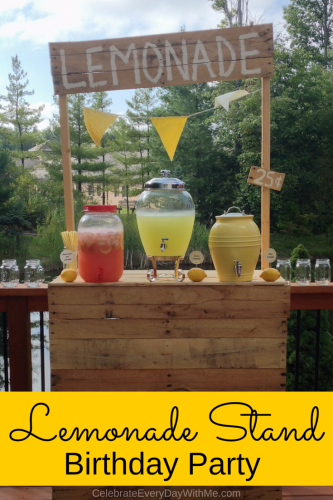 Are you looking for a fun summer party theme?  Start thinking of assorted flavored lemonades, lemon-inspired food and a great outdoor evening with family and friends, because this lemonade party delivers!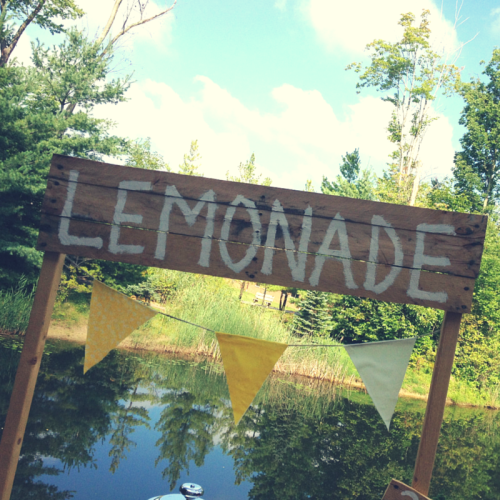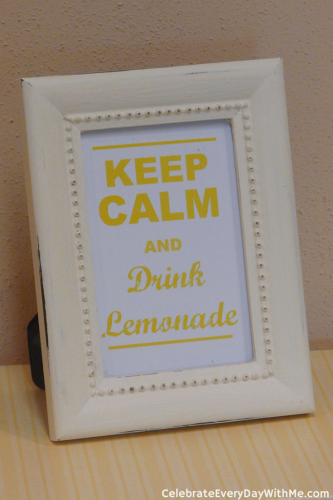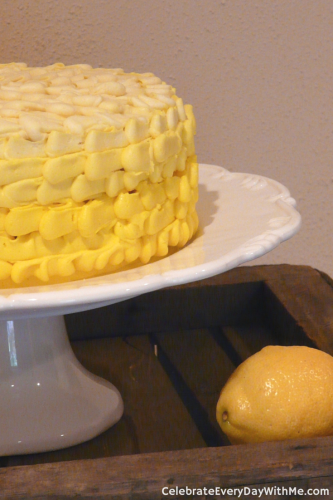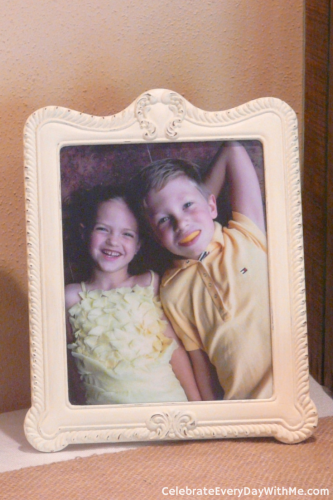 For our lemonade stand party, we celebrated the kids' 5 & 7th birthdays with family.  The first thing I did was get this cute photo of my kids with lemon peel smiles.  As you can see in the picture however, only my son would keep the peel in his mouth . . . and yes, it took a bribe.  But it has become one of my favorite photos and will most definitely have a special place in the new house.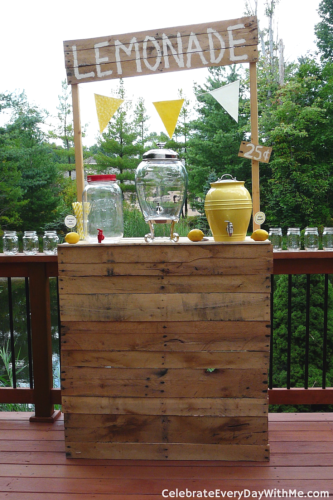 The first big project for this party was a lemonade stand.  I saw this tutorial and asked my wonderful husband to make me a pallet lemonade stand.  We were about to have a garage sale and I knew it could do double duty.  (See a picture of my daughter working the stand in this post.  They made $40!)
It looked like a simple project, but by his own admission, Dan is not super handy (case in point, but he is awesome at so many other things!!).  The lemonade stand project was taking a lot longer than we both anticipated.  Thankfully, our very handy neighbor, Drew, stopped over to see what we were working on.  Drew grabbed his trim gun (I have got to get one of these!) and the two guys put the lemonade stand together in no time.  Aren't handy neighbors wonderful?  Too bad we moved.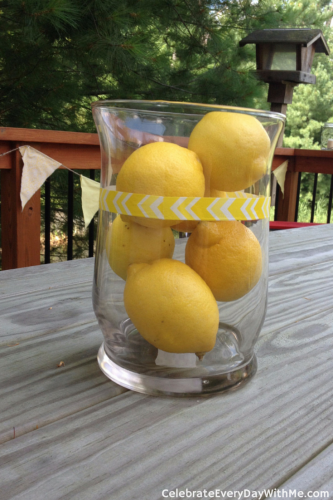 For the party, I made three kinds of lemonade.  Of course, we served classic Country Time Lemonade.  But our two flavored varieties were Ginger and Watermelon Mint, both recipes from Oh Happy Day.  They were delicious!  I loved the ginger, but many loved the watermelon mint too.
I made these cute lemon signs with these free canning printables and my Silhouette Cameo and served the lemonade out of mason jar mugs
, regular mason jars, all with cute yellow striped straws.  Aren't paper straws fun?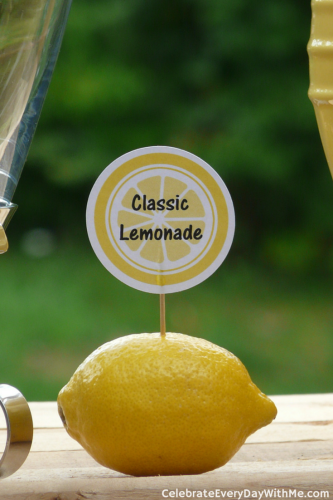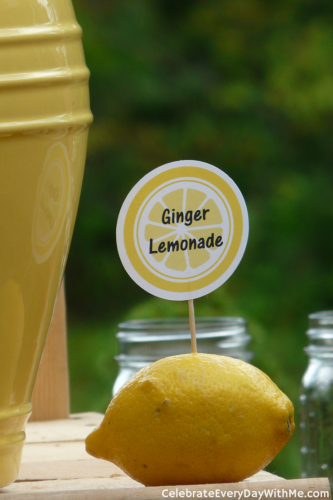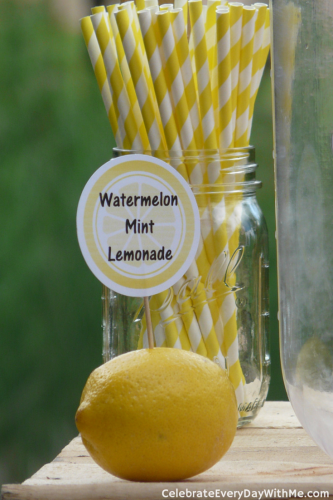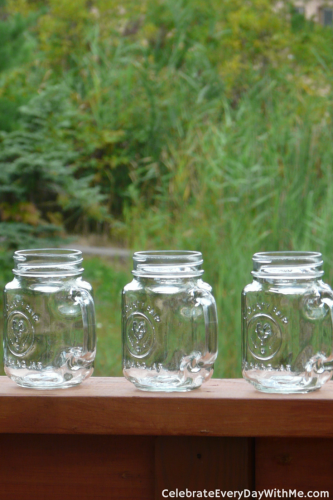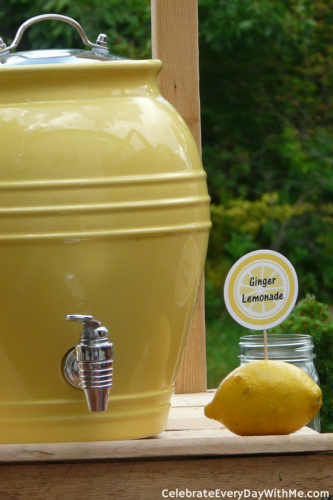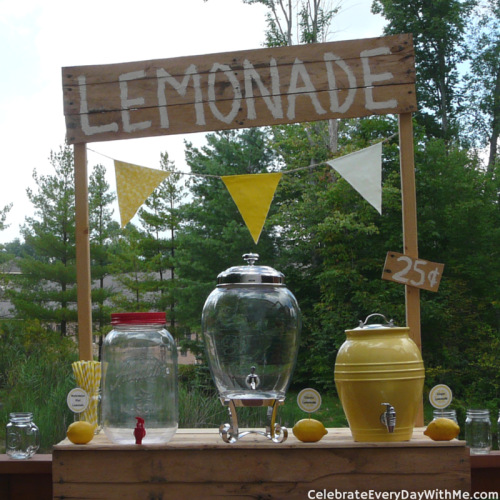 My three beverage dispensers:  plastic mason jar dispenser (this brand but larger), glass with pedestal (this one) and honey pot dispenser (like this one).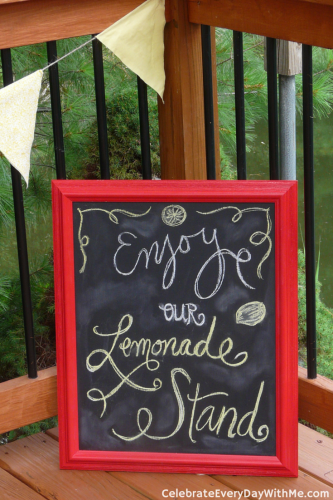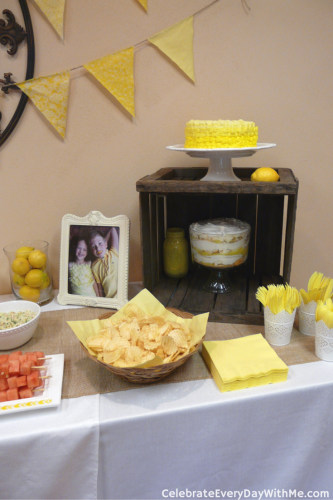 I picked up these apple crates at a local apple farm for $3 each.  They had a ton of them, but I limited myself to three.
Our Menu:  Lemon Piccata Chicken Salad Sandwiches with Italian Bread, Vegetables & Dip, Watermelon Kabobs, Hot Dogs, Seasoned Cous Cous and Potato Chips.  For Dessert:  Lemon Cake with Buttercream Icing and Lemon Shortcake Trifle.  On the tables outside, I also had yellow cups (like these) filled with Pink Lemonade Chews
.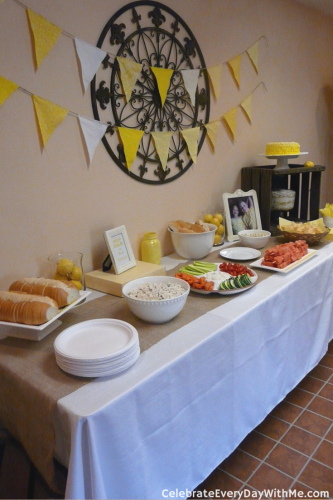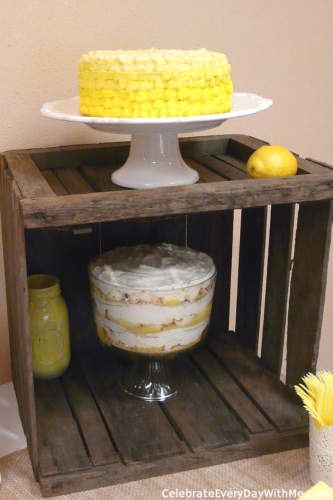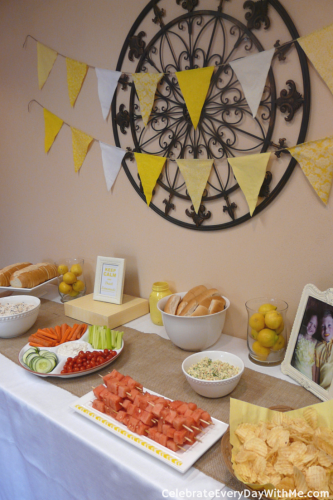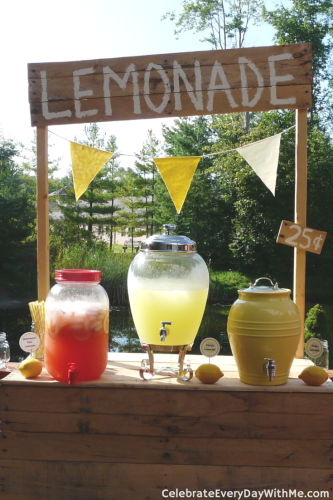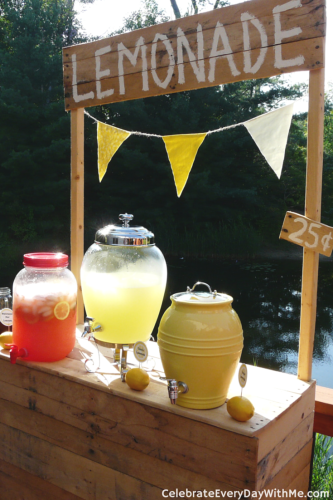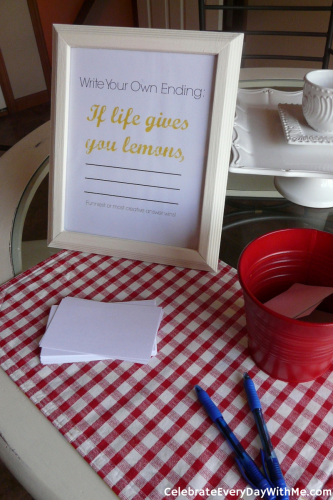 Party Activities:  We can't throw a party, it seems, without some sort of activity.  And this lemonade party had two!
The first was to finish the sentence, "If Life Gives You Lemons…."  It was fun reading what everyone wrote.  And if I find the answers when we unpack, I'll come back and add some of our favorite funny and creative quips.
The second activity was Lemonongraphy.  Yes, you read correctly!  Dan put together a great collection of lemon-inspired trivia.  (Are we a good match or what?)  If you would like to read his list, you can download his trivia.  He created either true or false or multiple choice questions from the trivia.  We split the family into three teams and competed for boxes of Lemon Heads.
Pennant Banner:  I picked up assorted fabric squares at the craft store and cut them so that I could fold over jute to create a flag.  I used hot glue to adhere the fabric to the jute.  Then, I used Stitch Witchery and ironed the pennant closed.  I loved all the patterns!  When the house is done, it will have a permanent place in my laundry room . . . maybe a cheery laundry room will make me want to do my laundry.  Do you think that will work?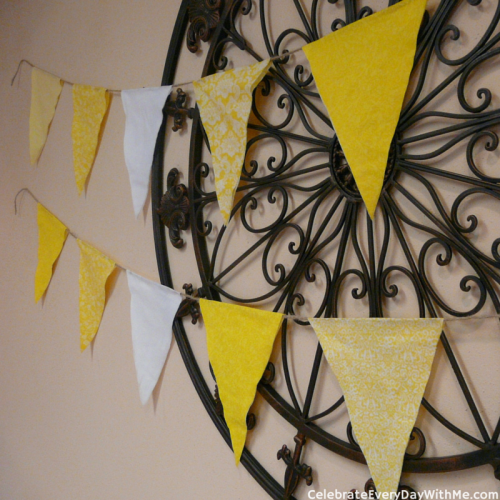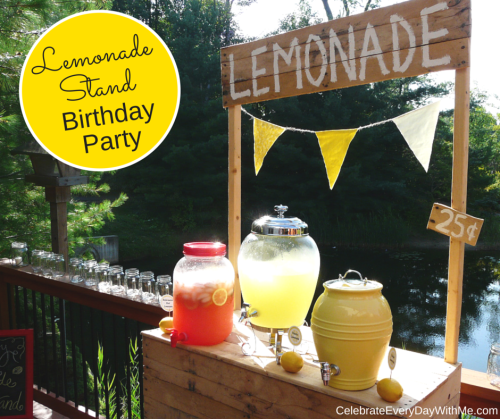 It was such a fun summer party.  I will miss our deck and the lovely pond, but am excited to see what parties the new house will hold.
What is your favorite part of the Lemon Party?  Do you think you would try this party theme?  
See More Lemonade Party ideas on my Pinterest Board.