Disclosure: This post contain my affiliate link.  I was provided with this product at no cost in exchange for an honest review.  Please see my Disclosure Policy for more information.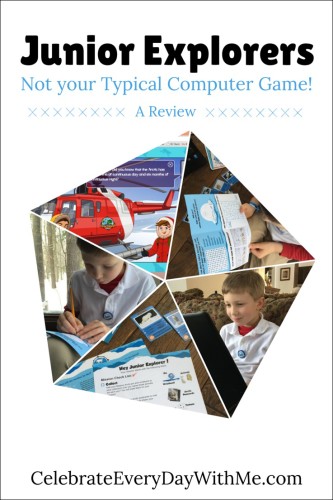 If you've been hanging out with me for awhile, you know that generally, I don't allow my kids to spend very much time playing games on my phone or computer. We don't have a tablet – and I'll probably put this off as long as possible.  I would rather see my kids use their imagination and creativity and learn that waiting isn't a bad thing.  (And maybe a lesson I need to reinforce on myself…a'hem.)
So when I was asked to write a Junior Explorers review, I was excited but also knew this meant time my kids would be on the computer.  Would it be worth it?  I had to find out.
From their website, Junior Explorers is "a fun and educational monthly subscription for kids to explore and discover wildlife and nature."  We received our Junior Explorers mission kit in the mail and it had lots of fun things!  Post cards, stickers, tattoos, a bracelet & pin, two mini figures to fit this month's arctic theme and more.   There was the activity book that my son filled out and enjoyed all the games and puzzles.  We looked through all the fact cards and after we went through our checklist, we hopped on the computer to start our mission.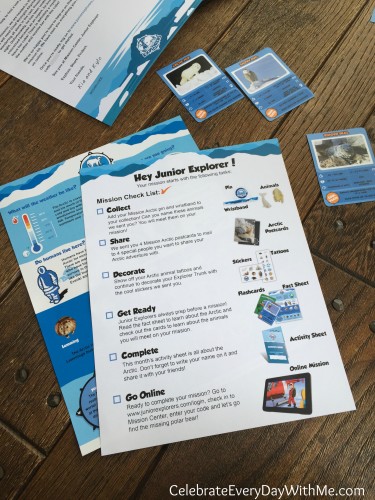 Curious what I thought?  Well let's break it down into positives and negatives.  Here is my Junior Explorers Review:
The Positives
Fun missions:  With the arctic theme, our mission was to find the mother of two polar bear cubs.  It was a cute and appropriate mission.
Educational:  I was most pleased with this aspect of the program.  It was impressive the amount of information packed into this single mission.  
Engaging:  My son was very interested in solving the mission and excited to learn all about arctic in the way that Junior Explorers presented the information.  Quite engaging!
Variety:  Whether you're tracking your progress on the map, adding to the Mission Report, playing games or learning about the wildlife, the mission offers great variety of activity and ways information is presented.  My son really enjoyed tapping on the different parts of the arctic animals to learn about a feature and why it helps the animal survive in the arctic.
Games Were More Than Just Fun:  A couple of the games were for fun only, as I would completely expect.  But some of the games were also educational as my son raced the clock to put food chains in the proper order.  Great!
No Sibling Add-On Fees:  We have been a part of other subscription services that had a sibling add-on fee.  With Junior Explorers, your kids can share the one account and save you money!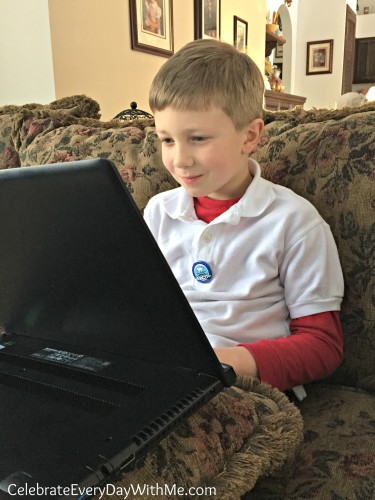 The Negatives
I would like to see more instructions on playing the games.  Maybe it is our immature gaming ability, but there was one game in particular that we simply couldn't figure out how to play.  My son thoroughly enjoyed my failed attempts, however.  😉  I mentioned this to my contact at Junior Explorers and she was going to pass along the feedback.
In our game, we experienced a glitch that sent us back to repeat steps along our mission.  While inconvenient, it wasn't something so disappointing that would keep me from continuing or buying.
I don't see this as a real negative, but if your children cannot yet read, you will need to sit down with them and do the mission together.  You'll actually be pleasantly surprised with how much you learn.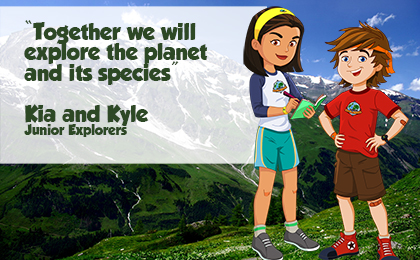 Overall – Two thumbs up!
All in all, I was quite pleased with our Junior Explorers Kit.  The educational value of the time spent on the computer was completely worth it.  I also like that they offer discounts if you subscribe for longer lengths of time, the lowest price available being just over $15 per monthly mission.
We also had the opportunity to try the Serengeti mission and both of my kids did it together.  My daughter was so excited when it was all done, she asked if we could do this all the time.  A win?  Yes, in both of our books.
Learn more about Junior Explorer Subscriptions by clicking here or on the banner below.