Over the last week, I have been sharing Marcy's "This Little Light of Mine" Party.  One of her great decorations was a wall hanging made from four canvases that when disassembled, will hang in her son's bedroom.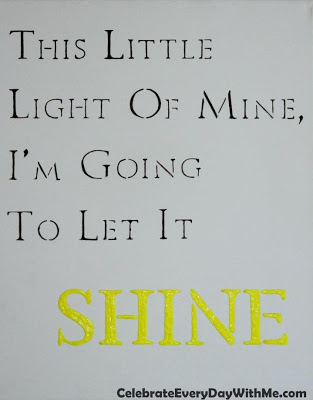 A fun feature that she added was glow in the dark paint for the candles on the yellow canvas and "SHINE" on the white canvas. But what impresses me most is the silver canvas.  Look closely.  The letters are raised and perfect!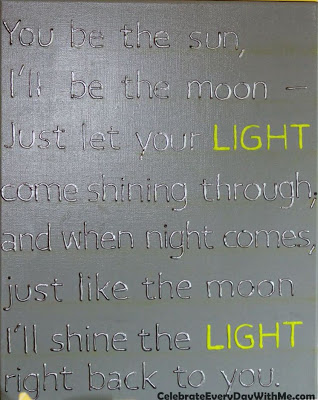 Here is how to make perfect raised letters:  
1.  Using the font of your choice and the size of lettering you want, use your computer and print the text on paper.
2.  Place a piece of wax paper over the text.
3.  Using puffy paint, trace the letters.
4.  Dry overnight.
5.  Carefully, peel off the letters.
6.  Paint the back of the letters with Mod Podge and adhere to the canvas.  (Marcy used pastel pencils to mark lines on the canvas to keep the text straight.  You can wipe it off once the Mod Podge has dried.)
You be the sun,
I'll be the moon
Just let your LIGHT
come shining through,
and when night comes,
just like the moon
I'll shine the LIGHT
right back to you.
~Anonymous
Have a bright day!