Did you ever have a barbie doll or princess cake when you were little?  There is something so sweet about an edible dress surrounding a little girl's doll (and something a little odd about it at the same time).  But nonetheless, it seems almost a rite of passage in every little girl's life.
This was my first attempt at a barbie doll cake and except for one very fixable mishap, it was easy and fun.  And the awe on my daughter's face when she saw the cake was priceless!
How to Make A Barbie Doll Cake:
Bake your cakes and trim the domed tops using a knife or a tool like this
.   I started with two 8″ round cakes and a third cake made from an 8″ rimmed silver mixing bowl.  Choose a bowl that looks appropriate in size for your doll.  Keep in mind that the cake won't reach the top of the bowl and you will have to trim a bit. *If you are using a Barbie and don't want to have to build up the top of the skirt with cake crumbs (a'hem!), try three round cakes.
Prepare your icing and put a layer between your two 8″ rounds and then test out your bowl/dome cake to see how much trimming needs to be done to achieve smooth dress line.
Remove the bowl cake and trim the edge of the top round.  Hold off eating your cake scraps.  You are going to need them.  Sorry for the blurry picture!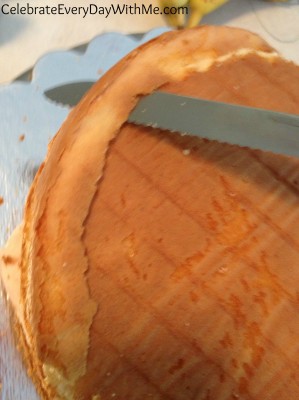 Crumb your scraps (both from the domed part of the round cakes and the trimmings from the edge).
Put a layer of frosting on the top round and return the bowl cake to its position.  Next put a crumb coat of icing over all the sides.  I refrigerate mine for about 10 minutes before moving on.
Next, put your doll in the center of the cake.  If you are using a Barbie, you will need to build up the top of the skirt.  (This is where I forgot to take into account how tall Barbie was!)
Crumb and press your cake scraps into the shape you want around the doll.  Doesn's she look excited?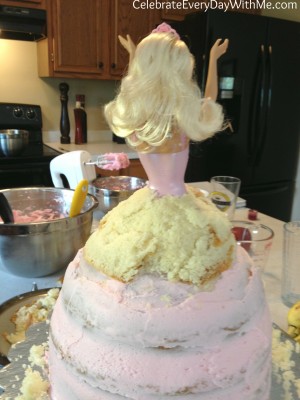 Apply a crumb coat to the new part of the skirt.  Then decorate as you wish!
I used a Wilton 104 tip for the skirt and sugar pearls
for the base.  I loved this particular Barbie because the bodice of the dress was part of her (and it is only $10 on Amazon with a couple dress colors to choose from
.)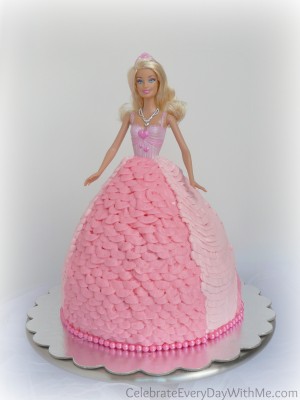 My daughter now wants a barbie doll cake every year.  😉
Have you made a barbie doll cake for your daughter?  If so, how old was she?
You May Also Like: